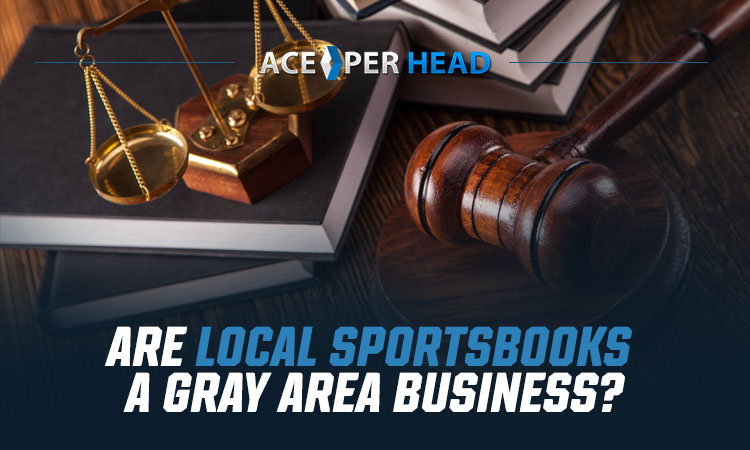 Sports betting is an ever-evolving part of our daily lives. Luckily for the 70% of people who call themselves sports fans, betting on sports is becoming more socially accepted… and more widely legal.
Read on to learn whether running a local sportsbook is a legal gray area (and what you can do to stay within the confines of the law).
Are Local Sportsbooks a Gray Area?
A gray area business is one that has questionable legality. While it isn't outwardly illegal, it also hasn't been legalized.
Running local sportsbooks can be a gray area business, but most of the time it's not. If you live in one of the 34 and counting states with legal gambling, operating an online sportsbook is 100% legal. You'll be subject to state regulations and taxation rates based on your location.
Licensing: A Legal Necessity
Of course, this assumes that you have all the paperwork and licensing needed for legal operation, but working with Ace Per Head ensures that's a given.
To become a licensed bookie, you'll need an operating license that gives you the authority to take bets. You'll also need personal functional and management licenses so you can prove you're managed appropriately. Some gamblers also need a premises license if their online sportsbook is connected to a physical location.
This can be expensive and difficult to keep track of, but Ace Per Head has done all the heavy lifting for you. We have these licenses up-to-date, and when you sign up as one of our bookies you gain access to them as well. If you need additional licensing, we can help point you in the right direction.
Local and Offshore Sportsbooks
There's no legal gray area for sportsbooks that operate within a legal gambling area and only serve bettors in those service areas. However, this doesn't describe all bookies, especially as offshore bookmaking grows in popularity.
An offshore sportsbook is a type of sports betting business. The bookie operates within an area where sports betting is legal. However, they serve areas where betting has not been locally legalized.
This is where running a sports betting business becomes a gray area.
There are no federal laws that target bettors using offshore sportsbooks online. However, some states may subject individual gamblers to fines when caught. You as a bookie will not be fined or sanctioned.
There also are no laws targeting offshore bookies. You're almost never going to get in trouble for running an offshore sportsbook unless you do something else illegal.
The downside to this? You also won't have any assistance from the state or federal government if something goes wrong. If your website is hacked or an unscrupulous gambler fails to cough up cash, you'll be out of luck.
Still, you will not be legally penalized.
Ace Per Head's Expert PPH Sportsbook Advice
Are you seeking valuable PPH sportsbook advice? With an array of options available for PPH (pay per head) sports betting services, making the right choice is crucial. These services enable you to facilitate bets on behalf of your players, with profitability being the ultimate goal. Opting for a reputable and versatile PPH service, such as Ace Per Head, is pivotal, especially since you earn a percentage of every wager placed through your platform.
Essential Criteria for Picking the Right PPH Service
Reputation and Betting Options: Selecting a reputable PPH service that offers a wide range of sports betting options is paramount. The more betting choices available, the greater the potential for your players to engage, leading to increased earnings for you.
Software Platform and Customer Service: A robust software platform and 24/7 customer service are indispensable. A dependable website is essential to ensure a smooth betting experience for your players, and responsive customer support addresses any issues promptly.
Pricing Structure: Research the pricing structure to find a PPH bookie software that aligns with your budget while providing comprehensive sports betting options. Don't merely opt for the cheapest or most expensive option; prioritize finding one that suits your specific needs.
Diverse Betting Options: Look for a service that offers not only common sports bets but also other wagering options like futures, parlays, live betting, and mobile betting. Live betting, in particular, has gained immense popularity, and a service with numerous live betting options can significantly enhance your potential earnings.
Maximize Profitability with Ace Per Head
Ace Per Head stands out as a top-tier PPH service that excels in all crucial aspects:
Comprehensive Betting Options: Ace Per Head offers an extensive array of sports betting options, giving your players a wide variety to choose from.
24/7 Customer Service: Our round-the-clock customer support ensures prompt resolution of any issues that may arise.
Competitive Pricing: We offer pricing structures that cater to various budgets while providing the utmost in sports betting options.
Advanced Technology: Our state-of-the-art software platform keeps you at the forefront of the industry, enabling you to provide a seamless betting experience to your players.
Mobile Betting: Ace Per Head supports mobile betting, allowing your players to wager on the go, resulting in increased betting activity and profits for you.
In addition to these essential features, Ace Per Head provides bonuses and promotions that further enhance the betting experience, attracting and retaining players.
Before committing to a price per head service, take the time to research and find the one that aligns with your needs and goals. With Ace Per Head, you can be confident in your choice, knowing that you have the tools and support necessary to maximize profitability and create a successful sportsbook operation.
Limit the Gray Area With Ace Per Head
When you work with a reputable provider like the best pay per head bookie, you get access to all the licensing features and agent support that you need to operate legally. We'll help you remain within the confines of the law to prevent taxes and penalties.
Our team is committed to helping budding local sportsbooks thrive, so create a package to begin operating a fully legal sports betting business.