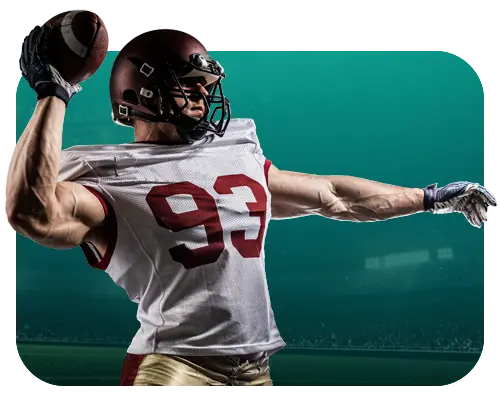 AcePerHead.com has the most fully inclusive Sportsbook in the entire industry, with the sharpest up to the second lines, and all wagers are immediately graded when each sporting event is complete. We offer all major sports such as NFL, NCAAF, NBA, NCAAB, NHL, MLB, including halves, quarters, live betting, props, and futures.
In addition since there are sporting events every day of the year, players also have the option to bet weekly Tennis and Golf tournaments, and match-ups, every Major Soccer League, and tournaments in the world, International Basketball Leagues, Women's Basketball WNBA, Boxing, MMA, Canadian and Arena Football, Ice Hockey World Championship, Nascar, Formula 1, Moto GP, Political Elections, World Entertainment Awards, Financials like the last two digits of each day's closing prices for the Dow Jones, NASDAQ, and S&P 500, and much more.
There are thousands of betting options available for players to bet on a daily basis, with various types of betting options like Straight bets, parlays, teasers, round robins, If win only, If win or tie, win reverse and action reverses. Each of these options can be easily accessed with our fully inclusive website, mobile site, or over the phone. Since the most favored methods to place wagers are through the internet using a mobile device, tablet or computer, the sportsbook is formatted with an easy one-click process and a ticket confirmation number for each wager that is placed.
The sportsbook, also offers each player an up to the minute current balance, available balance and amount at risk figure. There is also a tab to view all pending open wagers and a history tab that allows the player to see all their past graded wagers. In addition, there is an Inbox feature in each player account that allows the agent and player to send messages to each other that will be instantly viewable in the account and has an exact date and time stamp of when it was sent, and if it has been seen yet. (Great for setting up collections or questions.)
In addition, the sportsbook also has the option to allow players to bet on horses from every major race track across the country, a virtual and live casino, Texas hold-em, and VIP Live betting platform that includes hundreds of live betting options per game.
All sportsbook limits can be set to any limit that the agent wants, with thousands of specific profile limits that can be applied to the entire agent's package of players, or to specific individual players.
Lastly, the sportsbook includes a live chat in each player account, just in case any player or agent has a question, then they can instantly use this built-in feature to speak with a representative from the website. All chat records are saved on file, and players are only allowed to do what the agent has them set up to do. If a player asks for something they are not allowed to do, they will be informed that they need to speak with their agent.