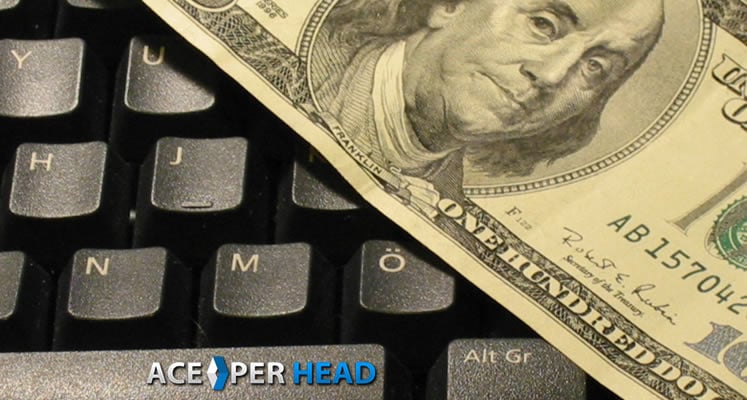 An agent for a sportsbook is a person that accepts action on various sporting events by utilizing a pay per head website that provides betting lines for gamblers to wager on. An agent is also known as a bookie and since they are the ones that are taking action on a game, that means for them to make money they will always need the opposite team to win that their players have wagered on.
So for example, if an agent has players betting a total of $500 on the New England Patriots to win by -13 against the New York Jets, this means that for the sportsbook agent to make money he will need the Jets to either win the game outright or for the Jets to lose the game by less than 13 points. If the Jets do either of these two things then the agent will have made money on that game because his players would have lost their bets on the Patriots -13. However if the Patriots win the game by more than 13 points then this means that the agent will have lost and he will need to pay a total of $500 to his players, because they won their wager.
Now, this is just one example of one wager of how an agent for a sportsbook will make money, but the key to being a profitable bookie agent is that you have multiple players that bet on sports on a consistent basis every day and every week. Volume is the name of the game, which means that the more players an agent has and the more times each day and week that their players bet, then the more money the agent will make over the long term.
Also, agents must have patience because players are not going to lose all the time, which means sometimes the players will win, and sometimes it can get a little discouraging that the players had a winning week. However this is a necessary part of the pay per head business, because if players lost all the time, then they would have no incentive to continue to gamble, and they would eventually go broke very fast and or become discouraged and not want to continue to bet in the future. The important thing to remember is that this is not a race to get the player to lose all their money as fast as possible, because successful bookies are the ones that have players bet for life.
Betting can be very addictive to players, which is why they need to win sometimes, because if they never win, then they will never get to experience the high of winning and just end up quitting. As a bookie agent, you always want to make sure your players have the urge to continue to wager, which means you should also offer them free plays or small kickback incentives when they lose in order to keep them interested to continue to bet.
Over the long term all players end up losing, and the more players you have and the most everyday gamblers you have, then the more money you will end up making in the sportsbook business.
Income Possibilities for Sportsbook Agents
If you are thinking about turning your interest in sports betting into a career as a sportsbook agent, or a bookie, then one of the first questions you have probably asked is, "How much do sportsbook agents make?" There are some sportsbook agents who have turned their side hustle into their main line of income, and there are some others who have seen their sportsbook fizzle out. Just like in any business endeavor, the amount of effort that an owner is willing to put in will pay off in terms of money made and growth accomplished over time. Let's take a look at the path to making cash with your new sportsbook, and how AcePerHead.com can help you get that money flowing in faster.
Income Possibilities for Sportsbook Agents
First, let's take a look at the basics of how sportsbook agents make money. The profit comes in through the use of a "vig" built into every bet. When you set a point spread for your betting client, you build in some profit for yourself.
Let's say that the Philadelphia 76ers are favored to beat the Charlotte Hornets by 5 ½ points, and you have an even Moneyline of -110 for each side of the spread. That means that your clients have to bet $110 to win $100, no matter which side they choose, and it is in that $10 margin that you make your profit. If you use Moneylines, which means that your betting clients will pick a team to win without a point spread, the odds that you set are designed to lure your bettors to pick the side that you think is more likely to win.
So if you go back to the prior example and think Philadelphia will win, you want people to pick Charlotte, so you'll bump up that Moneyline, perhaps to something like Philadelphia -200 / Charlotte +260. In that example, your clients would have to bet $200 to win $100 on Philadelphia, but a $100 bet on Charlotte would pay $260 in winnings.
Next, let's apply that to the question "How much do sportsbook agents make?" Obviously, the more people you have placing bets with you, the more money you will make over time. Also, the more money each bettor puts down on each bet, the more money that you will have coming in. If you have 100 players, you have a much higher chance of bringing in a sizable pot of cash than you do if you have 10 players, unless the 10 players are all high-stakes sports bettors.
Remember – it's a game of chance
Another factor, of course, is how the bets turn out. If you have done the right job setting odds and Moneylines, then you will make more money. However, there are some weeks when the games just turn out the wrong way – it's called a game of chance for a reason. In those weeks, your book will take a beating. As you learn how to balance your books over time, though, you will learn how to manipulate your props and odds so that even when an NFL team that was a 12-point underdog not only covers but wins outright, you managed the other games right that week, so your losses will be minimized.
How can AcePerHead.com Supercharge your Sportsbook?
If you have a small-time sportsbook and you're looking to escape the world of cash-stuffed envelopes and constant calls and text messages placing and updating wagers, then AcePerHead.com is the sportsbook software you've been looking for. Let's take a look at several of the advantages that our service offers.
Is an important part of our service. This means that, when you sign up for the AcePerHead.com platform, you have access to the same custom choices for a design for your website that all of our other sportsbook owners have. So when you present your site to your customers, you don't have the same problem that happens to clients of the discount pay per head providers – in other words, your site will not look the same as all of your peers. Customization means that you choose the design elements you want to give your sportsbook your own personality and to have it suit the needs of your clients.
Direct access to your bets
Is another important part of what we offer. There are some pay-per-head services that do not give their sportsbook owners 24/7 access to the wagers that they have sent. Instead, they have to go through a site management staff member to get those changes made. If the phone lines are tied up, or the live chat is down (or just too busy), then precious minutes can tick by with a line no longer where you want it, and you still have to honor the bets that come in. You want a pay-per-head service provider that lets you change your lines when you want to.
Website bandwidth that guarantees functionality
Will pay off as your book grows, particularly on those days when there are major sporting events that draw in a ton of wagering – or days when several of the major leagues are in action, and you have a lot of big games on one particular day. If your sports betting website goes down at the wrong time, then the question, "How much does a sportsbook agent make?" will be zero, because your clients will not stick with you if your site crashes. There is just too much competition out there.
Secure payment and data encryption systems
As more and more information goes onto the Internet, the risk of data incursions increases. This means that you need to work with a sportsbook platform that can keep your money – and your clients' money – safe from hackers. The same goes for everyone's personal information who is a part of your sportsbook. If you sign up with a sportsbook platform that does not protect your information adequately, and the site has a breach, that's another situation in which your clients will abandon ship.
To find out more about AcePerHead.com and how it can help your sportsbook, reach out to one of our sales specialists today!