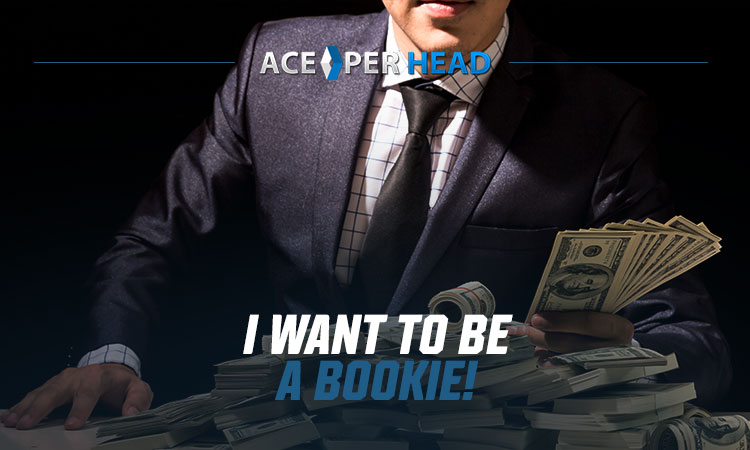 If you are seriously interested in becoming a bookie then it is important to know how much money you should have in order to begin this business venture.
Truthfully it really doesn't take much money to get started but it is always good to have some type of bankroll before you begin because you need to be prepared to pay your players if they win.
How Much Money Do I Need?
The exact amount of money that you will need to become a bookie agent can actually vary and that mainly depends on how many players you plan to have betting with you and how much you plan to allow them to wager on each game when you begin.
Obviously, if you have 10 or 20 players and you are going to let them bet $500 to $1,000 a game then you better be prepared to have a large bankroll saved up. Yes over the long term players are going to lose when they gamble on sports, however, you always need to be prepared to have money on the side for the weeks that they do end up winning. Players are going to win sometimes, and they have to win sometimes, otherwise, they would never continue to play week in and week out. Also if they lost every single week then they would quickly run out of money to bet with, which is not exactly what you want because then they will not be a long-term player.
So if you have 10 to 20 players to start and they bet $500 to $1,000 a game you should have at least a 10k bankroll because your players could easily get lucky the first couple of weeks and start off winning. Also, players who bet $500 to $1k a game can easily win a few thousand dollars a week. For a player to win say 3k in a week and bets 1k a game that would mean he only would have to win 3 games a week or just be up 3 units during that week which is not unlikely.
So if you have these types of larger bettors to start out with, but don't have that much of a bankroll then it would probably just be better to start off with much lower limits, and then you can just tell your players that at the moment the limits will be $250 and after you build some trust and comfort with them then the limits can be raised.
However, if you are looking to be a bookie and you have under 10 players and are really just starting out from scratch and your players are going to have limits of $300 or less then your bankroll can be very minimal. If it is just a couple of players and they are betting small then a small bankroll of $500 to 1k will be more than sufficient to get started. Obviously, your players could start off and immediately just start losing on the first few weeks of betting and then you will not even need to have any money on the side, but instead just collect the losses.
Clearly, though, the more money you have set aside for paying your players the better prepared you will be if they win, and the bigger swings you will be prepared to handle when starting out. However, even if you do not have that much money saved to pay winners then this should not discourage you from becoming a bookie. Instead, this just means you should start with much smaller limits for your players so you can build up your business slowly you are protected early from the lucky chance players start off winning.
One other suggestion for new bookies if they are worried about having money to pay their players, is to use a pay per head website such as AcePerHead.com that specifically has a global max payout feature that can be applied to all wagers placed through their website. This unique feature allows agents to set a max payout on each wager that their players place, which can help agents be protected from players winning more than they can afford to pay. This is a good feature to utilize especially if you are just starting out as a bookie and have limited funds to work with.
7 Reasons Why Becoming a Bookie Has a Huge ROI
Are you wondering if becoming a bookie will give you the return on investment that you're dreaming you will receive? Check out these numbers.
Hey hotshot! Are you an expert at filling out parlay cards? Can you handicap with the best of them? Sports gambling is a lucrative business.
So why do you want to spend your time trying to beat the man when you can become the man? If you're sharp, becoming a bookie can make you lots of money. With legalized gambling, it's never been easier.
Read on for 7 reasons why becoming a bookie net you a huge return.
1. The Juice
The juice, otherwise known as the vig is the main way bookies make money. Let's say you set a football spread at -110 odds on both sides of the bet. That means a player wagers $110 to win $100.
This means for every $100 bet, the bookie wins $5 and the gambler loses $5. Now imagine taking in thousands of bets at that price.
2. Control
The best sports betting software provides you and your players with the sharpest lines possible. If you're a sharp player, you know where the lines are soft.
Don't let someone else control the lines. If you run your own online sports betting platform, you can manipulate the lines how you see fit to make maximum profit.
3. Expand Payments
Back in the day, bookies operated on a cash-only basis. Why? Sports gambling outside of Nevada was illegal. Now it's legal in many states.
These casinos and online sports betting sites rake in money because they allow a player to bet with their debit card. And they take all the money upfront.
If you become a bookie, you can expand your payment methods beyond cash to debit, credit, and bitcoin with pay-per-head software.
4. Put the Odds in Your Favor
Because of the high vig, sports betting odds are the worst for any gambler. Think about it. You're playing the probability of another's actions. As a gambler, you don't get to play the actual game.
There's no contest when it comes to the statistical edge bookies hold over gamblers.
5. Win the Losing Battle
To break even long-term at -110 odds, a sports gambler must win 52.4% of their bets. Here's the thing you already know. There aren't many with enough skill and smarts to turn a profit in the long run.
Most of your players are bound to lose money. When they do, you win.
6. Tap the Market
People love online betting, but a personal relationship is always the best. In the days before legalization, gamblers and bookies fit like a hand in a glove. You did business over the phone. You paid out in person.
These days, the big guys soak up all the online action. Don't let them. Sports betting is a $150 billion-a-year industry. There is so much untapped potential with a personalized book.
7. You Can Make a Book that's Simply Awesome
Think about it. If you're a gambler, you know what entices you to play with a certain book. With great pay-per-head software, you can open your sportsbook with standard lines, props, and bonuses like the big books.
Becoming a Bookie Has Never Been Easier
You've read these reasons why becoming a bookie can make you lots of money. If you're a sports gambler, maybe you've thought about being on the other side. With the great pay-per-head platform Ace Per Head offers, you can be.
It's never been a better time to be a bookie. Click here for a free bookie software demo and see what we offer.
What Does It Take?
The world of sports betting is growing rapidly so it's time to get in now. Here is what you need to know to become a bookie agent.
Were you aware that the global market for online gambling is expected to reach over US$92,9 billion by 2023? The market's current size is almost US $59 billion, which means that it will nearly double in the next two years!
That means that if you want to become a bookie, the time is now. However, this business is not as easy as everyone thinks.
What is a bookie agent? A bookie provides odds for games, which adds another element to betting. If done right, then you can have a very successful and profitable business.
As you can see above, the world of sports betting is growing rapidly, so it's time to get in now. Here is what you need to know to become a bookie agent.
Bookie Agent Salary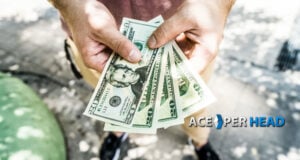 A bookie agent is someone who accepts wagers on sports pays bettors when they win their wager and collects money when the bettors lose their wager. This is also commonly called a bookie.
Bookies don't earn a set salary like a person who works a 9-5 job, because it is all based on how many players a bookie has, how frequently each gambler bets per week, and how much they bet per game. This can all vary, which means certain weeks players will lose more than in other weeks, and in some weeks players will eventually get lucky and win.
However, on average all bookies do make a profit because gamblers over the long term all lose. For example, even if you have a small sportsbook that you run for people you know, and have 10 players that bet each week, then on average these players will in total lose several hundred to a couple of thousand dollars per week from gambling. These losses become the profits of the sportsbook agent.
So the more players you have, the more bets they make each day, and the more they risk per bet, will lead to the bookie earning more money from each player. Also, the more players you have then, even if a specific player does well and wins a couple hundred or even a thousand that week, it will be ok because all the other players will have total losses that are more than that one player's winnings.
How to Earn the Most Profits as a Bookie Agent
If you are looking to be a bookie, you can do it the old-school way and just take wagers over the phone write it down, and then manually calculate and grade each wager after each game ends. Even though this way would be free, it would take a lot of time, and actually prevent you from maximizing your profits, because you will only be able to offer a small amount of betting options. This would lead to having fewer players, and each player you do have would bet fewer times per week.
Instead, the most profitable way to be a bookie is to utilize a pay-per-head service that will provide you with a professional-style sportsbook website. The provider will post thousands of betting options each and every day update all lines up to the second, and then grade all wagers as soon as each game concludes, and then all player and agents' balances will automatically get updated. This will not only save a ton of time but also give your players the ability to have many more betting options, such as props, teasers, reverses, live, virtual casino games, horses, future bets, and more.
These services not only do all the bookmaking work for you, but they are also extremely affordable. The average cost is around $3 per active player per week and then whatever the player wins or loses, you as the agent would handle the payments directly with your player and keep 100% of the profits.
So if you want to start earning money as a bookie agent get set up with the best pay-per-head company today.
Being a Bookie Agent as a Career
The bookmaking world can be overwhelming, to say the least. From managing to marketing, financing, and all the in-between bits.
That being said, the path to becoming a bookie agent is within grasp for anybody who has the proper resources and knowledge. If you do your research, brush up on the skills needed, and find valuable resources, it will ensure that you will have a smooth road to becoming an independent bookie.
Choosing the Way to Go. So you decided that being a bookie is your career choice. But, which way to go, and what is the best option?
Online Pay Per Head Bookie Company
Over the years, online betting has become more popular and is growing each day in popularity!
A pay per head service is a system that allows private bookies to give their players access to an online sportsbook, casino, and racebook.
Internet betting has become increasingly popular. Why? Because you can engage in your favorite pastime in the comfort of your couch. No need to battle the weather, traffic, and queues, as well as busy telephone lines, just to wager a bet. Sitting at home, you merely have to press a button from your cell phone, computer, tablet, or laptop.
The Benefits of Using a Price Per Head Service Are:
Able to offer a much more comprehensive range of wager options, including some different things that a private bookie does not typically provide his clients. For example, formula1, worldwide soccer, tennis, golf, casino gaming, and much more.
24/7 betting.
Traceable betting and payouts eliminate errors.
Access actual on-time reports seeing outcomes, wins and losses, and perceived risk.
Racebook that shows tracks throughout the country, perhaps even the world.
Full casino with many games, available all hours of the day.
AcePerHead Bookie Demo Features
What can bookies expect from Ace Per Head bookie software? Learn all about all the features of this sportsbook service to find out if it's right for your business.
To make it in this booming industry, you'll need to invest in the top bookie software from Ace Per Head. Read on to learn some features that you'll get when you sign up for a demo of our services.
1. Control Over Your Sportsbook
Those who sign up for agent demos with Ace Per Head have complete control of their players, bets, lines, and limits. You can see all of the active bettors you have and how much money they have recently wagered. You can then track bets and players to ensure that you're on top of your game.
You can also set limits on players to ensure that you make as much as possible. Longtime gamblers should be rewarded with higher limits while those you suspect of being professional gamblers can be restricted.
Lines are also completely customizable so that you can find the best ways to keep your sportsbook competitive. You can set and adjust odds at any time.
2. Real-Time Bet Tracking
Demos allow you to see snapshots of the sports teams that your bettors wager on. Your current week's summary sheet will show you the wins and losses of various teams. On the same page, you will see the amount of money that your players have bet on each team, how much they lost to you, and whether you owe payout to any of them.
3. Bet Tickers and Wager Alerts
When you use Ace Per Head's bookie demo software, you'll be able to get alerts whenever someone places a bet with you. In-app notifications will be sent to your mobile phone so that you know when someone puts down money on a team. You can also get SMS alerts and email alerts if you choose.
4. Player Lifetime and Analysis
Monitoring players is an important part of being a bookmaker. You want to make sure that you're accepting bets from the right people, limiting access for professional gamblers, and stopping bets from unreputable sources.
Our demos let you see how long a player has been betting with you, how frequently they win, and how large their bets are so that you can make more informed decisions.
5. Top-Notch Support
Support is one of the most important features for any bookie. Running a business is hard, especially when you're working with fully managed software that you don't personally have technical knowledge about.
Ace Per Head offers a 24-hour agent hotline that you can call with questions or concerns. You also can request updates and alterations to your website here at all hours of the day.
Bookie Skillsets
Although being a bookie isn't rocket science, to be a successful bookie, there are some softer skills that you will find to be invaluable. These are the skills that will be invaluable to you:
to be quick at calculations
an extensive range of sports and gaming knowledge
an understanding of the rules, and betting laws of sports
Aware of constraints that can affect results
to be energetic, outgoing, and confident
excellent at handling clients
good negotiation skills
the ability to keep a level head under pressure
For a bookmaker, numeracy, understanding of the odds, and finance have to come naturally.
In setting out to be a bookie, you will have to polish up your negotiation skills. These will come in handy when negotiating with potential betters, the licensing authorities, and their staff. You must show a brave face and show confidence in yourself. Use your leadership and your management skills.
The service you provide is of utmost importance. After all, your business depends on people who bet through your service for you to make money. Put on your 'customer service' hat and learn how to deal with people.
When handicapping a horse race, having flexibility and knowing when to decide for yourself becomes more necessary. You have to decide whether or not you have a healthy view of the horse race outcome.
Knowing if a favorite is worth laying out money for, advertising out to your market, or knowing if you are just following what the betting exchanges tell you, is definitely a skill.
How Much Money Do Bookies Make?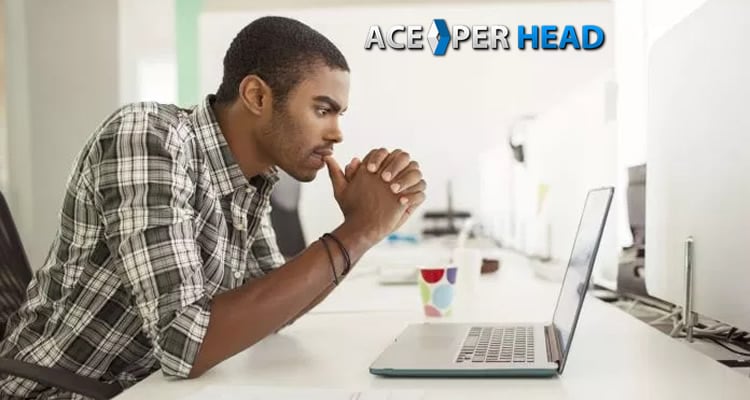 Every long time sports better wonder if they are on the wrong side of the business. They watch the action, call the shots, and sometimes even collect on the odds.
Getting into the driver's seat and pushing the odds has some appeals and some risks. For those who want more, a question lingers "How does a bookie earn money?"
Whether you're dipping a toe into being a bookmaker or looking to expand a sportsbook operation, there's always more to learn.
The simplest answer to this question is by having a lot of players and taking in more than the payout. Reaching a large pool of players used to take a lot of time, today it's far easier.
Even with a robust player stable, you'll want to know tips for the trade to maximize dividends, and for that, you'll need the following:
Knowing More Than Their Players
The largest possible cash infusion a bookie brings in is from the money they collect but don't pay back out as winnings to players. After all, the bookie is also a type of gambler in the same way a casino is. The bookmaker (and the house) have additional leverage to push things in their favor, but games of chance remain games of chance.
A smart player can develop systems, do research, and hedge their bets to increase their chances of winning. That takes time and effort that few players really put in. For the bookmaker, it's their job to know this kind of information and they have a larger, and more steady, incentive to stay up on all things.
Most players are not smart players. They don't have to be because they are playing for fun with winnings as a kicker, not the incentive.
After all, a smart gambler is ultimately a burgeoning bookie.
Setting Odds
Setting odds is as easy as shouting "two to one on that guy" into a crowd. Of course, a smart bookie works hard to ensure that they are pulling in more than they are paying out, and that requires research and odds compilers.
A bookie can be their own odds compiler or employ people for that role. Odds compilers set the price of the market, generating the buzz for an event or contest. Crunching the numbers and knowing the industry helps them to arrive at numbers that minimize risk to the bookmaker.
Good odds reflect reality, with the person favored winning slightly more often than the undercard. However, odds that add up beyond 50/50 put a bookie in a no-win situation. They will pay out as much or more than they pull in.
To combat this, a bookie agent needs to balance its book. This is a way of making sure that the payouts are always, at worst less than the total brought in. A balanced book covers the losses of a less likely outcome by adjusting odds as bets come in.
Adjusting odds on the fly is important to keep the book balanced and to avoid exposing one's self to arbitrage.
Adding Vig
The term vigorish tracks slowly from the old world to the New. Increasingly listed as the technical term overground, this is the margin added to odds that ensure a consistent profit.
At flat odds, a bookmaker pays out as much they take in. In the classic coin toss example, if 10 people bet on a coin toss and five go heads and five tails, the bookmaker pays out everything they take in, essentially moving the cash from the losing betters to the winning betters.
Overground takes the flat percentage and creates wiggle room. Instead of 50/50, a bet of 49.8/49.8 leaves a tidy .4% for the bookie.
This practice is so ingrained into betting that it is largely ignored and often seen as the price of doing business, not unlike a set gratuity for a large party at a restaurant.
The term vig also appears in loaning operations and the once-common practice of allowing gamblers to bet on margin or with no money upfront.
Compounding
The nearly guaranteed profit of vig sends trickles of cash into an operation. One steady stream, no matter how slow, adds up. However, several streams accumulate faster.
Compounding takes the principle of a 2% (or thereabout) profit and amplifies it. Rather than offering a single bet on any given competition, a good bookie offers more selections in each contest.
The Super Bowl isn't just about the winner and loser or even the point spread, there are bets on the coin toss, the first field goal, the number of safeties, and on and on.
These additional betting lines require care to set the odds to avoid taking a bath, but they provide players many opportunities to kick in that little bit more. Even a contest that looks like a blow-out becomes a nail-biter when a player has money on a niche statistic from an individual player or aspect of the match.
Even a single option, offered with additional selections, allows a bookie to increase value. These accumulators allow a player to put down a small amount of cash on a multiplied odds bet and the bookmaker collects that much more overround.
The additional profit margin from a compounded overground also works in a room to provide incentives and promotions that entice players to bet with you over the competition.
Risk Elimination
Finally, a bookmaker makes money by not losing money. They work tirelessly with their resources to adjust the odds and keep their books in balance. They make offerings that create significant vig without gouging players.
They eliminate risk by staying in control and operating with enough leeway that they can absorb a bad call or sudden upset.
Even some of the most famous upsets such as 1985's Villanova vs. Georgetown didn't break bookies. It was an exciting contest and some players made money, but the bookies collected.
Secrets to Become a Successful Bookie
It comes as no surprise that one of the most compelling aspects of becoming an independent bookmaker is the possibility of making a profit year-round. Although this is true, like with any business you need to know what you are doing and have a strategy to successfully turn a profit.
Setting up a sportsbook shop is expensive and it requires a lot of experience in the field, for those who either lack the expertise, and financial resources or simply can't be bothered to spend the time setting one up, there is a simple and affordable way of doing it… contract a pay-per-head bookie service.
A bookie service in simple terms offers you a turnkey solution to running your business from anywhere in the world. Most pay per heads have s physical location with phone reps to take wagers but their entire platform can be accessed via the web. As mobile technology improves the need for call centers diminishes and hence the cost becomes more affordable.
If you are interested in running your own book, it is understood you know enough about wagering to be able to handle it, but who has the time to set up game schedules post props, and manage lines 24-7 these days? With the use of a PPH service, all of this is taken care of for you, plus the maintenance of the websites and data servers run on them as well, while you own 100% of the data. This means the clients are yours, you can accept or deny action from any of the players on your sheet and you manage the wagering limits and offerings but someone else does all the grunt work.
The beauty of this is, that you get more time to spend doing what you love and growing your business. Always know that you are working with professional line movers and tech specialists who ensure you are covered from all angles.
However, the secret to turning a consistent profit every season is the ability to manage your sheet efficiently. At AcePerHead.com, you will be provided with a dedicated customer support representative who will handle your account as if it were his own. One of the additional values of working with a pay per head bookie service like Ace Per Head is risk management, their line movers will be looking out for sharp players that might be taking advantage of you, and they will give you tips and recommend strategies to ensure your profits do not suffer.
Their system is equipped with a report tool that will give you real-time information on everything your players are doing, this will allow you to make decisions about what services and products are more profitable to you, for example, wouldn't you like to know which sport provides you the biggest profits, or which casino games are the most popular amongst your players? Real-time information like this is priceless in making business decisions.
One thing I would like to stress is the fact that Ace Pay Per Head does not handle or back any bets, they simply provide you with a state-of-the-art platform for you to run your book. You as the business owner, oversee paying and collecting from your players, so you don't need to worry about how to settle at the end of every week or season, you are in complete control of your finances.
More Tips on Becoming a Bookie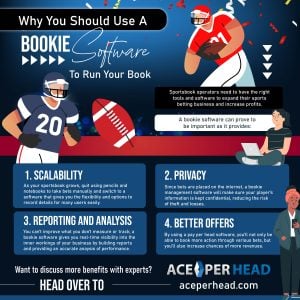 If you are looking to become a bookie then the biggest tip that can be given is to get set up with a quality pay per head company.
These companies provide an all-inclusive service with a professional sportsbook website where they manage all lines internally and update all odds up to the second. Having a quality service provider will do all the bookmaking work for you and allow you to focus on growing your business and acquiring more players.
Avoid the Cheapest Companies
When selecting which pay per head service to use, it is important to remember that cheaper does not mean better. A lot of new bookies come into this business and automatically just get set up with a pay per head company that just offers the lowest price per head fee. However it is extremely important to remember that you get what you pay for and saving a couple of dollars on the per head fee, in the long run, can end up costing you money because the site crashes during peak betting times, has lines that do not move fast enough, has customer service representatives that have thick accents and are hard to communicate and often make mistakes on requests, and just have less overall betting options, which will all lead to you not maximizing your profits from booking action.
Go for the Highest Quality Provider
Instead, it is wiser to get set up with a pay per head service that has sharp lines, a huge amount of betting selections, servers that never crash, and customer service representatives where English is their first language. One of the highest quality providers in the current market is Ace Per Head.com and they check all the above boxes. Their service fee is as low as $3 per head per active player per week, which is a standard reasonable price, but definitely not the lowest in the industry.
Also, it is important to allow your players to bet on anything available on the website because the more betting options the more overall volume your players will give you, which all directly results in players losing more money over the long term. So even if there are random sports such as Tennis and Table Tennis that people are betting on, you should never remove a betting option just because you may not be familiar with it. Every line Ace puts up for players to bet is monitored up to the second and has a house advantage, so it is important to just allow the players to play whatever is available on the site.
Don't Be Greedy
In addition, if you are thinking of becoming a bookie, when acquiring players it is important to start with people that you know and trust will be good for the money if they lose. Giving a player a $5,000 credit limit per week when he has a job that pays $500 a week, is not a smart move, because even if he loses the full $5,000 it is going to be extremely difficult to get paid in full in a timely manner. Instead, it is better not to be too greedy and just make sure that each credit limit you give to a player, makes economic sense for that player because you actually don't want the player to lose more than they can afford to pay.
Bookie Business as a College Student
Do you love sports? Want to make some side money while you study? Read below how to become a bookie as a college student.
If you're a college student, becoming a bookie is one of the best ways you can earn money.
A bookie is someone who makes bets and handles payouts whenever someone wins. As a college student, you can become a bookie and start earning more than you would with any part-time job in your area.
Becoming a bookie doesn't require much, but you'll need to know a lot about sports. This type of career provides a plethora of benefits with little risk, so it's something you can do even after graduating. By following a few tips for becoming a bookie, you can start earning massive profits within weeks.
Here's how to become a bookie in college!
Benefits of Becoming a Bookie
When you become a bookie in college, you can reap a variety of benefits that'll keep you motivated to stay one. These benefits are even better for college students because of how little time is required and how much money can be made.
Here are the Main Benefits of Becoming a Bookie in College: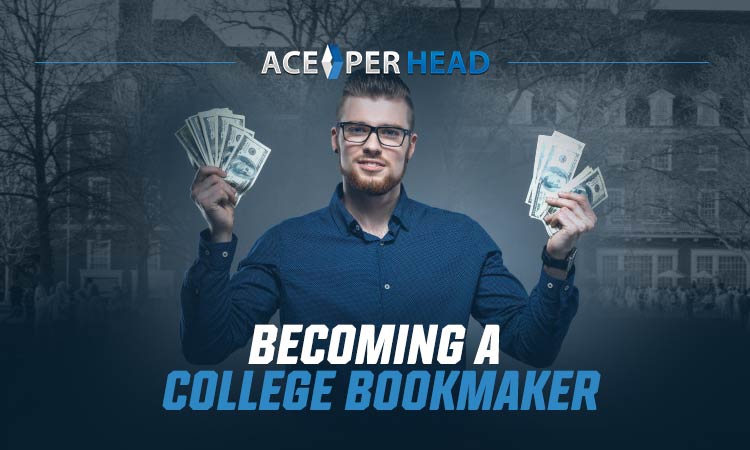 In the sports betting world, bookies are responsible for making bets. Outside of that, there isn't much work a bookie has to do to maintain their business. Instead, the sportsbook betting software they use will take care of most things.
The main thing you must do as a bookie is pay attention to sports. This will ensure that you're making reasonable bets that people will put money toward.
When it comes to receiving payments and paying winnings, your software will do them automatically. This gives you plenty of time to focus on schoolwork while collecting profits.
There is a lot of money to be made in sports betting, but few people are aware of that. As a college student, you can easily earn thousands of dollars each money just by making bets for your platform.
Some of the best bookies in the industry earn over $5 million a year, which can be done by any college student. Providing that you know a lot about sports, you shouldn't have a problem growing a player base.
The key is to make bets that are somewhere in the middle. Players should be able to win, but the bets shouldn't have high odds of winning. If you do things right, you'll make a lot more money than you're paying out.
Interact With Sports Fans
One of the benefits of becoming a bookie that many people overlook is being able to interact with other sports fans. If you're someone that loves talking about sports, you should become one because you can earn money from making bets while also socializing with players.
Not only will this allow you to do something you love, but you can also earn money from it. This is why many people who become bookies end up sticking with it.
What It Takes to Become One
Becoming a bookie doesn't require much besides sports knowledge. Because being one doesn't require much time, all a college student must do is prepare a few things beforehand. The main thing you'll need to worry about is getting money, but the other requirements are simple.
This is What it Takes to Become a Bookie in College:
Becoming a bookie isn't as simple as coming up with sports bets. You must have enough funds to afford things like software, payouts, and other expenses. If necessary, you can take out a personal loan to cover the costs.
To start earning a lot of money, it's best to have somewhere around $10,000. As a college student, this will be the most difficult thing to do because you most likely don't have much time to work.
However, you can offer your services to a few people until you start generating more income. If you were to offer them to 10 or fewer people with small limits, you shouldn't have a problem becoming one with about $1,000.
Getting reliable sports betting software is necessary if you want to provide a positive experience to players. Fortunately, this doesn't require much money because you can invest in a platform that offers pay-per-head services.
When investing in a PPH platform, you'll only pay for the number of people who are using your services. For example, if a PPH company charges as low as $3 per head a week per player, you'd only have to pay $100 if you had 10 players.
Your software is where all the bets will take place, so you'll need to find a company that has excellent customer reviews. As a new bookie, you don't need something that offers a plethora of features. However, the more features you have, the more things you can offer to players.
Sports knowledge is the most important thing to have when becoming a bookie. In college, it's easier to learn about sports because you can surround yourself with other students interested in them.
If you're someone who regularly watches games and can hold a conversation about any team, you have what it takes to become a bookie. Sports knowledge is crucial because it'll prevent you from making bets that people won't invest in.
You should pick a few sports that you're most comfortable with and focus on them. As you grow, continue to learn more about other sports so that you can expand your services.
Where to Get Started
To become a bookie in college, all you must do is go through a few simple steps. Providing that you have money saved to invest in software, you can start working towards becoming a bookie today.
You'll need to start by putting together a business plan so that you have something to reference. Your plan should include things like your goals, budget, and how you'll get things done.
After doing that, you can go through these steps.
Find a Platform
The most important thing you must do, aside from saving money, is find a sports betting platform. You can do this by browsing the web and checking various websites.
Finding sports betting platforms takes just a few minutes, but you must spend some time reading reviews and seeing what the platforms offer. This will give you a better idea of whether a platform offers the things you need.
Don't avoid reading negative reviews if you get interested in a certain platform. You may learn about something that you consider a red flag. Reviews will prevent you from wasting both time and money on something you won't enjoy.
Make a Website
After finding a platform, the next thing you should do is make a website. This will let you interact with players before they invest in your services.
Your website should inform players of what you offer. You should cover things like pricing, bet types, and how payouts work. Provide as much info as you can so that people feel more comfortable using your services.
Your website can also be used in your advertisements. Whenever you post an ad, you can include a link to the site. From your ad, visitors can get redirected to an area on your site that convinces them to sign up.
Start Making Money Now!
Any college student who wants to become a bookie can do so after reading this guide. Here at Ace Per Head, we encourage anyone who wants to become a bookie to do so as soon as possible. Sports betting is something that'll never go away, but more and more people are becoming bookies each day.
Start thinking about whether sports betting is something you want to get into. If you already have experience with betting, it'll be easier for you to understand how to make bets. Those without experience still shouldn't have a problem if they have extensive sports knowledge.
When you're ready to become one, sign up for our services today. We'll provide everything you need to get started!