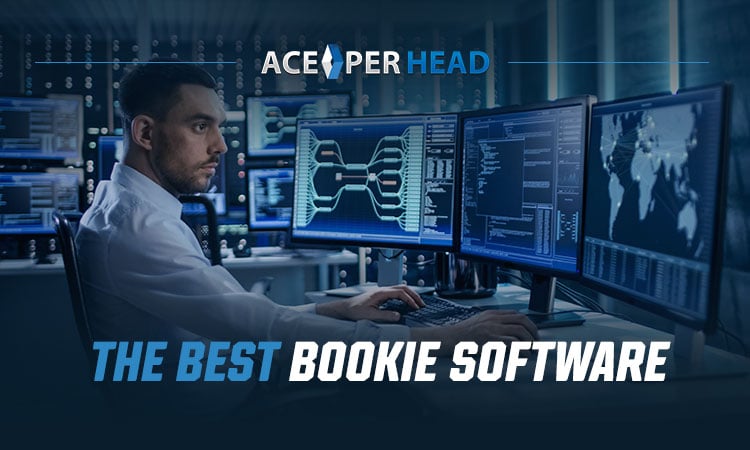 It wasn't so very long ago that using the services of a bookie meant going underground and engaging in illegal activities. Transactions were all in cash with your wager scribbled on a betting slip that you had better not lose if you wanted to cash in a winner.
The internet, as well as the increasing legality of sports and casino betting, has changed everything, with the average Joe now able to operate a fully functional betting service with nothing more than a smartphone or a laptop. Modern technology and the pay-per-head model have made it easy for novice and seasoned bookies alike to grow their businesses. Those who succeed do so by taking advantage of the best bookie software available today.
What is Pay Per Head Bookie?
Before we talk about the best bookie software and where to find it, we should probably talk about the pay-per-head model and how it works for bookies and bettors. One of the toughest parts of any bookie's job is finding people who want to actively place wagers on a regular basis. Imagine how easy it would be to serve the betting public if bettors were handed to you on a silver platter. That is how the pay-per-head system works, with bookies paying a flat fee, usually $3 to $10 per person, for bettors who use their services. There are now countless pay-per-head services out there, but they are not all created equal. When you look at what AcePerHead.com delivers when compared to the competition, you see just how far ahead they are in terms of features, and it all begins with the best bookie software on the market.
Features of the Ace Per Head´s Software:
If you are going to deliver the best bookie software available, you had better offer tools and features that the competition does not. That is exactly what AcePerHead.com has done with its software. There are other pay-per-head services out there that offer a rather basic piece of software that is not particularly flashy, and while it may get the job done, it is not usually the experience that the average bookie or bettor is looking for. Features and an exciting gaming experience are what people want, which is what can only get from a quality piece of software.
It is the features that are on offer from Ace Per Head that make us the best bookie software out there in the pay-per-head market. One of the most exciting aspects of their software is the ability to offer live betting to players, which is a bit of a must-have feature in today's fast-paced betting world. They also have their software available on both PC and mobile formats, allowing bookies to accommodate players who like to play on the go. There are a ton of great features for players, but what do the bookies get out of using the Acer Per Head software?
Fully Flexible Options for Bookies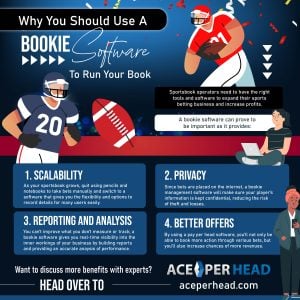 The betting world is highly competitive, with bookies and sportsbooks all vying for a large chunk of money. This is an industry where only the strongest survive, and it is the bookies who have access to the best bookie software that will swim while others sink. There are countless powerful options and features in the PPH bookie software, so let's dive in and take a look at just a few of the very best.
One of the coolest features available to bookies is the player watch report, which shows you the activities of every single player over the course of the week. You can choose which players to watch, which means getting access to all of their open wagers, as well as a host of other valuable information that gives you a clear insight into the wagering habits of every single player that avails themselves of your bookie services.
Speaking of watching wagers, you will have access to a bet ticker that you can watch as each wager is placed. This is where you will be able to see where all the big money is going, which in turn may lead you to think about moving the lines on individual games. There are many pay per head companies that simply set the lines on the board and have you adhere to them, but that is not the case with Ace Per Head. You have full access to all the lines on the board, which you can move as you please. This is a great way to engage players who might otherwise sit on the fence or pass on a wager whose odds don't fit into their wagering style.
Another great feature that you will find in the best bookmaker software offered by Ace Per Head is the ability to chat directly with each and every one of your players. This is a secure chat server that is heavily encrypted for the security of you and your players. All messages can easily be deleted after the fact for an extra level of security. The chat feature is a fantastic way to reach out to your clients and give them information on upcoming wagers or simply connect and keep them in the loop. It's the type of personal touch that you just don't see provided by all pay-per-head bookie services.
The reality is that there are countless pay-per-head bookie companies out there all vying for your business. They all essentially charge the same amount of money per player, so why would you pay the same amount for a piece of software that doesn't have all the features and options offered by Ace Per Head? The features that we mentioned in this piece are basically just scratching the surface of what you get, so be sure to take a closer look. What we believe is that you will see that this is the place that is home to the best bookie software on the market.
Key Benefits of Top Bookie Agent Software Providers
Sportsbook agents today are able to run their businesses smoothly thanks to recent advances in the programs available to them. Because of the modern strides, the industry has taken in the development and implementation of bookie software, sportsbook agents have the ability to start and maintain efficient businesses.
Sportsbook management can be a tiring and stressful ordeal for agents, but it is possible to run a sportsbook efficiently and smoothly. Implementing the best bookie agent management software into your business will set you up for success.
User-Friendly Bookmaker Platform:
There are many advantages an agent gains when using agent management software. Benefits such as variety, privacy, easy setup, automation, and accessibility all serve as advantages for an agent. Using bookie software and getting involved with pay-per-head is an excellent way to jump-start your business.
1. Variety
The first benefit that comes to mind when thinking about bookie agent management software, is the ability to offer a wide variety of gambling options to players. Bookie agent management software offers sportsbook owners the ability to offer and explore betting options at the national level, and the international level. The best software helps expand your business to an international scale. So not only will you expand your betting options, but you will also expand your player base, as the multitude of options will attract players from all over the globe.
An excellent example of a provider with agent management software that accomplishes this is AcePerHead.com. Their bookie software offers a wide variety of betting options from leagues all over the world. Running your sportsbook through AcePerHead.com is guaranteed to improve your chances of becoming a success.
2. Privacy
The second benefit of bookie agent management software that comes to mind is the privacy aspect. In an industry that involves data and finances, privacy is key. The software runs on a private website in order to protect player information and agent information, such as reports. Players are taking a risk when placing bets online, so in order to protect their data and earn their trust, a private and secure website is necessary to maintain business. This is the reason most agent management software runs on a private website. Ultimately this achieves protection from internet theft
A good example of a company that offers this protection to its software is AcePerHead.com. Not only do they have an extensive privacy policy, but they also have a secure data protection plan to go with it. AcePerHead.com offers top-of-the-line security to their software, they have an AI that filters abnormal internet traffic from normal traffic. As a result, Internet theft is an extremely rare occurrence on their site. Companies like Ace Per Head.com are reliable due to their ability to protect data.
3. Easy to Set Up
A lot of bookie agent management software is preconfigured, especially those that are offered with service packages. What this means for the agent, is that you save a lot of time when setting up your business. Preconfigured software shortens delays that arise from lengthy setups and software configurations.
With pre-configured software, all an agent has to do is import player profiles. Because of this, you can start your business almost immediately. Some software companies even include a website and call centers to handle the day-to-day tasks that come with bookmaking. Using website-based software makes it easier because players can just log in with their accounts and place their bets.
A great example of preconfigured software is the packages offered by AcePerHead.com. Their software is accessible through their website, which also includes a call center and data protection. When using AcePerHead.com all a player has to do is log in with their account and place their desired bets. The setup is simple, due to the software being business-ready, all an agent has to do is import their players. With simple software solutions like AcePerHead.com, your business can be ready to go in mere minutes.
4. Automation
Before the introduction of bookie agent management software, agents would have to keep track of every single bet taken. If that agent has a lot of clients, it would take a lot of time to run and manage the bets. But with bookie software, you can automatically manage your bets. Therefore saving the agent a lot of valuable time. The software can help an agent manage everything with relative ease, all an agent has to really worry about is attracting new clients and managing all of the money they earn.
An example of software with automation is Ace Per Head. As all of the bets are made, they are managed and processed automatically. Updated results are generated every second, which provides the agent and players with up-to-date information.
5. Accessibility
The last benefit I will be discussing is the accessibility modern bookie software provides to both players and agents alike. With bookie agent management software all you need is an internet connection and a web browser. Even then many options are mobile, so all you really need is a smartphone. This cross-platform capability makes sportsbook software the most accessible it has ever been. When customers are able to access their accounts on their own time, they are more likely to give you business. Customers will do things that fit their schedules and lifestyles, so offering them the most accessible option possible is necessary for the industry today. This will help businesses grow quickly, and it gives an agent more spare time. Accessibility offers a big advantage and should be incorporated into your business model.
A great example of this is AcePerHead.com. Their software is optimized for all mobile devices, so there are no limitations for account access. Their software is capable and accessible, making it a premier option for agents who seek good bookie management software for their business. The benefits described in this article only scratch the surface of what Bookie software has to offer. Make sure to do research into the software option you are interested in. Some companies, like AcePerHead.com, even offer a testable demo, free of charge. Experiencing the capability and features of bookie software will open your eyes to the business opportunities you have as a modern sportsbook agent.
Success Story: A Customer's Experience
We asked one of our customers to recount his early experience getting into this business, and how he found our service.
Here is His Story:
When I was a freshman in college, I hooked up with a crew of guys, and girls, who had the same passion for sports as I did. Most of us were high school athletes of some ability, but we were attending a large, Division 1 school, and as such were relegated to intramurals and rooting for our teams. By the middle of our first football season, we were comfortable enough with each other to talk about betting on our team. We found a local guy who would extend us credit to gamble; it wasn't much but then we didn't have much. We did well enough and met enough people to start our own little "book" or sportsbook. In the sophomore year, we began taking bets, and soon we had our own little business.
Before I knew it most of my "staff" began to lose interest in manning phones while everybody else was out partying. I stayed with it though and by the time I graduated, I had paid off my tuition and my little brothers, drove a new car home, and promptly found out that the job market was not what I had envisioned. I got a job tending a bar and soon found that many of my "guests" liked to gamble and were looking for a reliable way to do so. I was back in business. Within a year's time, I was busier than a one-legged man in an ass-kicking contest. My girlfriend was perpetually mad at me, as was my Mother since many of the busiest days were also holidays and I was a late arrival for everything at her home.
Fortunately, I met a guy who used the site AcePerHead.com, who told me about a service they had called "Pay per Head". I never liked anybody in my business; ever since my first crew quit on me in college, I worked alone and I liked it. I had control and access to all my players' sheets. I had my own accounting system and it worked for me. My girl wanted to go out, my Mother was all over me about my non-involvement in our family traditions, and to tell the truth, I wanted more time for myself and a life with the outside world.
I checked into this Pay-Per-Head thing signed up with Ace as a bookie agent, and found that I still had control and access to my players' information 24/7. I would pay a fee for each player that used their website or toll-free number. If they played once or 20 times in a week it was one price and if registered players did not play in a given week, no fee was assessed. I handled all revenues between me, and my players, had foolproof records of transactions, and could offer easy confirmation of any dispute in figures. The players can actually look at their plays, in black and white, on the website. It was a no-brainer for me.
My paperwork was cut by 75%, my girlfriend likes me now, and my Mother has returned her eldest son back into the good books. My bookie business is better than ever and easier to manage. Win-win. I'm convinced.
Do Not Lose Money:
Running a bookie business can be challenging, and it's easy to overlook certain areas where you could be losing money. At AcePerHead.com, we understand the importance of maximizing profits and have identified the following five common ways that bookies lose money:
Not setting proper limits on customers. Without proper limits, it's easy for customers to get in over their heads and rack up large debts. This can lead to unpaid debts and lost revenue for the bookie.
Not keeping accurate records of bets and customer activity. This can lead to missed opportunities to increase revenue and make informed business decisions.
Not having a solid risk management strategy in place. Without a proper risk management strategy, it's easy for bookies to lose money due to unforeseen events or bad bets.
Not offering a wide range of betting options. This can limit the number of customers a bookie can attract and ultimately lead to lost revenue.
Not having a good customer service strategy in place. Without good customer service, it's easy for customers to become frustrated and take their business elsewhere.
At AcePerHead.com, we offer bookies a comprehensive platform that addresses each of these potential issues, providing them with a user-friendly interface, a wide range of sports and casino games, and comprehensive customer support. Additionally, our platform has built-in risk management tools, customizable reporting options, and a variety of payment methods. We also have a team of experienced professionals ready to help bookies with any questions or concerns they might have. By avoiding these common mistakes and using top-notch pay per head software, bookies can increase their revenue and grow their business efficiently.
The Complex Science Behind High-Quality Bookie Services
The software has evolved immensely over the last two decades. It has evolved to the point of connectivity and interaction between many different devices, which has made organization and business management simple. We are at the point where entire business operations and systems can be in the palm of your hand. Sportsbook agents have benefited greatly from this technological evolution. Sportsbook-keeping is a business that is based on numbers, results, and fluctuating data.
Bookies at any level take advantage of sportsbook software to remain ahead of the game. There are many bookie software advantages that enable sportsbook agents to run and manage their businesses efficiently.
1. Meeting Demand
The size and capability of an agent's operation will make or break them. If your service is popular but it fails to meet demand, then players will go elsewhere. Losing demand is catastrophic for any business. One of the bookie software advantages that helps to prevent that is the scaling ability. The best software will not only handle any amount of demand, but it will also scale with the increase in demand, which means you will always be able to meet the demand at any given time.
This scaling ability helps to fit the needs of your business, whether you need to categorize your clients, or organize the size of your bet, bookie software is versatile and can do it all.
2. Data Security
A major concern of using online resources is a lack of data security. Sportsbook software does not make your information vulnerable to the rest of the internet. It does a good job of protecting vital information. Sportsbook software services provide top-of-the-line data protection to their clients. For example, AcePerHead provides your data with 7-layer DDoS protection. In the event of a DDoS attack, AcePerHead is able to filter the bad internet traffic from the good. As a result, players are never even touched by hackers, and the data is in a "digital safe" so to speak. AcePerHead also has the following software security functions; IP filters and logging, modern SSL standards, advanced firewall appliances, and malicious vector filtering.
Software offered by companies such as AcePerHead.com provides customers with immense internet security. So bookies using these services can rest easy knowing that their business is in good hands.
3. Simplicity
Bookie software is modernized to a point where the user interface is easy to read and use. The level of experience a person has does not matter, those of all levels can understand and use bookie software. This bookie software advantage enables users of all backgrounds to integrate with the world of sports betting quite easily. The interface is simple, yet inviting. The controls are intuitive and easy to master. This benefit encourages people to give online betting a shot, new players often do not feel confused which makes them more willing to participate. And more players increase demand for the bookie, which helps your business flourish.
AcePerHead.com is a great example of this because its interface is clean and very easy to use. The demos they offer allow players the time to master the interface without risking their money, so when players get involved in real action, they are more prepared. Simplicity is underrated, sometimes simple really is better than the alternative. Complexity often turns customers away, so simple yet effective options are what agents strive for.
4. Accessibility
As mentioned earlier, the innovation of technology has made bookie software extremely accessible. This modern age has brought a wave of mobile devices, which is what enables an agent to use bookie software from almost anywhere. Mobile devices allow the user to update and manage information from any location, whether you are in the waiting lobby of an appointment or caught up in the office. This bookie software benefit allows you to stay involved and even helps you get ahead in certain situations. You can get bets firsthand, and you can log it all into a mobile device such as your phone.
AcePerHead.com helps lead the industry in terms of mobility. Their mobile-ready software is fully optimized, which means users experience great software performance. AcePerHead.com has an elite mobile website, as almost 90% of wagers involving AcePerHead are made from a phone. The interface is formatted for each type of smartphone, and it has a touchscreen that is simple and easy to use. This allows players to make their bets in seconds, and whenever they want. The betting is on their terms, which makes the games accessible. This attracts more players, as people will always go for the most accessible option.
5. Data Analysis
With good sportsbook software, an agent can sort and analyze their info efficiently, getting accurate reports and data within seconds. This enables you to catch up on stats, and even compare data sets with earlier numbers. A good bookie software enables the user to analyze, sort, and compare their data within seconds. This helps agents avoid being overwhelmed by a large number of customers, and it enables them to handle spikes in participation well. As a result, agents can keep up with the market and avoid disorganization.
AcePerHead.com offers extensive data analysis options. The interface has a toolbar that includes the necessary tools to make and manage reports. Thanks to bookie software advantages, data analysis has never been easier.
All of these bookie software advantages can help an agent run their business, and help you save time and money, which in the end will help your business grow. For example, AcePerHead.com provides one of the best software options because they are experts when it comes to the sportsbook industry. They provide excellent software and support for any sportsbook endeavors. Many sportsbook services can help jumpstart your business or save your business, these benefits serve as critical advantages. This method is what the market runs on today, so if you want to get caught up. It is an excellent investment. Bookie software has the ability to change your life, and it all starts with a simple click.
What Software Do Bookmakers Use?
Bookies are set up with companies in the pay-per-head industry because these companies allow bookies to pay a per player-a-week fee in order to use their software and website. These pay-per-head companies take care of all the technical aspects of bookmaking such as creating and moving all lines on games up to the second and grading all wagers as soon as each event concludes. They provide a fully functional sportsbook site for the bookies' players to bet on, which is set up on the various servers of the pay-per-head company.
Each pay-per-head software is slightly different in terms of format and features, but all sites generally have similar betting options and processes to make a wager. The big difference in the various software to choose from comes with how sharp the lines are and how quickly they are moved, the level of customer service and support that is given, and the amount of money spent on technology and servers.
One of the most popular used software that bookies use is AcePerhead.com. The reason this software is so popular is that they do a lot of things the right way. For example, they have some of the sharpest lines in the industry and offer more betting options than other pay-per-head bookie software providers. Ace Per Head does not follow and copy other shops' lines, instead, they make an average of the 5 biggest books in the market and then move the lines based on where the action is going, and then utilize the handful of very sharp professional bettors in their system to move the line immediately and aggressively.
This 24-hour-a-day and 7-day maintenance of the lines allows Ace to have a 14% per week average hold percentage, which is much higher than the industry average of 5%. This nearly triple amount of hold percentage is because Ace moves lines up to the second and increases the juice on various games to get more bang for the bookies' buck. This all leads to players losing more money on Ace than at other software bookie sites that are slow with moving lines and who don't move the juice accordingly.
Ace also has American English-speaking customer service representatives who are easy to understand and communicate with. This is a huge difference compared to the average software provider that only employs people for whom English is their second language. Speaking to customer representatives who are difficult to understand is a recipe for lots of mistakes, and unfortunately, most companies do this to save money. However if you can't communicate well with your PPH bookie software provider then you risk having things done incorrectly with limits, profiles, and requests that can end up costing a bookie a lot of money.
Lastly, Ace Per Head is not stingy when it comes to spending money on research and development. They are constantly adding new and useful features to the software each year. In addition, they spend large amounts of money to have over 9 different servers around the world, in order to make sure the site never goes down, especially during peak betting hours such as NFL football Sundays. Nothing is worse than getting blown up by your players that the site is down when they are trying to make a bet on NFL Sunday. This can cost the bookies lots of money and even cause them to lose players. That is why Ace makes it their number 1 priority to spend lots of money on servers and technology to make sure their sites never experience any type of downtime.
Top-of-the-line Bookmaker Platform
Every bookie needs to have top-of-the-line bookmaker software for the best chance of success. Read to learn about the best bookmaker software.
Did you know the American public bet $6.8 billion on the NFL's Big Game in 2021? It's a number so high it's almost inconceivable.
Why is so much money flowing into the sports gambling business? It's never been easier for a sports betting enthusiast to make a bet thanks to the widespread legalization of online sports betting apps.
What does that mean for you, dear independent bookie? For years, America's gambling industry rested on your shoulders. Now you're getting squeezed by the big guys and their flashy apps.
Stop the squeeze and get online with the best bookmaker software. Do you want to learn more about the best bookie software? Read on to learn more about what AcePerHead offers.
Price Per Head Bookie
Most independent bookie software platforms operate a pay-per-head system. What is the price per head sportsbook? It means you pay a dedicated amount per gambler each month in exchange for the bookie software.
For example, when you sign up with AcePerHead, you pay as low as $3 per head per week for each separate player who bets with your book.
Let's say you have 20 separate players who place bets in March. That means you'll pay $200 to AcePerHead as a fee for the use of our services.
What Does the Best Bookie Software Offer?
If you're thinking about moving your bookie business online, you probably have a few questions. One is, what is the best bookmaker software? The other, is what does the best bookie software offer?
What is the best bookie software? Pay-per-head bookie services aren't all the same.
Here's what AcePerHead Offers You:
The first half of 2020 was a disaster for bookmakers. COVID-19 wiped out the second-largest gambling event of the year, the NCAA Men's Basketball tournament.
An independent bookie running an old-school pencil and paper operation lost everything. The big books, while losing money, pivoted to less popular sports still played in other countries like British Darts and KBO baseball.
Americans love laying action so much, that they'll lay it on anything, but you have to offer it. You don't have the time to handicap every event out there, but offering bets on less popular games means more money for you.
Our line service works around the clock to offer bookies the tightest lines around.
Line services expand your bet offerings. If you're an experienced bookie, you've spent years handicapping games. You also know your market better than anyone.
AcePerhead.com offers the tightest lines around, but that doesn't mean you have to use them. With our Move Lines Feature, you have the freedom to adjust lines based on your market.
Live betting is a gambling revolution spurred by technology and legalized sports betting. Until recently, a player had to get their bets in before game time. Or they had to stand in line at a ticket window.
Players love placing in-game bets. Why? Players believe new betting markets give them the edge. In-game betting is also revolutionizing sports viewership.
A sharp gambler's eyes can see an edge as they witness a momentum shift in any game. Take the Patriots' comeback against the Falcons in 2017's Big Game as an example.
A bookie operation is a business alike and unlike any other. You get to make money from sports. What could be more fun than that?
To make money, you need to know how to manage your money. What is the best bookmaker software? It's the platform that offers bookies efficient money management.
Here's how AcePerHead helps you turn a profit.
Increased Payment Options
You need to accept money to make money. Until recently, sports betting dealt in cash. With widespread legalization and online betting proliferation, players want payment options.
One of the fastest-growing forms of payment in the online sports betting world is cryptocurrency. With AcePerHead, you can accept and pay in this exciting, new payment form.
How many bets are currently open in your book? Who are the players winning the most?
These are the questions that need answers. The faster you receive them, the better able you are to set limits and spot weaknesses.
AcePerHead gives bookies bet tracking abilities in real time. At any time of the day, you can see the money coming in and how it's going out.
You're not a charity. You're in this game to make money, and that means you need control. The sharps are always lurking, ready to treat your lines like easy chum.
AcePerHead gives you the ability to manage your risk on any bet.
Place hard betting limits on any event or any player. Impose progressive limits on any games. Let the market tighten your lines, and then start taking big money!
Less Time Equals More Money
Being a good bookie isn't only about handicapping games and taking bets. You are an accountant, too. You handle large sums of money coming at you fast.
In the old days, you had to have a system. Even then, a small operation of 15-20 players was hard to manage. Fielding phone calls right before kickoff was, at best, an annoyance.
The best bookie software keeps track of all your money for you. Players receive automatic payouts. You don't have to be on the phone taking bets.
Freedom from the phone gives you the time to expand your sheet and get more players into the fold. More players equals more money.
Easy Player/Bookie Interface
Let's talk about why big sports betting apps are so popular. They're easy to access and easy to use.
What is the best bookie software for you? It's software that offers a streamlined, easy-to-use platform for the players to keep placing bets.
Sports gambling remained relatively unchanged until the US Supreme Court's landmark 2018 decision in the Murphy v. NCAA case.
Once states were able to legalize sports betting, the industry changed and now constantly evolves. The online sportsbook apps are now an arms race.
Moving online means keeping up, but you want to make sure the sportsbook software you use helps you keep up.
AcePerHead's team of expert engineers constantly updates the platform for the most up-to-date interface.
Your online book needs to stand out. You're competing for dollars with large corporations backed by large amounts of capital. Your book can't give out large bonuses to attract players as they do.
AcePerHead understands that. We give you complete design customization. If that's above your pay grade, our team of software engineers will design a custom site for you.
One of the advantages of the old bookmaking method was that you never went down unless you couldn't answer your phone. Entrusting your sportsbook to an online software company can be scary.
What happens if you go down during the NFL playoffs? You lose money every minute a player can't make bets.
Don't worry. The best bookie software like AcePerHead offers bookies the customer service you need to stay operational during heavy traffic. If you crash, we'll have you up and running again in no time.
When you deal with large sums of money online, you need a platform that prioritizes player and bookie privacy.
With AcePerHead, players and bookies won't have to worry about privacy breaches or solicitations. When players call into our customer service line, we'll never ask for a name, email, or phone number.
All they'll need is their player ID number and password.
Rest assured, bookies. We guard your account and money as if it were our own.
To use bookie software, all you need is a computer and an internet connection. That includes a tablet or a smartphone. With the best bookie software, you can access your book's data anywhere at any time.
Your players can, too. They're able to place bets at any time and from any location using their computer or smartphone.
Technology might not be your best bet. As a bookie, the last thing you want or need is a convoluted software solution that takes hours or days to set up. The faster you get online, the faster you make money.
The best sports betting software should take minutes to set up and no longer.
The Best Bookmaker Software Prioritizes Bookies
Do you want to know how to become a bookie? The easiest and best way is to find the best bookmaker software.
Whether you're an experienced handicapper or new to the game, the best software solution will have you taking bets in no time! Bookies of every experience level deserve software that prioritizes their needs.
AcePerHead does just that. We offer tight lines, a customizable interface, and a plethora of payment options.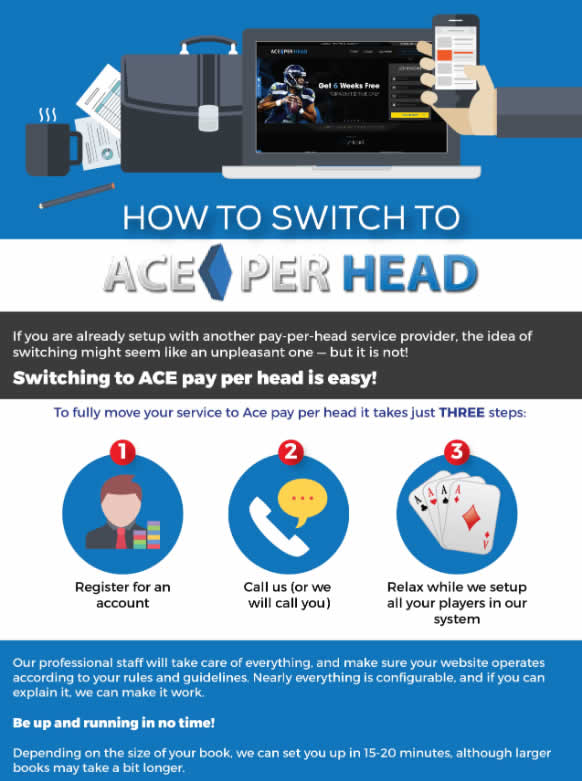 Benefits of a Bookie Betting Company
The best way to start a betting company is to first get set up with pay-per-head bookie software. These services provide a fully inclusive sports betting site that posts thousands of wagering options each and every day and then grades all wagers after each sporting event concludes. In addition, these services also have the option to offer a virtual casino with over 100 different casino games and a racebook that has over 70 different horse tracks that can be wagered on.
These services manage all the sports betting lines and update all the bookie odds up to the second, which means you as the bookie do not need to know all the ins and outs of bookmaking and the technicalities of setting and moving lines. This is handled directly by the pay-per-head service and they have a whole department of lines movers with years of experience creating and moving lines.
The main job you will need to be responsible for if you want to start a betting company is actually finding people who want to bet on your new sportsbook. This is actually very easy and just starts with word of mouth and reaching out to all friends, family, coworkers, schoolmates, and social media friends. Billions of people bet in some form or another in their life and betting has been around since the beginning of time, so once you start getting the word out there you will be pleasantly surprised by how many people will actually want to bet with you.
In addition, you can also offer people a bonus in the form of free play to get people started and hooked on betting. A free play is just a certain dollar amount that you put into a player's account that they will be able to use to make a wager. For example, if you give a new player a $50 free play, that player can use that full amount to make a wager on a game or even break that up into smaller-sized bets to get multiple bets equaling the total of $50.
Then when the player uses the free play that will mean the player cannot lose any money on that bet, no matter if it wins or loses. If the bet wins then the free play amount disappears and the winning amount is credited to their overall balance, and if the bet loses the free play amount disappears, and nothing is deducted from the players' balance. Everyone loves getting something for free, so this is a great way to get players on the website and let them have some free action on a game so they can enjoy the sweat of betting on a sporting event. Also since gambling can be quite addictive for some people, this is also a great way to get guys addicted fast to the thrill of betting.
How Can Bookmakers Deal with the "Problem" of Big Winners?
In 2017, the online betting company 888 was fined the equivalent of US$10.3 million by the British government when it came out that betting accounts of more than 7,000 clients who had asked to lock themselves out were still allowed access. Allowing clients to walk away is a mandate of the British government, and the fact that 888 had left those accounts open amounted to a breach of regulations. Another issue that bettors face involves efforts by bookmakers to deny access to big winners. If you utilize sports bookie software to run your business and use a service like AcePerHead.com, then you have access to tools to minimize your exposure to risk, using steps that are technically legal but definitely lack popularity with bettors.
Why Would Bookmakers Want to Limit Activity From Big Winners?
If someone keeps winning, it makes sense that bookies would make adjustments in their sports bookie software to limit their own exposure. Some sportsbook owners point out the necessity of taking a close look at big winners to ensure that they are not committing some sort of fraud. The growth in online betting has made it a more competitive market, and in order to gain an edge, some bookies have started to offer action in new markets, such as soccer leagues in Eastern Europe, where match-fixing is more of a problem because of low player wages and payments from teams that can often undergo delays, leading to a need for the cash infusion that bribes can bring.
More often than not, though, decisions to limit bettor access after a series of wins fall under the category of "risk management." It makes sense to cut off losing revenue streams if one wants profits to grow. Regulations in some countries that are designed to prevent money laundering require online bettors to provide the company with detailed information, which allows for no small manner of profiling.
Common strategies that bookies incorporate through their sports bookie software sites are to cap wager limits to small amounts, or even to shut down certain accounts. The regulators (in countries where online betting is regulated) pay far more attention to other areas of the sports betting industry, so this is an area in which bookmakers have much more leeway.
How Can a Pay Per Head Platform Help Me Manage Risk as a Bookmaker?
When you set up an online sportsbook with AcePerHead.com, you have access to sports bookie software that allows you to manage your business in a fraction of the time that the old-school bookmakers had to spend chasing down cash and taking phone calls. When it comes to risk management, you can access the key metrics of your account from your smartphone, identifying trends as far as wins and losses, and focusing on bettors who are winning almost all of the time – and deciding what to do with their betting limits.
There are other advantages that come with signing up for sports bookie software on a managed platform like AcePerHead.com. One of them is the professional look that your sportsbook will have. Unless you have some expertise in web design yourself, even if you purchase an expensive software package, it is unlikely that your sportsbook website will rival that of some of the heavy hitters in the industry. Working with AcePerHead.com allows you to make your website look just as glamorous as sportsbooks that do hundreds of times the volume that you are doing right now. Getting that even footing is huge when it comes to dealing with the competition on the Internet.
Another advantage of using sports bookie software has to do with payment security. One fact about today's Internet is that, more than ever, hackers are on the prowl for ways to steal people's information – and to hack into businesses, install ransomware and then charge exorbitant amounts of money to release the data back. When you sign up with a platform like Ace Per Head dot com, then you can rest easy knowing that your money – and the money of your betting clients – is in safe hands, free from the reach of hackers, and so is your personal information.
There's also ease of use. When you sign up with Ace Per Head, you join a platform that is mobile-optimized, so you can run your book from a deck chair on a cruise ship, from a stool at a sports bar, or from your couch. You just pull out your smartphone and manage your account, doing everything from checking the latest metrics to figuring out just what the best point spread would be for you to offer. You can update the sports props that you offer, in case you decide to add in-game wagering by the quarter for next week's NFL action.
In other words, you get to focus on what you love about the sports betting industry – playing with the numbers and waiting for the cash to roll in, while you also focus your efforts on marketing. You leave the nitty-gritty details of managing your site to the staff at AcePerHead.com. We have helped bookmaker after bookmaker turn a trickle of cash into a steady river of revenue, helping them gain financial independence and walk away from the sort of jobs that were wearing them down, one day at a time.
And if someone starts winning, week in and week out, to the point where it starts to get suspicious? Then you can use the sports bookie software you're a part of to take a closer look at that client. If you decide to make that bettor's new limits minuscule for a couple of weeks, you can do that. If you decide to take that bettor off your active client list, you can do that too. All from the ease and convenience of a smartphone. AcePerHead.com has client service staff ready to talk to you about growing your sportsbook.
How to Save Time and Money?
You don't have to wait forever to become a successful bookie, and it doesn't have to cost you a fortune if you know what you're doing.
Did you know that 85% of adults have gambled at least once in their life? As more places are allowing gambling antics like sports betting, people are more willing to spare their money.
What if you want to be on the other side of the table when it comes to betting on sports?
Read on to learn about how you can save time and money by becoming a bookie.
You can save time and money by becoming a bookie because it is an easy process to start. There are a lot of bookie success stories, but no real secret formula on how to get to that point. However, the most important thing you can choose is your sports betting software.
Sports betting software is the place where customers place bets. You want the design to be easy enough for others to understand. A seamless sportsbook platform will provide a better experience.
If you want to bring in the most people, you should offer multiple sports. It is also best to get a platform that allows for customization options. When you personalize the look of your betting software, more people are willing to spend money saving you more in the end.
States Are Making It Legal
Any state can legalize sports betting, but not all of them have. This makes it harder for you to save time and money because you have to operate underground. Yet, now that more states are making it legal, you don't have to worry about this.
As of now, eighteen states have regulated sports betting markets. This is just over 30% of the population in the United States.
In many years to come, more states will pass legalization measures. Those regulations make it possible for someone to legally operate as a bookie. You can benefit from this by being able to build your customers easier which can save you time.
Understanding sports betting is simple. You can start now or at any time. Once you are a bookmaker, work is always relatively easy.
Because of the rise in technology, bookmakers no longer have to take manual bets saving a huge amount of time. Instead, take that time to pick a great bookie software that can take bets without you needing to leave the house. People should be able to easily make bets on your website.
Being a bookie means you can have other payment methods because you don't have to dedicate all of your time to betting. For a lot of people, becoming a bookie is a side job for extra money.
This is a great advantage because it allows a person to save money more easily. After all, they have more than one stream of income. The downside is that if you have another job while being a bookie, you may save less time than you hoped. With time management, you can balance booking with another job easily.
If you are ready to save time and money by using the best bookie software, you can start now. After finding the right platform for you, all you need to find is your customers. After a bit of work, you will see how easy it is to be a successful bookie.
Call Ace Per Head Now!
To start your business as a bookie and earn extra cash, begin creating a package now.
Call Ace Pay Per Head today at 1-800-909-5193 and get set up with one of the top pay per head bookie software companies in the industry and start your sportsbook betting company so you can start earning immediately.