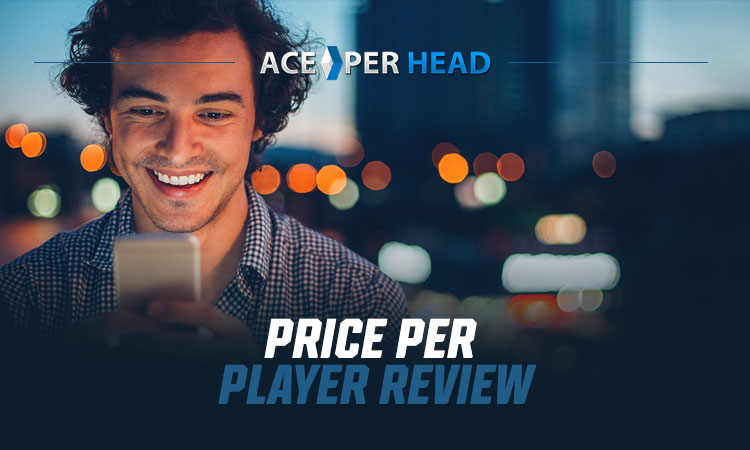 The price per head industry focuses on providing bookies with a website with updated up-to-the-second odds for their players to bet on all the sporting events from around the world each day. This is a competitive market and today we wanted to review one of the better and more popular price per player services in the market.
Ace Per Head has been in business for 25 years and has really begun to make a name for itself over the last decade. Their standard price per player is as low as $3 per active player per week and they only charge for a player if the player actually had a graded wager for that week. So for example, if an agent has 50 players on their agent account, but only 26 players played that week then they would only get charged $260 for that week.
This price is pretty much the average price in the industry, however, there are definitely other price-per-player services that do charge a lower price than $2. So if you are just looking for the cheapest pay per player service out there then Ace is probably not going to be the best option for you.
However, the reason that AcePerHead.com is not the lowest price on the market is that the actual product they offer is rated as one of the best in the current market. They have a huge board of options that even has less popular options such as e-sports, rugby, cricket, entertainment, politics, and more. In addition, they have live-betting included in the $3 price that has side, total, and money line for all professional football, basketball, baseball, and hockey, as key college basketball and football games, live soccer on champions league and major tournaments, all weekly golf tournaments, and major tennis tournaments. The amount of betting they have alone is worth the extra couple of dollars per player because players will be able to bet anything they want and the more options lead to more volume per player and more money they will lose on average.
Industry's Best Lines
In addition, Ace has very sharp and aggressive lines that move instantly and they also have some professional sharp bettors in their system which enable them to move lines faster than most books. Having the sharpest lines may not seem like that big of a deal, but half a point or point could easily mean the difference between a player losing a wager instead of pushing or winning. The weekly average hold percentage at Ace is 14% per week compared to the industry average of 5% per week. So that extra 9% is huge in terms of their agents making more money from players than the average service.
Lastly Ace Per Head does have one other option where the price can be slightly reduced. They have a current promotion where agents get a discount of up to 20% off if they make their site fee payments through cryptocurrency methods such as Bitcoin, Litecoin, Ether, or Stellar. So not only is this an easy and convenient method to pay the price per head fee but it has the extra incentive of getting a lower price per head as well. So if you are looking for a quality product that can make you the most money possible then give Ace a call today at 1-800-909-5193 to get set up immediately.
Price Per Player Sportsbook Software: A Guide
Are you wondering how price per player sportsbook works? We've put together a quick software review to break this down for you.
Did you know that a bookie can make anywhere between $5000-$10,000 in just one week?
Of course, this outcome depends on how many clients you sign on. Those with more clients will have the opportunity to make more cash while those with fewer bettors are unlikely to reach this level of success. Because of this, it's essential that you have the tools you need to garner a great reputation and work with more bettors.
Price per player sportsbook software is the best way to ensure that you can rise to riches. Read on to learn what these platforms are, how they work, and the specific ways that they can grow your sportsbook.
What Is Price-Per-Player Sportsbook?
Price per player sportsbook platforms are also known as pay-per-head (PPH) software. These names stem from the fact that you don't pay a flat fee for the service but rather pay a fee for each player that you sign on. This fee is generally as low as $3 but can go up depending on the additional features that you want for your service.
PPH bookie services are awesome because they're completely scalable. This gives you significantly higher flexibility than those you'd pay a flat rate for. You'll never pay for nonexistent players and can therefore turn the highest possible profit.
A Review of the Platform?
Price per player sportsbook software can be anything that you want it to be. At Ace Per Head, you can choose from a wide variety of templates to construct your site. We do all the work for you so you don't need any knowledge of coding or web development.
If none of the templates suit your needs, we also are happy to help you design and develop a custom website. The aim is to have an engaging and transparent platform regardless of if you use a template or not.
You can choose the features that you want on your website. From interactive betting displays to real-time scores, having a fast-moving website is sure to draw in potential bettors.
While we design everything for you and ensure the successful launch of your website, this doesn't mean that you have no control. We simply work to execute what you envision. You will retain full control not only of the design but also of your lines and limits.
Transparency and Simplicity
The platform itself is extremely transparent. You can show bets made and money owed on both the agent and player end of the site. This ensures that there isn't any confusion about who owes who money and why.
You can also display the sports, events, and smaller items available for betting. With the click of a button, players can bet with you on any payment method that you're comfortable offering. This makes betting an easy and efficient process.
Full Management and Automation
Initial web development isn't the only thing that Ace Per Head manages for you. We also perform updates to your platform when you need them.
This ensures that you and your clients don't lose track of bets placed. It also ensures that your website remains cutting-edge and competitive in an ever-growing industry. It's essential that you have a professionally managed platform to stay ahead of other bookies who are also going to invest in such amenities.
Part of managing your pay per head software includes communicating with you and making changes as you see fit. Remember, Ace Per Head's experts are here to make the platform of your dreams a reality.
If something isn't up to par with your needs, all you need to do is call us and explain what you want to be changed. We'll work to implement your alteration ASAP.
Another amazing thing about price per head platforms is that they're fully automated. This doesn't just mean that we perform automated updates for you. It also means that you can link your site to scorecards and update scores in real-time.
People who have placed bets can monitor and track sports that are relevant to those bets. They will always know whether they're up or down money.
Additionally, security updates are 100% automatic. Our servers monitor trends and patterns on the backend of your website to ensure that things are running smoothly. Blips in these trends could be identified as malware and troubleshooting can begin immediately to safeguard your information.
Security and Privacy Protection
A huge part of success as a bookie is protecting your bettors. They give you a lot of sensitive information in the form of payment methods. There are also often large sums of money at stake, so ensuring that this money is secure is essential.
PPH sports betting software aims to safeguard both your privacy and your players. To begin with, neither we nor you as an agent will ever need to know the names of your players. Each bettor will be randomly assigned a number so that you and our communications team can work with them, but their name will be safeguarded even from us.
If you want, we also will do the same for your identity. We understand that agents like you also value anonymity and will assign you a number in the same way that we do your players. We'll work with you despite not knowing your name and so will your bettors.
Another great privacy feature that we offer is the ability to pay in Bitcoin. Since cryptocurrency is untraceable, you can rest assured that neither Ace Per Head nor your clients will be able to figure out who you are. Your bettors can easily be afforded the same option assuming that you develop your platform the right way.
How Does This Help Grow Your Sportsbook?
The fact that Ace Per Head works hard to protect your player's privacy enhances your reputation. About 84% of people trust online reviews implicitly and enhancing privacy protections ensures that you'll receive positive feedback.
You also won't need to take a reputation hit as a result of clerical errors, data loss, and identity theft. This helps you to stay above your competitors even if something were to go wrong.
PPH platforms also have built-in disaster recovery features to ensure that you can gain back any information that you accidentally delete or use. This is also critical to ensuring that you maintain a good reputation. After all, no one wants to work with a bookie who loses bets (especially with a system as transparent as an Ace Per Head website!)
Easy Marketing
Because the best pay per head platforms are websites above all else, using them makes digital marketing easy. You have a URL that you can link to on social media, which drives traffic to your website. You also can create pay-per-click (PPC) advertisements on Google Ads and link them to your transparent PPH website review.
Search engine optimization (SEO) campaigns aren't also off the table. All you need to do is say the word and our experts will set up a blog section on your platform. While we can't produce blog posts and create SEO-rich content, we can keep your blog organized and accessible when you upload these posts on your own.
Local and International Expansion
Price per player sportsbooks are also far easier to expand to new audiences. Because you can automatically integrate different sports and events into the platform, you no longer need to spend hours manually tracking scores and updating your site. This gives you the opportunity to offer more diverse betting on your website.
When you diversify the sports and events that you offer, you're sure to draw in more bettors. For example, a football-exclusive platform would only draw in those who enjoy football. However, if you offer baseball, soccer, and swimming in addition to football, you quadruple your audience. The more sports you offer, the better.
Additionally, PPH platforms give you the chance to expand internationally. You can offer sports like soccer to reach European countries where it's popular in. If you want to reel in Chinese audiences, you can even offer bets on table tennis tournaments.
International expansion is also easy because people can place bets on cryptocurrency. This means that no one needs to figure out fiat currency conversions and potentially make a mistake. International players can also call our 24-hour call center without racking up a long-distance phone bill on your end.
Become a Pay Per Head Bookie Today
Now that you know the basics of using a price per player sportsbook, it's time to get started. Sign up for your 6-week free trial of Ace Per Head's trusted PPH platform. When you do, you'll get the same top-notch service that all of our clients enjoy.
This trial is completely free of obligations, but we'll work with you to design and launch the platform that you'd use if you choose to sign on with us. Since we're committed to helping you grow your bookie business and become as successful as possible, we look forward to hearing from you soon.