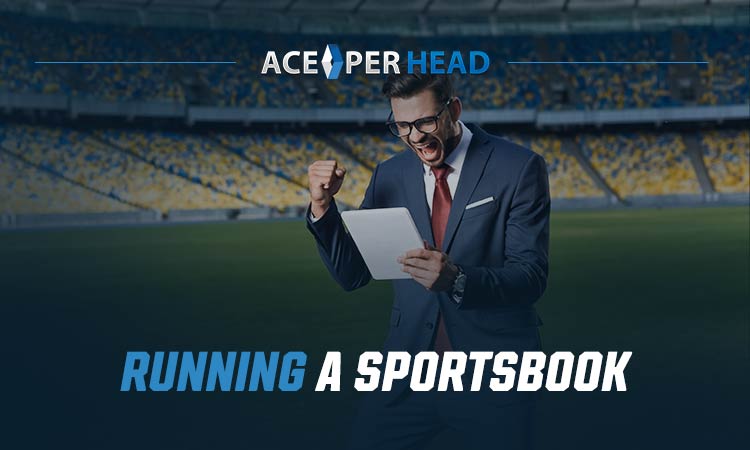 Laws are constantly changing in various countries around the world in regards to whether or not running a sportsbook is illegal, so there is no definitive all-inclusive yes or no answer anymore. Just in the United States alone, that question has been a lot more common because the laws have recently changed to allow each individual state to make their own decision in whether or not they want to legalize gambling in their state.
Did you know that the sports betting market is expected to grow by over 10% annually from 2021-to 2028? Because of this expansion, starting a bookie business is a great way to make a bank.
Running a sportsbook may sound like a challenge, but breaking it down into smaller steps makes it much simpler. Read on to learn how you can become one of the top online bookies and begin making the big bucks.
1 – State Regulations
So the best course of action in order to determine if where you are specifically located is illegal or not to run a sportsbook would be to check with your local attorney. Since each area has different rules and regulations, it is important to go through an experienced and knowledgeable attorney because even if two states are both allowing sportsbook businesses to operate, there still may be different rules for each state.
2 – Contact The Best PPH
If you do get confirmation that running a sportsbook in your area is actually legal, then the next step would be to contact one of the many price per head companies that can easily be found online. These companies specialize in offering ready-made and fully functioning sportsbooks to experienced or brand-new bookies looking to take action on various sports.
These companies manage all the lines for every game and update the odds up to the second and then automatically grade all open wagers on that game, which then gets updated immediately to the player's and agent's overall balance in their account. These companies work 24/7 and have decades of experience making and managing lines and being a bookmaker, so as the bookie you can sit back and let them do all the technical work.
They provide you with a website URL to give to your players and from there you will have an agent account that has all your player accounts and information accessible within the agent account. Also from the agent account, you can edit players' passwords, credit, and wager limits for each client based on exactly what you want for each player. In addition, all open wagers and graded wagers and balances will all be accessed directly from the agent backend so everything you need will be there for you to view.
3 – Acquire Clients
Then all you have to do as the bookie is just focus on acquiring clients that would like to bet on your new sportsbook website. This is simple and fun, and the best way to do it is by word of mouth with family, friends, coworkers, schoolmates, social media friends, and friends of friends. Once you start getting the word out that you have a legal sportsbook site to offer people who want to gamble, you will be surprised by how many people do have an interest in making wagers.
Then the sky is the limit with how much money you can earn from your new sportsbook business, because over the long term players always lose, and the house always wins. So if you are in an area that is legal to have a sportsbook then don't waste any time and get set up with one of the best pay-per-head companies in the world. – –
4 – Consider the Basics
It's important that you consider basic business tenants before running your sportsbook. This means recognizing that your sports betting site is a business above all else. While it's tempting to simply think of a sports gambling firm as being different from other companies, it is in fact a business and must be run as such.
This mindset means that you need to consider what your company stands for. Outline a vision for your bookie business and state it concisely. This will give you some long-term direction so that you know what you're working towards.
You also will want to create a simple mission statement before opening yourself to bets. Mission statements are action-based and detail the ways that you serve your bettors. They are only 1-2 sentences long and make for a good introduction on your sportsbook website's home page.
This will keep you motivated and goal-oriented. It will also inform users of what your bookie brand stands for. Transparency is sure to draw people to your brand, so make sure your statements are clear.
Come Up With Objectives and Goals
Goals and objectives are just as important as your vision and mission statement. These goals need to work towards achieving your vision and mission so that you can realistically meet them. Breaking down your larger brand goals into smaller short-term ones is a great way to make growing your brand seem easier.
Make sure that you use the SMART method of goal-setting. Like with any other startup, it's important that your bookie business sets objectives that are:
Specific to your sportsbook's individual needs
Measurable and quantifiable
Achievable and realistic for your current stage of business
Relevant to the vision and mission of your bookie brand
Time-bound and realistic within that timeframe
This will give you a way to actually understand whether or not you've met your goals. You also can look concretely and analytically at what you've achieved after the fact. Seeing how successful you were will help you set more realistic goals for the next quarter or year.
Set a Budget
As a business, the first thing that you need to do is set a budget for running your sportsbook. Many beginning bookies don't have a lot of money, which can make opening your sportsbook feel like a difficult challenge. Luckily, budgeting can help you to allocate funds in the most important areas so that you can get started efficiently.
Think about the costs needed to simply get your sportsbook up and running. You'll need:
Website development and design services
Plugins that let you communicate with gamblers
Payment and billing technologies so that people can place bets
Communications technologies to talk to bettors (a customer service cell phone, a sportsbook domain, etc)
Security features and firewalls to keep your website and bettor information safe
These are just some of the basics that you'll need to get started. Updates, upgrades, maintenance, and marketing costs will come later as well. This can create a huge dent in your pocket, but you're in luck: there are all-in-one platforms that provide all of these services and more.
Ace Per Head can help you get started in all facets of your business. Consider your budget without managed sportsbook services and then think about it again if you were to use a pay-per-head (PPH) platform. This is a surefire way to save a lot of money.
5 – Talk to Other Online Bookies
While being a bookie is definitely great for lone wolves, it's a good idea to talk to others prior to setting up your sportsbook on a PPH platform. Go to online forums and ask other bookies about the features that they've used most on their platforms. Discuss the things that they would have done differently when starting out and learn from their mistakes.
Talking to others will give you a feel for what you'll need to do as a bookie. It will also help you to form connections with others interested in sports betting. You can learn the industry better and even collaborate with bookies that aren't your direct competitors.
Run a Sports Betting Business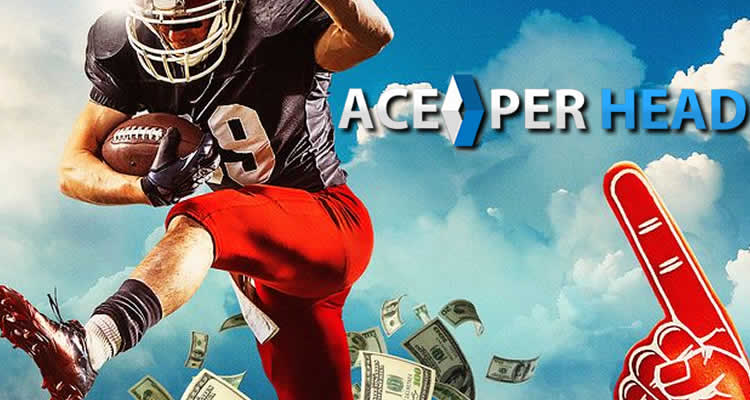 After considering basic business-related questions, it's time to begin setting up your sportsbook online! To do this, you'll need to invest in a pay-per-head (PPH) platform.
But what is PPH, exactly?
PPH services are also called price-per-player sportsbooks. This is because of their unique payment method. Rather than paying your provider a flat monthly fee, you pay them based on the number of players that you're working with at a given time.
This fee will be as low as $3 but can go up to $10 if you want to add additional features to your package. Since you will only be paying this amount for the bettors that you're actively working with, rates will be flexible throughout the year. You might pay $10,000 for 1000 players around the time of the Super Bowl but only pay $100 for 10 players during the off-season.
This ensures that you aren't putting more money into your business than you're making. Your sportsbook will always have room to grow and thrive.
Choose the Right PPH Platform
Reading reviews is a great way to see what others think of PPH platforms. Make sure that you look for the right things when reading reviews. This includes pricing information, features that come with the platform, and the location of the service.
One of the most important factors in your decision should be experienced. You want to select a PPH provider that has been working with sports gambling agents for a while. More experience means that the provider will have more ways that they can assist you as your bookie business grows.
You also should look into security when choosing a platform. A single slip-up could mean a disastrous security breach that can greatly damage your reputation. This could lose you clients and even leave you susceptible to lawsuits, so make sure that you prioritize high-level security features when selecting your sportsbook.
6 – Understand Ace Per Head Features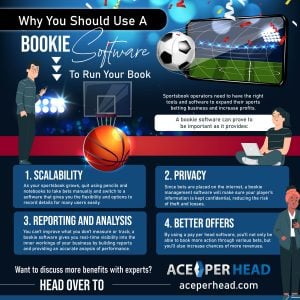 We brushed earlier on the fact that PPH platforms are fully managed. This means that you get a wide range of services when you work with sports betting providers. Ace Per Head offers more features than most. We don't just get you started- we keep your sportsbook afloat as you make more money and expand to new markets.
One of the best features that Ace Per Head provides is automated updates and upgrades. We make sure that your site is running on the latest software. This improves load times, site appearance, and the overall experience of your bettors.
We also can link your site to platforms that automatically track scores, players, teams, and lines. This will showcase relevant information on both the agent and player end of the site. Everyone will be on the same page about wins, losses, and payments owed.
Customer support is another area in which we excel. You will have the option to contact our call center with any questions that you have or issues that arise with your platform. Since bookies set their own hours and night owls make great entrepreneurs, the call center is open 24/7 to discuss your midnight needs.
Our support team also works to keep your players happy. Bettors have their own round-the-clock call center as well as agents. This also saves you the need to constantly wait for phone calls and emails so that you can focus on innovation and sportsbook expansion.
Make Security a Priority
Make sure that security is your top priority when setting up a sportsbook. You don't want your own information or your bettors' to fall into the wrong hands. Since you'll likely be working with large sums of money, it's critical that you take the necessary measures to keep financial information safe.
Ace Per Head encourages you to pay us with untraceable Bitcoin when making transactions. We also strongly recommend that you allow your gamblers to place bets in Bitcoin. This means that no one's personal or financial information will be stored on the network, minimizing the chances of a breach to almost nothing.
Additionally, we do not make you give us any information when signing up for our services. Your account will be assigned a random number and no one will ever even know your name. This numeric code is used in all dealings including agent support at our call center.
Players will also be afforded this same courtesy. This is critical because even the strongest authentication systems and firewalls are not impenetrable. Neither you nor we will know their personal information because it is safer when kept off the network.
7 – Expand Your Bettor Base
Bookies can make $50,000-$100,000 in a single week if they work hard and make smart decisions. This amounts to around $5 million in a single year. However, you're going to need to take actionable steps to expand your sportsbook if you want to get rich.
Remaining appealing to bettors is key. If your site becomes outdated, bettors are going to believe that you don't care about your sportsbook. This is a surefire way to drive them to competitors.
You need to constantly monitor trends in web design for sports betting services. Ace Per Head's design experts are happy to implement all changes that you want, but it's a good idea to understand the ways that you want us to alter your website. This ensures that your dream becomes a reality and that your bettors connect with your brand.
Become a Bookie Today
While online bookies often have a difficult time in their early days, becoming a sports betting provider is much easier with the right PPH platform. Now that you know the basics of running a sportsbook, it's time to begin talking to professionals about setting up a shop.
We're committed to providing you with the best PPH services and helping you overcome any obstacles that your sports betting startup may face. But why just take our word for it when you can see the truth for yourself? Create your package with Ace Per Head to begin your 6 weeks free of our services.
Since 1998, AcePerHead.com has been one of the pioneers in the pay per head business, enabling bookies agents to set and operate their sports betting business online.