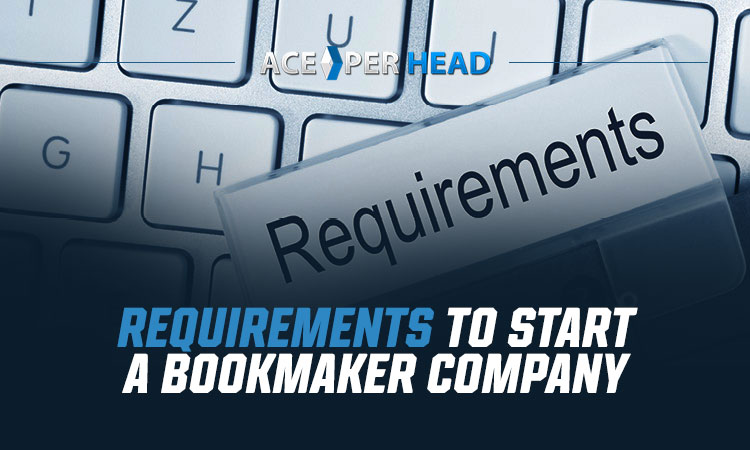 It's reported that 34.6% of small businesses in the US are still operating at the 10-year mark. If you're looking to start a bookmaker company, then you need to understand what it takes to go the distance and grow a successful business.
As a bookmaker, you're responsible for facilitating gambling, especially at sporting events. Your role is to set odds, accept bets, place bets, and pay out any winnings.
Are you wondering about the requirements to start a bookmaker company? If so, this article is for you. It discusses the best path to becoming a bookie, so be sure to keep reading for information you won't want to miss.
What Path Best Fits Your Professional Goals?
As you start a bookmaking company, you need to consider what path is best for you.
Bookmakers are establishments that both accept and pay off a number of bets. This includes bets placed on sporting events and any other public events.
Bettors make wagers with bookies and may also ask for money in the form of a line of credit. This may be risky for a bookie, and the pros and cons of lending this credit must be weighed.
Bookies are responsible for adjusting the odds so there's always balance within their books. They do so by looking for an equal number of winning and losing bettors.
Bookies also need a fair amount of money to start a bookmaker company, along with legitimacy while adhering to legal procedures.
Are you looking to be an online bookmaker, or do you want to be an on-course bookmaker? You also need to consider if you're going to open a betting shop or combine all of the above.
Although online betting is extremely popular, it's a fairly saturated market, so you need to offer something new and exciting to attract new business. This may include sign-on bonuses and promotions that work to attract and retain bettors.
As you decide to become a bookie, ask yourself what attracts you the most to betting. Do you love betting on horses? If so, you may want to become an on-course bookie.
How Do You Want to Establish Yourself?
When you create an online sportsbook, you need to decide who you plan on working with. Are you looking to start a bookmaker company on your own, or do you intend on working with an existing firm? 
Consider the pros and cons of each avenue. For example, you may like the concept of working as an independent bookmaker, but you'll have various overheads that you'll be solely responsible for. This includes wages and rent if you have a physical location.
There are also fees associated with the renewal of your yearly trackside pitch should you pursue the avenue of becoming an on-course bookie. When you bring your business online, you'll have server fees and license fees.
When you partner with an existing firm, however, you'll benefit from shared expenses, but your role is to represent them as an employee. You won't receive the total profits and will receive a paid salary of a commission.
Apply for Licenses
Online sportsbooks fall under strict guidelines, ensuring ethical practices for bettors. No matter what type of online sportsbook you have, you'll need a license.
Prices vary, but you'll need to set aside more than enough funds to secure your online gambling license. There are also yearly renewal fees, so budget for these as well.
The type of services you offer affects the cost of each license, so always have a reserve account to offset these yearly fees.
Determine Your Budget
The next step in starting a bookmaking company requires you to create -and stick to a budget. Your budget needs to account for licensing, rent (if you open a physical location), staff wages, software and hardware, and server hosting.
Before embarking upon a new career, always have a robust financial plan in place to cover unforeseen expenses and general overhead.
Necessary Skills Needed
When looking to start a sportsbook company, you'll need to possess several necessary skills.
For starters, you'll need strong negotiating skills, along with the ability to lead and manage. You'll need to demonstrate flexibility in every situation while delivering excellent customer service.
It's also crucial that you understand odds and finance.
You might find yourself negotiating with betting partners, staff, and local authorities, and you'll be expected to demonstrate exceptional leadership skills.
To make money, you'll also need to demonstrate exemplary customer service skills to draw in prospective bettors and retain current ones.
Decision-making and flexibility are also part of the job, especially when considering your views on a specific bet.
When you start a bookmaker company, you'll also need a strong marketing plan in place. Most bookies rely on social media to attract new bettors while advertising their online sportsbooks. You can also offer exchange advertisement, where you advertise on another business's website in exchange for them advertising on yours.
Requirements to Start a Bookmaker Company
Now that you understand the requirements to start a bookmaker company, you can embark upon an exciting new career in online sportsbooks. As you become a bookie, you need to consider if you want to work independently or with a firm, determining your budget and what works best for your needs.
Pay Per Head software can help. Ace Per Head is the best option as you start a gambling company, offering affordable solutions.
Our dedicated call center is devoted to helping you grow your business. Create your package today.