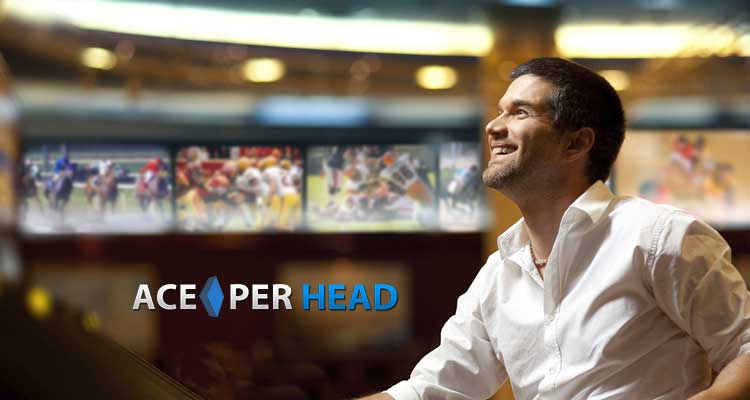 If you've been working under a local bookie for some time and now have your own sheet and the experience to handle it, why not branch out and create your own sportsbook?
Don't be Afraid to Spread your Wings
Imagine being able to keep 100% of your profits every season, instead of having to give a cut to the corner guy who let's be honest, did little or nothing to help you earn them. If you have dreamed of having your own shop, then this is the time to act, join AcePerHead.com for free and create your own sportsbook!
Ace Per Head is the premier pay per head service that can help you set up your own shop within 24 hours. You can start small and build your business at your own pace with minimal investment, as low as $3 per head. Their suite of services includes cutting-edge technology, specialty lines, the best betting software, top-notch customer service, and most importantly all the support you need to get started.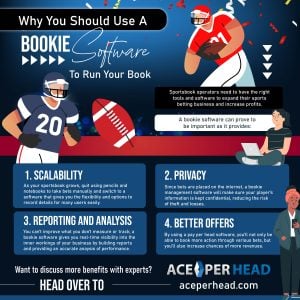 If you feel your package is too small to warrant having a custom-made website, then you can utilize the state-of-the-art betting portal that Ace Per Head.com provides.
By joining Ace Per Head, you will be able to provide your players with the best wagering experience of their lives. Ace offers a full sports betting service, plus a horse racing platform that supports hundreds of tracks nationwide and 2 different casinos, their virtual casino offers the best graphics and tons of games to choose from that will keep your players entertained for hours on end; for those who enjoy a more realistic experience, the Live Dealer Casino is the ultimate solution.
When your players log in to the live dealer casino, they will be able to interact with beautiful female dealers through HD live-stream video while playing their favorite game.
There are some things to consider before you go out on your own, the most important one is to have the bankroll needed to pay your players in full if you do not have enough money on hand to be able to do this, then don't be discouraged, you can still move forward with your plan, you will just need to secure financial backing either in the form of a partner or an investor. Another thing to keep in mind is the logistics to pay and collect every week, you may be able to handle everything yourself right now, but, once you switch to AcePerHead.com your business will proliferate and you must be prepared to handle this growth.
If you feel you are ready to be your own boss, and all you need is the right pay-per-head service to get started then give us a call, and let us know what your needs are, and we can put in place a course of action to help you create your own sportsbook and have you set up within 24 hours.
Are you Ready to Create a Sportsbook Site? 5 Easy Steps
What if you could create your own dream job and work entirely from home?
It may sound too good to be true. But with online gambling more popular than ever before, now is the perfect time for you to create a sportsbook site and make serious money as a bookie.
In fact, many people have dreamed of doing this for years, but they get discouraged because they think it is too hard to get started. In reality, you can get started in only five easy steps!
Don't believe it? Keep reading to discover everything you need to create a sportsbook site today!
1. Finding the Right Partner
When you think "maybe I'll create a sportsbook site," what do you imagine? Most potential bookies think they will have to do everything on their own.
While it's theoretically possible to create a sportsbook empire all on your own, doing so would take a lot of time and a lot more money. Fortunately, there is an easy way for you to hit the ground running while saving both time and money.
What you need to do is find the right pay per head platform partner. And "partner" is the keyword here: you need someone who can help you field calls, create a website, and provide the right software for you and your players to use.
Working with a good partner can help you take advantage of these great features right away. And such a partner will have many years of experience, meaning they can answer any questions you have before you start down this road.
Long story short? Out of the five easy steps to creating a sportsbook site, finding the right partner is the most important step. Once you have a good partner in place, you can move on to getting your license.
2. Getting Your License
Running a sportsbook site is one of the most fulfilling jobs you can perform. For some people, it's a nice "side hustle." Others manage to turn this into a full-time career.
Because it's so fulfilling, you might wonder why more people aren't setting up their own sportsbook sites. One reason for this is that you need to apply for an online gambling license in order to get started.
This can be a bit intimidating and confusing because you will likely need to get an offshore gambling license. This is necessary to help you take full advantage of your bookie business. But you're going to need to follow the relevant country's specific rules for obtaining and maintaining a license.
For example, many would-be bookies get gambling licenses from countries like the United Kingdom, Antigua, and Costa Rica. But those different countries all have their own specific rules for getting a license, including other initial costs. Be sure to do your research before deciding where you will get your license.
3. Create a Sportsbook Site Online
Now that you've found a good partner and obtained your gambling license, it's time to create the centerpiece of your new sportsbook business. We're talking, of course, about creating your sportsbook website.
Now, your partner may be able to help you create this site, meaning you won't have to worry as much about the design and technical elements. But you're still in charge of the most important part: determining the right content for the site.
On the most basic level, this means determining what kind of features your site will have. Will you have solid mobile integration for players to make wagers? Will you have an easy way to chat back and forth with players?
On a more advanced level, you may consider creating forums, chatrooms, and other features to transform your site into an online community. But this usually works best after your player base has grown.
4. Determine How You Will Get Paid
Let's not mind words: if you're creating a sportsbook site, it's because you're hoping to make some good money. And one of the most essential parts of starting this sportsbook business is figuring out how you are going to get paid.
If you were starting your business completely from scratch, this would mean figuring out which credit cards you'd take, whether you'd accept PayPal, and answering other major financial questions. However, working with a good pay-per-head partner takes the guesswork out of your financial transactions.
For example, when you work with Ace Per Head, you and your players can use all major debit and credit cards. But we also accept different forms of cryptocurrency, including Bitcoin, Litecoin, Ethereum, and Stellar. This is important because certain credit card providers may refuse to help players or sportsbook agents make payments for online gambling.
In other words, the more payment you can take, the more options you and your players have to keep on making wagers and getting paid!
5. Time to Get (and Keep) Players
In some ways, creating a bookie site is like creating any other kind of business. That means it's not enough to simply bring in your initial players. You also must create strategies to help retain those players and turn them into regular customers.
One way you can reward longtime players is by adding some additional features. For example, Ace Per Head makes it easy to add casino games to your website, including blackjack, craps, and roulette. This is a great way to keep players coming back to your site when they're not making sports wagers.
You can also cultivate an e-mail mailing list. For example, try offering players something (such as a free eBook about winning sports bets) in exchange for their e-mail address. Then you can send out weekly updates that keep your website on their minds and keeps them coming back for more.
Best of all, these loyal players you retain will tell their friends about your site. And they will be your brand ambassadors to help your business grow from month to month and year to year.
Get Started Today
Now you know how to create a sportsbook site. But do you know who can help you get your business started right away?
Here at Ace Pay Per Head, we are changing the game with online wagers and casino games. To see how easy we can make online gambling for you and your players, come check out our demo today!
The time to act is now by creating your own sportsbook, get ahead of the crowd so you can have everything in place before football season starts!