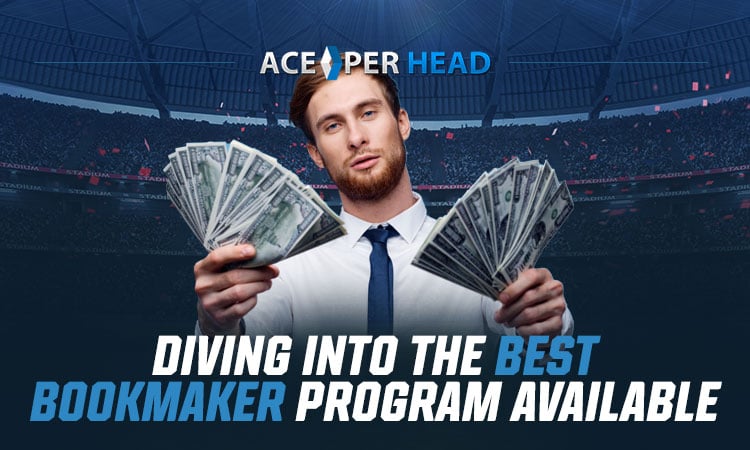 If you want to join the 582 million entrepreneurs around the world in starting a small business, it's important to get into the right industry.
The sports betting and gambling markets are always growing. It's a great high-demand market to make a name in. Read on to learn how you can choose the best bookmaker program to make bank as a bookie.
Ace Per Head: The Best Bookmaker Program
Successful bookies can't develop a website from a template made for other businesses. An eCommerce site won't have the right features and functions to meet your needs. A basic WordPress site won't be easy for gamblers to navigate and bet on.
The best pay per head platform Ace Per Head makes it easier for people to place bets and cash out.
Ace Per Head professionals are well-versed in creating and maintaining bookie-specific websites. These have specialized functions like integrated score tracking, crypto payment methods, expert-made odds, a huge board, and live dealer gaming options.
Design an Awesome Website
Ace Per Head lets you design a great website that gamblers in your target market will love. We make sites for those looking to operate both sportsbooks and racebooks. These apps are perfect for bookies who want to focus on sports gambling.
However, if you're into casino gaming, we'll tailor-made a website for that, too. You can offer 40+ games as well as live dealer casino games. The latter lets people have a real casino experience with live competition in poker, dice games, and more.
No matter what you want, we'll help you customize your site with ready-made, bookie-specific templates. You can tailor them to look exactly as you want them to. They're anything but generic.
If you're still not into a template-based site, though, we can also help you make one from scratch. The possibilities are limitless depending on your budget and needs.
Make the Most of Great Features
Regardless of what site you choose to make, it'll be 100% ready to launch on mobile devices as well as desktops. Players can just install your app and place bets on the go. It's convenient for them, which means more bets for you!
Players will get access to an easy-to-navigate system with a readable dashboard. They can place cryptocurrency bets with the click of a button, see all open bets on their home screen, and get real-time figures about how much they've made betting with you. They can also easily see the integrated bet trackers so that they can make decisions on what to put money down on.
You'll also get access to dozens of great features when you work with the #1 betting platform for online bookies. Some include:
Wager alerts
SMS notifications about bets
Line mover technology
Player messages within the app
The ability to manage limits
Player watch reports
IP trackers
Max casino limits
24/7 assistance from our team
Get Started With Top-Notch PPH Platform
Choosing a betting platform for your budding bookie business can be difficult. Luckily, it's a no-brainer when you know about Ace Per Head, the best bookmaker program on the market.
Our team is excited to help you grow with customizable PPH services and a mobile-ready website. Start a 6-week promo period to test-drive our pay-per-head platform for free.