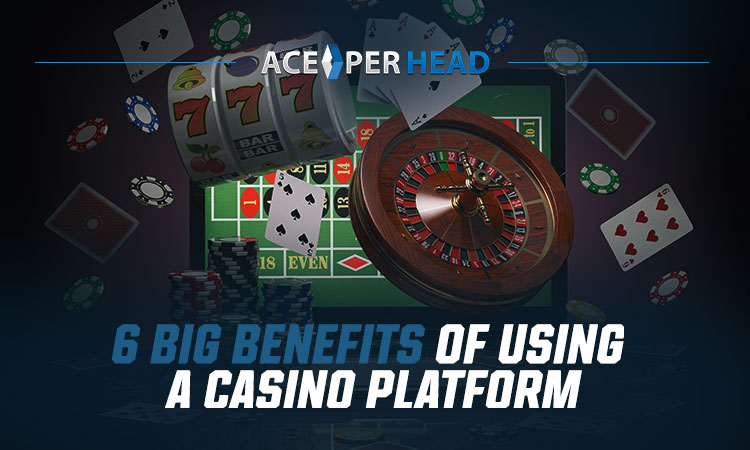 Did you know that around 85% of Americans gamble? Even better, 60% have placed a bet in the past year!
Because of these high figures, becoming a bookmaker is an extremely lucrative career path. Plus, you get to set your own hours, work from any device, and engage with the sports and events that you're passionate about.
To make it as a bookie, you're going to need to invest in the top casino platform available in 2022 and beyond. Read on to learn the top benefits of finding bookie software that fits your needs.
1. A Custom-Made Website
When you work with a top provider like Ace Per Head, you'll get a lot of assistance as you go through the early stages of setting up a sportsbook. One of the most important things that we do is help you set up a professional-looking and visually appealing website.
Bookies have different website needs than other types of businesses do. An eCommerce-friendly Shopify site isn't going to cut it, nor is a simple WordPress page that you DIY. It's crucial that you have templates that are made for the unique needs of sportsbook agents.
We offer dozens of different templates that can showcase lines, track scores in real-time, and take crypto bets. These pre-designed web templates are completely customizable so that you can build your brand and get the word of your services out there. They also come equipped with security features like firewalls and multi-factor authentication.
Don't like the idea of a template-based website? We've still got your back.
We're ready to work with you and design a custom page that fits your precise specifications. Since our team knows how to design appealing websites and integrate the top features that bookies need, you'll be in good hands.
2. Experts Who Care
Professionals aren't just there to set up a website and kick you to the curb. When you access the benefits of the casino platform from Ace Per Head's top-notch providers, you get real-time help throughout your entire gambling career.
We have a 24-hour agent hotline that's dedicated to fielding your questions and concerns. If you think of an upgrade that you want in the middle of the night, you can immediately call and request it. This means that your site will always be exactly as you want it to be.
There's also a round-the-clock hotline for the players that you work with. We're here to field late-night calls so you don't need to sit up by the phone waiting for players to pester you about simple issues. That being said, they will also be able to contact you on your website… on your terms.
3. Simple Pricing Models
There are generally three different pricing models for using a casino platform.
The first, a one-time up-front payment, charges you a large lump sum when you choose the platform. In exchange, you get to keep it forever. Sadly, this is a terrible bargain since you won't get any support, help, or upgrades, meaning that your sportsbook will constantly need to be replaced.
This isn't sustainable, so many people turn to flat-fee subscription models. These usually come with support and updates, but they don't make financial sense. You're going to be paying huge fees even during the off-season when you're making next to nothing.
Pay-per-head (PPH) models like Ace Per Head offers are superior because they're flexible and scalable. You only pay for the number of players that you're actively working with, so you'll never put out more than you make. One of the top casino software benefits is that you get to access this payment model and get assistance and features at an always-affordable rate.
4. Updates and Upgrades
When you work with PPH technologies, you'll have access to automated updates. Your security features will never lag behind and you won't lose bettors due to downtime. You also won't need to worry about frustrating players with a lagging website or poor navigational systems.
Upgrades are also readily available. You can alter the way your website looks to keep it looking modern. This ensures that you remain competitive even as gamblers look for new features and new web design strategies.
5. Mobile Compatibility and Alerts
Using a casino software doesn't just mean getting an awesome desktop website. It also means developing something mobile-friendly.
Currently, about half of people across the world mostly access the web on a smartphone. In 2025, this figure will be around 72%… and they'll be exclusively on their phones. That's why it's important that you get a great mobile app with top-level functionality and features.
Casino platform that's made for mobile phones is also excellent because you'll get real-time alerts when players place bets or send you secure messages. In addition to this bet ticker, you'll be able to get special alerts about specific players that you want to watch more closely.
6. High-Level Security
Last but definitely not least, investing in casino software provides you with security features that protect both you and your players.
At Ace Per Head, we assign your account a random number and use that in all of our dealings with you. You'll never need to give us your name or any other information. We understand that privacy is a top concern.
Likewise, your players will also be assigned random numbers and have their privacy protected. This ensures that they won't need to enter any information onto a network that could in an unlikely scenario be breached. All information will be secure.
Additionally, Bitcoin payments are heavily encouraged. You can pay us with it; your gamblers can place Bitcoin bets. This keeps financial information safe even if hackers and malware work their way onto your website.
Invest in Top Casino Platform Today
Running a grade-A sportsbook isn't easy, but using a casino platform that helps you grow is the best way to find players and make dough. Now that you know some of the top casino platform benefits for budding bookies, it's time to begin trying out Ace Per Head's top-notch PPH technologies.
We're committed to helping you grow your sportsbook in a myriad of ways, including automated maintenance and customer support. That's why we're excited to demonstrate the ways that we can meet your individual needs. Start now to see what our fully-customizable sportsbook software looks like in action.