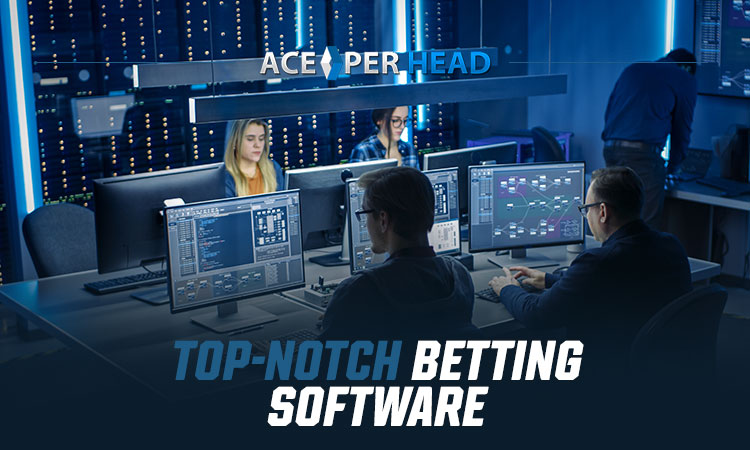 Did you know that people around the globe rake in $400 billion from online gambling? 30-40% of this gross yield comes from sports betting. That's why more and more sports enthusiasts are becoming bookmakers, setting lines, and raking in cash.
If you're looking to become a bookie, it's important that you invest in betting software that puts your sportsbook at an advantage. Read on to learn some features that you should look for when picking a platform that brings your bookie business to life.
Top-Notch Security
As a bookie, you're going to be connected to your sportsbook betting software throughout most of your day. You're going to have it linked to multiple devices including your smartphone and laptop.
Similarly, players will access your platform from the same devices that they conduct personal business on. There is sure to be banking information saved to their smartphones or personal information on their computers.
That's why it's important to protect your betting platform from hackers and malware. You need to find betting software that offers multi-factor authentication, high-level encryption, and near-impenetrable firewalls. This needs to be a priority so that you can avoid costly security breaches and a tarnished reputation.
The best bookie software also will offer cryptocurrency payment methods. This keeps both agent and player financial information off of all networks. In the unlikely event of a breach, cybercriminals won't find anything to steal.
In addition to this, Ace Per Head's platform also won't store anyone's personal information. Both our agents and their players have random numerical codes assigned to their accounts. Names are never exchanged, meaning that they are also kept off all applications and devices.
In the end, these features serve to protect everyone involved in the betting process.
1. Customizable Features
In addition to a secure website, you need a custom one. This will showcase your brand in an appealing light, get the word of your sportsbook out there, and draw bettors to your platform.
Ace Per Head offers tons of different sportsbook-specific templates that you can customize and launch. You can add your branding information and link the page to sites that track sports events and teams in real-time. These platforms are made specifically for bookies, which means that they already come with built-in betting features and mobile compatibility.
You also can create a 100% personal website without any template. Our mission is to bring your dream site to life.
2. Pay Per Head Pricing Models
Many bookies pay for subscription services to managed bookie software. On paper, this looks like a good idea since you'll get automated updates and access to the latest trends. However, most of these services are flat fee, meaning that you pay the same amount every month for access to your website.
This presents an issue for bookies during the off-season. $800 for sportsbook management may be well worth it when you're raking in $10,000 for the Super Bowl. During the off-season, though, you might only make $700 in a month, which means that you'll be paying more than you're getting.
Ace Per Head offers a pay-per-head (PPH) pricing model that resolves this issue. You only pay a fee for those gamblers that you're actively working with within a given month. This fee is about $3-$10.
This means that you may pay about $1000 during the Super Bowl while raking in $10,000 (assuming $100 per bettor). During the off-season, if you only have 7 bettors, you'll pay no more than $70 while making about $700. You can generally expect to pay about 10% of your earnings regardless of how large your earnings are.
This keeps your sports betting business scalable, flexible, and easy to manage.
3. Good Agent (and Player) Support
Support is one of the most important things that a fully-managed sportsbook can offer you. You'll need someone to call when your site is experiencing functionality issues like lag and errors. This is the best way to stop your site from losing bettors due to downtime.
Make sure that the PPH platform you choose has a 24/7 agent hotline that you can call. This will make sure that your needs are met no matter what time of day you call. You can also use the hotline to request website changes, new features, and upgrades.
When you work with Ace Per Head, you don't just get access to these features. Your players do, too.
We have an around-the-clock player hotline where we tackle their inquiries head-on. This stops you from having to field calls left and right. It also ensures that player questions are answered extremely quickly so that your sportsbook can maintain a competitive edge over other betting services.
4. Mobile Compatibility
About 85% of American adults own smartphones. About 15% exclusively access the web from mobile devices. Because of these growing figures, it's important that your betting software is easily accessible from portable devices.
This means investing in a platform that's already fully compatible with the way that the internet works on smartphones. It means ensuring that you have assistance developing your website in a way that's appealing to mobile users.
Make sure that you also launch an app that people can download on their iPhones and Androids. This will make betting on events as easy as the touch of a button. Additionally, it's easy for people to link their crypto wallets to a well-developed application, so your site will also be more secure.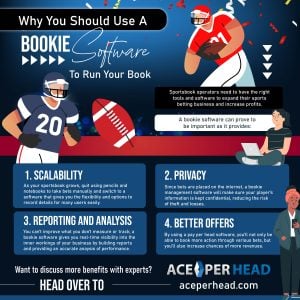 Start Using PPH Betting Software ASAP
Choosing PPH betting software for your budding sportsbook can be a challenge. After all, there are so many options available regardless of your needs. However, when you work with Ace Per Head, you'll get all of the benefits we discussed today in addition to more resources that help grow your sportsbook.
Now that you know what to look for in betting software, it's time to experience the specific ways that our PPH platform fits the bill. We're excited to give you a demo as well as an all-inclusive trial of our platform. Create your package today to begin a six-week free promo of our PPH services.