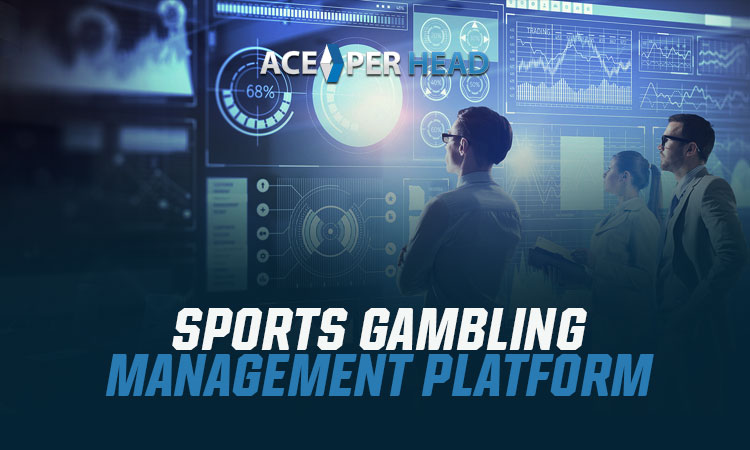 Over half of American adults have placed a bet with a bookie at least once in their lives. As more and more states legalize sports betting, becoming a bookmaker becomes an increasingly lucrative way to make money.
You'll need top sports betting software and management platforms to make the most out of your bookie business. Read on to learn about these platforms and why Ace Per Head is the best choice.
Sports Betting Software 101
Sports betting software is fully-managed technology that makes it easier for budding bookies to thrive. Experts set up a custom website for you equipped with sportsbook-specific features. You can use it to take bets, provide payout to winning gamblers, and chat securely with players.
The best types of sports betting software are pay-per-head platforms. You pay a small monthly fee (around $3-$10) for each player that actively has open bets with you during that month. You don't pay for those who aren't gambling with you currently even if they have done so in the past.
This keeps you scalable so you're always making money.
Sportsbook Management Platforms
The best thing about sports gambling management platforms is that they're equipped to help you thrive with little effort. You don't need to set up your website and make it appealing on your own. You don't need to come up with payment methods or implement a payout system alone.
Professionals help you set up and maintain a mobile-compatible website.
You also will have room to manage your own bookie business in some ways. You'll retain full control over all lines, players, and limits.
You can set up a bet ticker so you get alerts when someone places a bet. You can also request player watch reports for specific bettors that you want to monitor more closely.
We also have professional oddsmakers willing to talk with you and help you set competitive lines. This can help agents like you to better maintain sports gambling management platforms. You'll stand out in a competitive industry so you can sign on more players and make more money.
The Benefits of Sports Gambling Management Platforms
There are tons of benefits to using sportsbook-specific software for your bookie needs. They include:
Premade features for bookie's specific needs (bet tickers, watch reports, integrated score tracking)
Untraceable Bitcoin payment methods to keep banking information secure
Security features like firewalls, MFA, and numeric codes assigned to each account for anonymity
Trend monitoring to prevent downtime
Integrated casino and racebook software (to supplement sports betting and entice more players)
Constant call center assistance for bookies to keep your site in top shape
Anonymous and secure communication features between players and bookies
A mobile-ready platform and smartphone app for easy use
Maximizing Your Bookie Business with Pay Per Head Services
If you're running a bookie operation, you know the challenges that come with managing an online sportsbook and casino. But what if there was a solution that could alleviate the burdens and help you focus on what matters most—catering to your clients and driving profits? Enter pay per head services.
Pay per head is a comprehensive service that equips you with all the tools necessary to successfully run your bookie business. From a fully customized website and competitive betting lines to an extensive range of digital casino games and reliable customer service, PPH services offer a convenient and all-in-one solution for your needs.
Traditionally, bookies had to handle every aspect of their operations, utilizing their own resources and expertise. However, the introduction of pay per head services has revolutionized the industry by taking care of the heavy lifting for you. Now, let's explore the numerous benefits of starting a pay per head sportsbook.
First and foremost, you'll receive a tailor-made website that reflects your brand and vision. This professional online platform allows you to create accounts for your clients, enabling them to place sports bets and engage in casino games effortlessly. With a user-friendly interface and seamless navigation, your clients will enjoy a smooth betting experience while you maintain full control over your operation.
One of the greatest advantages of a pay per head sportsbook is the ability to track your clients' wins and losses accurately. This real-time data empowers you to make informed decisions and strategize effectively. Furthermore, you have the flexibility to set customized betting limits for each client, ensuring responsible gambling practices and protecting your business from potential losses.
Customer service is paramount in the bookie industry, and pay per head services excel in this aspect. By partnering with a reputable provider, you gain access to professional customer service representatives who are dedicated to assisting both you and your clients. Say goodbye to the days of fielding endless calls about betting lines and website complications. With a reliable support team in place, you can focus on growing your business and providing top-notch service.
Now that you understand the benefits of using a pay per head service, the question arises: which provider should you rely on? While there are numerous options available, Ace Per Head stands out as one of the best in the business. With over two decades of experience, we possess the expertise and knowledge to take your bookie business to new heights.
At Ace Per Head, we offer a comprehensive pay per head sportsbook and casino package starting at an affordable rate of $3 per head. Our advanced software, cutting-edge technology, and user-friendly interface ensure that you have the necessary tools to succeed in a competitive industry. From seamless website customization to reliable customer support, our services are designed to maximize your profitability and enhance the overall betting experience for your clients.
When it comes to selecting a pay per head service, choose a provider with a proven track record and an unwavering commitment to your success. With Ace Per Head, you can trust that your bookie business is in capable hands. Take advantage of our expertise and join the ranks of satisfied bookies who have propelled their businesses forward with our exceptional services.
To embark on this exciting journey, simply contact us at (800) 909-5193 or visit our website at AcePerHead.com. We'll guide you through the process and offer a 6-week free promotional period, allowing you to experience firsthand how our pay per head service can revolutionize your bookie business. Don't miss out on this opportunity to elevate your sportsbook to new heights of profitability and efficiency with Ace Per Head.
Get Started With Pay-Per-Head Software
Choosing between sports management platforms and betting technologies can be difficult. Luckily, Ace Per Head is an affordable and effective option for budding bookies.
We're committed to helping you set up a custom website, providing you with automated updates, and keeping both agents and players secure. Create your package to start a free sports betting software demo period and get one week of each month free for life.