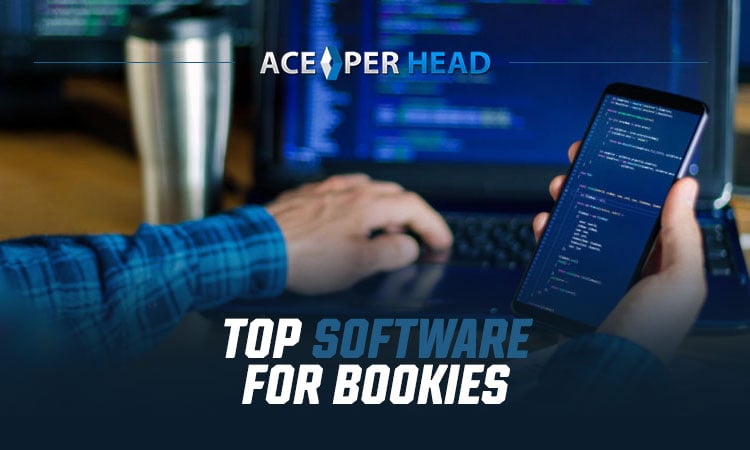 Do you know that a powerful software platform can impact make or mar your business, especially when it involves online betting sites? Forget about pens, notebooks, mobile phones, and taking bets manually. Sportsbook software has created a way for you to manage your business like a pro.
Managing a sportsbook can be a deterring ordeal, particularly if you don't have the means to do it smoothly.
If you don't run things well, you'll lose customers and even your sportsbook. To run your sportsbook smoothly, you need the best betting software for bookies. Indeed, bookies can benefit from using software to run their books.
Bookie Software Advantages
If you are interested in becoming a bookie then it would be extremely advantageous for you to use one of the various bookie website software providers because they provide numerous advantages compared to the old-school way of taking bets by paper and pencils, or phone and text.
For starters when using bookie website software your players will be able to use a professional-style sportsbook website where they can make bets on thousands of sports betting games 24/7. In addition, all the lines and odds are updated up to the second by the bookie software provider, which means you as the bookie do not have to worry about that part of the business at all. That is a huge difference compared to just accepting manual bets where you don't know the most accurate line. In addition, you could never work 24/7 and provide betting options for your players because you would eventually need to sleep, and instead, you can just use a bookie website software to do all that work for you.
Another big difference is that bookie software websites have numerous different types of betting options besides the standard straight bet, such as props, half times, and sports from all around the world, which you would have difficulty offering to your players if you were just doing this by yourself. Also, there would be no way for you to offer the most popular betting option which is Live in-game betting where players can bet on games that are in progress with updated odds based on the current score of the game. The lines change every second during a game, which just simply means it would be impossible for you as 1 person to be able to offer that with accurate lines.
So as a result of all these other betting options that can be offered thru a bookie website software site and allowing players access to that 24/7, your players would then make a lot more wagers per week thru a site than without a site. All this extra volume will just lead to you as the bookie earning a lot more money, which is obviously a major advantage to using sportsbook software.
The bookie software provider also grades all wagers immediately after each sporting event ends, and all balances are updated into both the player and bookies' accounts. This means you would not have to manually grade all games yourself and calculate all total wins and losses for each of your players. As a result, you will be saving yourself tons of time by using a site than trying to do this yourself.
Basically using the best bookie management software will save you lots of time, make you a lot more money, and also allow you to have a customer service team that you can use 24/7 to take advantage of all their years of experience in the bookmaking business is priceless. So if you are looking to book action the right way and make the most money from doing it then get set up with a sports betting software provider today.
Looking for the Best Bookmaker Software?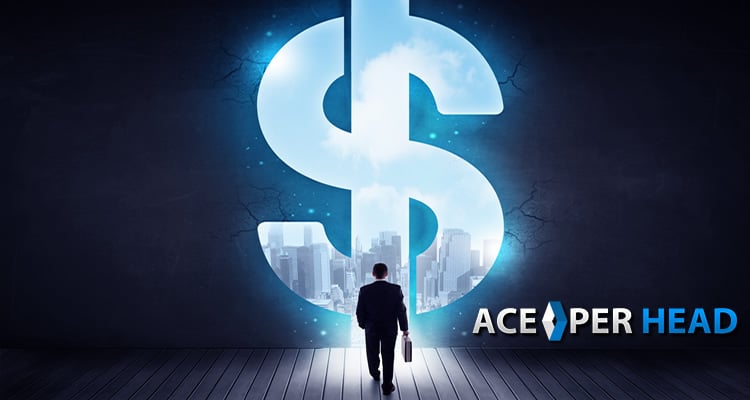 Online gambling has been around for a while. However, it's really taken off in relatively recent years. There are now many different types of games available, from sports betting to casino games and poker.
The software that bookmakers use is very important. Bookmakers must provide up-to-date software that's easy to use. Otherwise, players will look elsewhere for their entertainment.
As with many other online offerings, there are many bookmaker services. However, your service must provide robust features if you want to succeed in the world of online sportsbooks and gaming.
If you're looking for a reliable and user-friendly bookmaker that offers excellent customer service, then you've come to the right place. Here, we'll look at the best bookmaker software. We'll also look at why you want this service now.
To learn more about the best bookmaker website software, keep reading.
Now's the Time to Get In on the Action
It's only been a few years since the Supreme Court's landmark decision to and a near nationwide ban on sports betting. Now, more than half of the nation has legalized the activity.
Currently, sports betting is legal in 20 states and the District of Columbia. Five more states have also legalized the activity but have yet to begin offering this favorite form of entertainment.
Yet other states have not approved gaming. Nevertheless, a growing number of legislators are embracing sports betting. They're working toward authorizing the activity across the rest of the nation.
What's more, mobile sports betting is on the rise. A growing number of players are placing their bets right on their smartphones and computers. Among states that have not fully legalized mobile gambling, three states have approved it with limitations.
The profit margin for sports betting is relatively low compared to other commercial games of chance. Operators payout winning wages in the form of prizes. Nevertheless, they manage to take home a steady hold.
The Right Place at the Right Time
For many years, online betting has been a big business. However, it's about to get much bigger.
There's a lot of positive legislation in the works for the industry. The United States is getting ready for a massive increase in gaming-related activity.
Many states already allow online gaming or plan to do so in the near future. Accordingly, the industry will expand by many billions of dollars over the next several years.
There's only one uncertainty regarding the online gaming industry. That uncertainty is whether the United States will end up raking in the bulk of the world's new online gambling activity.
Most American consumers aren't familiar with traditional sportsbooks. For this reason, they're more likely to accept new and upcoming gaming companies.
This new crop of entrepreneurs provides entertainment with slick interfaces. What's more, they're more app-centric entertainment for today's smartphone users.
The best part is that the technology to make it happen has already arrived. There are countless companies that offer bookmaker software. However, only a select few have the experience to help you grow your online brand.
The Importance of Good Software
If you're in the sportsbook business, finding the best software around is a top priority. The right software will make it easy to grow your business. More importantly, it will help you to pull in a serious profit.
What's more, the technology for online bookmaking continues to evolve as the industry expands. Already, however, you can access high-quality pay-per-head services.
These services will help you to increase the efficiency of your operation. If you're going to get into bookmaking, being professional is of the utmost importance. They'll also help you to present the professional image that you need to gain player trust.
In addition, this software will help you to manage your player funds efficiently. This point is critical for managing risk and growing profits over time.
You can also use the additional functionality of the services to offer a full suite of casino games. Once your players have had the fill of their favorite sports betting services, they can turn to your casino for more action.
Making the Move to Pay Per Head
You may already have a bookmaking operation. Alternatively, you may have yet to get into the business. In either case, there's a big advantage to making use of pay-per-head software.
Pay per head software is the best way to achieve success with online bookmaking. If you've already started your bookmaking service, you'll find that pay-per-head software helps you to run your operation more efficiently. If you have yet to get into the business, it will make starting and growing your business easier than ever.

A pay-per-head service will provide you with an all-inclusive website. The website will host all your sports betting options.
They'll even manage your lines up to the second. Moreover, they'll take your players' bets.
Finally, they'll pay the winners. In contrast to a conventional bookmaker service, you won't have to worry about any of these tasks.
Nor will you need to invest in equipment like terminals or betting kiosks. All your needs are taken care of by the software provider for one low weekly fee per player.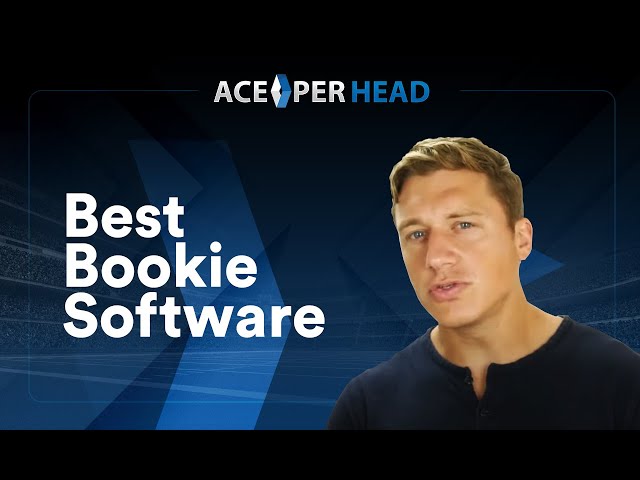 What to Look For in Bookmaker Software
When deciding on pay per head service, you want to choose the right service provider. The software that you select will dictate the entire experience of your players.
Firstly, you want to make sure to choose a secure service. Your potential provider should use basic security services such as HTTPS, SSL encryption, and two-factor authentication.
In today's online gaming environment, you also want bookmaking management software that allows you to accept alternative forms of payment. For example, your pay-per-head service provider should make it easy for players to maintain their anonymity by using cryptocurrency. In fact, your technology must deliver a safe and pleasant experience for players at all times.
Every pay-per-head service provider is different. Accordingly, you want to review each service carefully before making a decision.
For example, you want to choose a provider that enables you to attract new players and keep existing players happy with bonuses and offers. You'll also want to choose a service provider whose site provides a great look and feel. What's more, your players should find it easy to navigate.
Winning with the Right Bookmaker Software
Once you sign up with a service provider, you can start taking advantage of pay-per-head services. You can also decide whether you want your own staff to post and manage odds. However, a leading service provider can manage this task for you.
The pay-per-head service will provide you with all the needed technology. They'll take care of the front end of your betting platform. However, they'll also provide you with the back-end tools needed to run your business.
If you desire, you can leave it to the service to create, post, and manage betting odds for all events. The odds come from the real probability of the events.
However, that's not the information that you must post to maximize your profits. Instead, bookmakers adjust their lines based on how they believe players will bet. You can adjust your lines to make betting more appealing.
Here's where the real breadwinners in the game stand out. With a partner such as Ace Per Head, you can take advantage of years of expertise to maximize your betting revenue.
The Best Software for Your Online Sports Book
Ace Per Head is the best bookmaking management software service provider in the business. We offer a wide range of features that you can't find anywhere else. In fact, except for marketing, you can automate your entire bookmaking business when you partner with Ace Per Head.
We offer secure multifactor authentication for both players and bookmakers. We'll also provide you with automatic troubleshooting and cybersecurity notifications.
What's more, your clients can remain completely anonymous when they use our software. Instead, they can sign up using a numeric ID.
We'll make sure that your players have the best experience possible. We'll optimize your website for the fastest loading speed. We'll also make sure that the site is always up-to-date so that your players receive few to no user errors.
We're also always updating our technology. Whether it's a new application or a back-end management tool, you can always count on innovation when you use our service.
Finally, with Ace Per Head, you can get started quickly using one of our several web templates. Alternatively, we can custom-build the perfect website for your needs.
With Ace Per Head, you'll have full control. We provide the technology.
Still, it's your boards, players, lines, and limits. More importantly, all the profits are yours.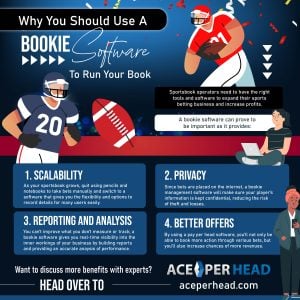 Start Building Your Sportsbook Empire Today!
Now you know more about the best bookie management software. You've also learned why Ace Per Head is the best in the business.
Are you looking for the best bookmaking software? If so, Ace Per Head is the best per head software around. We've been in the business from the beginning, and we're still going strong.
Our software is easy to use, reliable, and has all of the features that you need for sportsbook success.
You can even customize it with your own theme and logo.
That said, What are the Benefits of Using This Software?
Here Is Just a Few:
A lot of gambling options
Why offer only national sports betting when you can provide sports betting at an international level? Best Bookie management software gives betting odds on different sports leagues on an international and local level. So, by having various sports betting options, you'll expand your player base. Do you know what that means? It means more profits!
2. Privacy
In this industry, privacy is important. That's why the software works on your private website. As a result, you can give players the software to retrieve their accounts online.
Since players take bets via the Internet, their information is kept safe. What this means is, you can minimize the risk of internet and data theft.
3. Easy to Setup
Some bookie software is preconfigured. It helps reduce common delays that come from lengthy setups and configurations.
With preconfigured bookie software, you can start your gambling business immediately. All you need to do is import the players and configure their profiles. This includes special access credit limits and more.
Some software solutions provide the tools you need to manage a great sportsbook. Also, they include a website and call centers to manage daily areas of bookmaking. Further, you can use your software with ease by providing an account so your customers can access a website to place their bets.
4. Automation
Before now, a bookie keeps track of every bet taken manually. If a bookie had a lot of clients, they would need more time running his bets and unraveling the changing odds. Also, a bookie would need to monitor losses and big wins too.
But with this Software, you can manage everything from line set to deposits and payouts with ease. Thanks to this software, a bookie only needs to worry about new clients and earning cash!
5. Accessibility
With this software, all you need is an internet connection and a browser. It's available on different devices globally, which makes using this software easy.
When your sportsbook is always available, your customers can use their accounts when they want. This will help grow your business quickly. Also, it makes it easier for you to devote more time to search for more players. So availability plus commitment equals more income.
6. Tracking Management
The software can help you manage and track your players. Instead of keeping the records on paper, you can monitor things through the software.
You don't need to wait to gather the data you need to manage the sportsbook. You can check the information at any time and with ease.
By using the software, tracking and managing a player's action is effortless. It's because every record is created, reviewed, and kept digitally.
The Features of the Best Betting Software
Every sportsbook must have live wagering. The amazing feature increases the betting action provided during the games. The excitement increases with an audible and clear reception offered by advanced technology with audible audio.
Gamblers lookout for this great feature and choose wagering sites. The sites deliver in-game betting with excellent reception. Also, the feature reduces fraudulent bets while the live telecast performs the live-action.
A good casino betting software has an online casino integrated into the program. It must have different online casino games provided by an online betting solution. It makes it easy for punters to access casino games like Baccarat, Blackjack, poker, and so much more.
Stable wagering is another great feature. The software should have a wagering platform, which is complete and stable. Also, it includes anti-hack and firewall measures to protect data and information so it doesn't fall into the wrong hands. It should also come with data mirroring to keep data files safe, especially when the system crashes.
Booking software for bookies should deliver wagering applications for smart devices. By using tablets, iPhones, and other mobile gadgets, Punters can access the website with ease. With an internet connection and a mobile device, they can bet anywhere and anytime!
How to Choose the Right Software for Bookies
Look for a software solution that understands the needs of your online players and your needs as an oddsmaker.
A sportsbook software for bookies should provide many betting actions for internet players. Choosing wagering types will stimulate more activity. As a result, more bets mean more income and revenues for your business.
Yes, your business is important, but Payouts are important too. Make sure this function serves your clients on time.
The software should carry out accounting and office tasks, which can reduce your performance. So you can concentrate on the actual job of getting more gamblers.
Use
AcePerHead.com

for your Bookie Management Software Needs

Clearly, the benefits of using this software can help improve your pay-per-head business. Also, it can help you compete with larger companies.

Ace sportsbook software can support you and your online players. The site has everything it takes to make your business grow. You'll enjoy the benefits of sportsbook management software when you experience what Ace Per Head has in store for you. We offer superb customer service to all our customers no matter the number of players they have.

So why not call us today? Find out more about our PPH bookie solutions. Don't wait. You can have your bookmaking site up and running in no time. Sign up today for your six-week free promo.