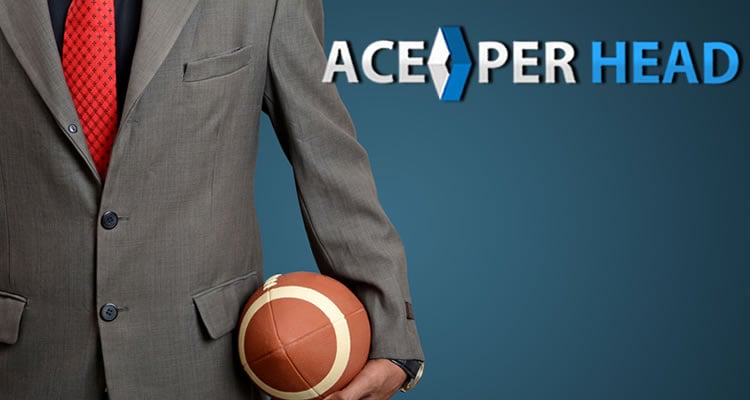 Sports betting software providers offer very similar products. These similarities usually include functions that are the same, designs that are the same, along with content that does not differ from one another.
However, there are subtle nuances that can make all the difference to your particular business. As a bookmaker, it is your task to find these out.
To get the best bookie software, you have to find an appropriate option that focuses on a positive experience for the players and not just earning potential for yourself.
Down below, we will go into the things you need to look for when choosing quality bookmaking software.
Required Software Aspects For Sports Betting
Sports betting software comes in a variety of guises. It's a fact that a lot of software is not only poor quality but fails to meet the needs of the users, not even having the most rudimentary functions.
1. Functions For Players
When choosing software to use for sports betting, it needs to meet the correct functionality for you and its users. Many sports betting players will tell you the software should have certain elements to it at the very least. These come down to:
Many sports leagues and rates
Being able to bet before, after, and in the middle of matches
Simple payment options and activation
Support for multiple languages
Security and anonymity
Round-the-clock customer support
2. Functions For Bookmakers
It's also important that the sports betting platform you use needs to meet your demands as an owner. You need to look at the risk management tools in the platform offered. There are features on your end that need to be met also. These are:
Different options for withdrawing and depositing funds
A well-featured administrative panel
A panel for handling marketing elements
Detailed reporting on betting activity
Being able to control betting limits
Support for multiple languages
Using these criteria, you should be able to vet the available options. Having software that is balanced enough to meet the needs of both you as a bookmaker and the player is essential.
How to Find the Best Bookie Software for Your Needs
One of the major keys to becoming a successful bookmaker is choosing the right software. This is how to find the best bookmaking software for your needs.
If you want to succeed in online bookmaking, you'll need the best software available.
It can prove challenging to get into the online sportsbook industry. However, most of the work involved in breaking into the field lies in setting up your website. This is the toughest part of getting into the business.
Accordingly, you'll need to figure out a way to overcome this challenge if you want to become an online bookmaker. The easiest way to accomplish this task is to choose the best bookmaker software available.
To learn more about how to find the best bookmaker software for your needs, keep reading.
Best Bookmaker Software: Getting Started
When searching for the best bookmaker software, you shouldn't automatically choose the one with the lowest price. You also shouldn't choose a service just because it has a fancy-looking layout.
Instead, it's important to find a balance between quality, technology, and affordability. With this in mind, there are a few things that you should consider when searching for online bookie software.
Firstly, you want to see what's available on the market. Next, you'll want to figure out the most common features offered by service providers. Now, you have a baseline of what you should look for in a sports bookie software offering.
With the right PPH bookie software, you can get your online sportsbook up and running in no time at all. What's more, you can do it at a minimal cost.
However, it's important to make sure that you choose the right service. For example, you'll want to make a note of the unique features offered by various providers.
Of course, you'll want to compare bookie management software pricing. For example, some online bookmaker software vendors charge a flat rate. Others, however, might prove more expensive, depending on the options that you choose.
Narrowing Down Potential Service Providers
It also helps to read reviews about various bookmaker service providers. You may also hear bookmaker software service providers called pay per head services. Accordingly, you can also look up reviews of pay per head software.
You'll also want to examine the features of various providers. For example, you want to look into how bookmaker software providers allow you to process payments.
Furthermore, you'll want to examine a potential provider's user interface. This information will help you to create your shortlist.
At this stage, you'll start to figure out what offerings are viable for running a successful operation. You'll also begin to form an opinion about what offerings don't even come close to what you need.
The best bookmaker software services offer a free trial. As an example, Ace Per Head is the only bookie software service provider that will let you try out its platform for six weeks free. The six-week free trial can help you to get your business off the ground.
It's challenging to start any business. A few weeks of free bookmaker service may be just what you need to get started. Accordingly, choosing Ace Per Head is one of the smartest business decisions that you can make.
Ace Per Head's free trial will give you everything you need to launch a premium online sportsbook and virtual casino. More importantly, they'll help you through the entire process.
Look for Advanced Features
Various pay per head service providers have common features. However, just about all offer player management tools. Resultantly, you'll need to figure out which service is the best by looking at other features.
You should also assess the flexibility of a platform. For example, a good sports bookie software service provider also allows you to operate your casino.
Furthermore, a top service provider will provide you with tools for player risk management. This resource will help you to monitor player activities. It will also help you to maximize your earnings.
For example, you can use player resource monitoring to weed out gamblers who cheat or abuse the system. You can also use it to generate reports automatically.
Furthermore, the leading bookmaker management software will provide you with robust odds management features. Also, it will give you access to real-time data.
Real-time data is vital for understanding your business—especially when it comes to player wagers. For this reason, you'll want to choose a platform that allows you to store data based on wager type. You'll also want the ability to segment players by the sports in which they place bets.
Select a Platform That Saves Work
With Ace Per Head, you'll have access to expert betting odds. This feature in itself is invaluable.
Imagine creating your own sports bookie software from scratch. You'll need a massive team to get the job done.
Firstly, you'll need someone with expertise in posting smart betting odds. You'll also need employees or contractors who can build complex features on your website.
Fortunately, Ace Per Head has already managed these tasks for you. Best of all, you can use their innovative gaming platform for a nominal fee.
With Ace Per Head, you can establish odds to put yourself on the winning end of the transaction easily. In this way, you can make sure that you still profit, even if you have to pay the winners.
Furthermore, you won't have to do a lot of work to find new players when you subscribe to Ace Per Head. You can burn the candle at both ends if you want to try to build a gambling empire overnight. However, it doesn't take a lot of work to build a healthy client base when using Ace Per Head.
Still, you will need to make sure that your players are happy. For example, you could offer players a free wager after a long losing streak.
These kinds of bonuses will help you to earn a positive reputation. If you keep your players happy, they're more likely to provide referrals.
You Get to Call the Shots
The great part about finding the best bookie software is that it lets you become your boss quickly. Once you set up your website, you'll work only for yourself. More importantly, you can make your own rules.
For example, you can decide where and when you work. You can also choose when to take bets.
Conversely, you can decide when to pass on wagers. As an online bookmaker, this means you can reduce your risk of losing money on a bad bet.
More importantly, you'll never have to ask for a day off. If you want to take a break, just don't log on to the platform.
However, you'll want to let your clients know when you're going on vacation. Firstly, it's courteous. Also, this courtesy will help you to maintain a positive reputation.
The best part about bookie software is that you can decide how big or small you want your business to grow. Of course, more clients mean more money. However, it also means more responsibility.
For example, you'll have to pay higher weekly fees to manage more clients. Whether you want to grow quickly or at a steady pace, however, the choice is yours.
Choose a Service That Makes It Easy to Get Started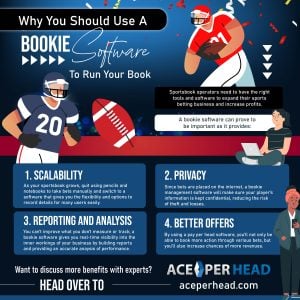 Ace Per Head lets you get into online bookmaking fast and affordably. As an example, different platforms have various payment systems. However, Ace Per Head makes payments simple.
For example, you can subscribe to a beginner package for as low as $3 per head. That's a relatively small investment for owning your own business.
As your business grows, you might pay a lower rate. Alternatively, you may pay a higher rate if you want extra features.
Of course, those features will help you to earn additional profits. Still, Ace Per Head will never surprise you with late charges or hidden fees.
With Ace Per Head, you can start building your bookmaking business immediately. You can even try out the first six weeks for free. By taking advantage of the six-week free promo offer, you can decide if bookmaking is the right business for your needs before you start putting serious skin into the game.
Your Partner in Bookmaking Success!
Now you know more about how to find the best bookmaker software for your needs. If you're ready to get into a fun, lucrative business, now's the time. Ace Per Head can provide you with the technology you need to start a successful online bookmaking business.
Ace Per Head is a legal, licensed, and user-friendly platform. Our software is a great way to break into the profitable online bookmaking and casino industry.
How To Choose Bookmaker Software?
Bookmaker software needs to be accurate and reliable, but it also should feature perks to make bookies' lives easier. How do you choose? Learn here.
Did you know that becoming a bookie requires having the best bookmaker software?
Thanks to the popularity of sports betting, many people are getting interested in becoming bookies. However, they're often unaware that most of the work is done through software for bookies.
Bookie software allows them to do a variety of things to make setting bets simple. It also gives players a platform to handle all of their bets, preventing them from having to use various websites.
To make things simple, we'll cover what you need to know so that you can surpass other bookies in the industry.
Read on to Learn How to Choose Bookmaker Software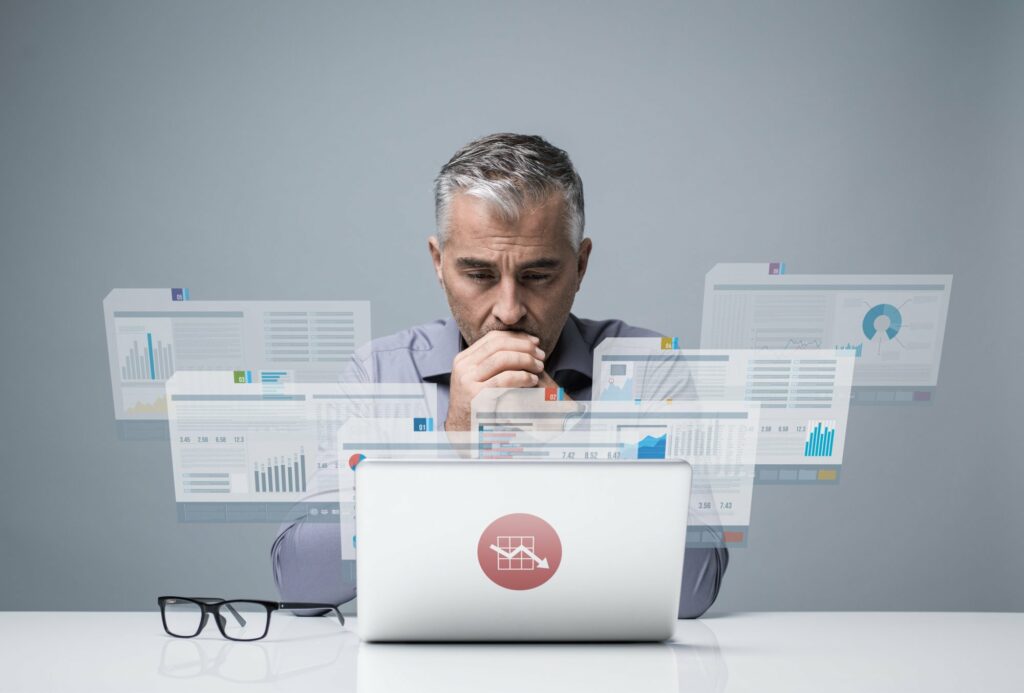 1) Set a Budget
Before you choose the best bookmaker software for your sports betting platform, you'll need to set a budget. This is something that many beginners overlook, but it'll ensure you have enough money to get what you need.
When setting a bookie budget, you'll need to consider several things. Not only will you need to buy the software, but you'll also need enough to provide winnings for your bets. Depending on the software you get, you may pay once or a flat rate over a period.
Pay per head software lets bookies pay for the number of players that use their services. If you buy this type of software for bookies, you'll avoid spending large amounts until you grow your player base.
2) Know Which Types of Bets You'll Offer
After setting a budget, the next thing you must do is think about the types of bets you'll offer. Sports betting involves a variety of bets, but it's best to offer only the most common ones so you have an easier time setting odds. As you gain more experience, you can offer more complex bets.
You'll need to figure out what you want to offer because you'll need software that can support them. Fortunately, the best bookmaker software will have everything you need.
These are the main bets you should offer:
Money line bets are favored by many players because they don't involve much. To place a money line bet, a player will choose which team they think will win. If that team wins, the player will earn money. If they lose, they'll earn nothing.
Straight bets are similar to money-line bets in that players choose who they want to win. However, what makes straight bets different are their point spreads.
If a team doesn't win by the amount that the point spread indicates, the player won't win anything. These bets are much riskier, but they also come with higher payouts.
If you offer bets on things like horse racing, golf, and other sports that involve various teams, head-to-head bets will be the main ones you make. These bets allow players to choose one team they think will surpass another.
For example, a player could bet that one horse will finish before another. In head-to-head bets, it doesn't matter who exactly places first. It only comes down to the two teams that the player is betting on.
3) Offer a Variety of Sports
Some software for bookies will give them a variety of features to use for certain sports. If you wanted to focus on a sport like football, you could find software that supports the most common football bets. This type of focused software also lets bookies research analytics to set better odds.
However, you'll gain more players by offering a variety of sports. The only time you should offer bets on only 1 sport is when you're new to bookmaking. When you gain experience, you can start offering bets for more sports with decent software.
Before you invest in software, consider offering more so that you can get a better program in the beginning. This would prevent you from spending money again later to upgrade the software, though that wouldn't be a bad move.
4) Consider Implementing Casino Games
Another thing to think about when choosing software for bookies is whether you'll offer casino games. We recommend you offer them because you'll further expand your player base. Aside from that, you won't have to rely on creating bets to earn money.
Casino games entice players to play whenever they're not betting on sports. The best part about them is that they're not seasonal like sports, so players can play them as often as they'd like. This would ensure you have year-round cash flow without having to invest all your time into keeping up with sports.
When getting cheaper software, you may not have access to casino games. With more reputable software, you can expect to offer things like craps, roulette, blackjack, and more.
You can also integrate casino games into sports betting by letting players earn free bets from wins. This would encourage players to gamble for bets instead of money because they'll feel as though they have higher winning odds.
5) Find a Platform That Integrates Everything
If you're looking for bookie software but don't want to manually integrate everything, you can find software that has it all. This is commonly done with pay-per-head software, which is why PPH bookies often have more free time than most.
Pay-per-head software provides a plethora of benefits that allow bookies to reduce expenses, save time, set odds, offer games, and solve customers' problems.
When investing in pay-per-head software, providers often offer several plans for those with different budgets and goals. For example, you could find a provider that offers outsourced customer support and one that only includes the software.
As a beginner, looking into PPH may be in your best interest because it'll prevent you from getting stressed out with all the things that come with bookmaking.
6) Read Reviews From Other Bookies
Like buying anything, you should find out what others think about software for bookies before putting money into it. When reading reviews from other bookies, you'll learn about both the software and its provider.
In the reviews, you should learn as much as you can about the software. Look for complaints, benefits, pricing information, features, and more. Those who have been in sports betting for a long time will include all the important info you need to know in their reviews.
Aside from reading the bookie reviews, you can look into reviews from players. Instead of writing reviews for software, players often write reviews for sports betting services that use the software. If a program interests you, you can find other bookies that use the software and see what players think.
7) Compare Several Programs
After going through all the other steps, you should always compare various programs before purchasing one. Experienced bookies may use several programs for their services, but you'll only need one as a beginner.
With your sports betting business plan, go over several software providers and determine which one would suit you the most. If one program doesn't offer the features you need, move on to the next one.
Narrow down your choices as much as possible to avoid spending too much time on one program.
8) Upgrade as You Grow
At the beginning of your bookmaking journey, you can get away with using simple software that doesn't have many features. As long as you can set bets, receive funds, and distribute winnings, you shouldn't have a problem earning money.
As you grow, you can upgrade your platform by investing in more expensive software. When you're ready to make that transition, you'll need to go over the same criteria we've listed above.
Any time you purchase something for your sports betting business, think about how it could benefit you. If a program has everything you need for sports betting, you may not need to upgrade. Yet, if you're limited and can't offer more because of software limitations, an upgrade will ensure you have the means to do so.
Invest in Bookmaker Software Today to Start Earning
With all of this advice, you'll have no problem figuring out how to choose bookmaker software. However, we encourage you to take your time because the software is something you should use for a long time before upgrading.
If you have the funds, consider starting with more expensive software. This would prevent you from spending more later. It'd also make it easier to implement new features whenever you'd like instead of waiting.
Here at Ace pay per head bookie, we offer a variety of services to bookies to help them earn money and grow. 
5 Essential Criteria For Bookmaking Software
There are plenty of solutions in the market that can handle the needs of both parties. Look at your options and see which of them fulfills the six criteria below.
1 – Reputation Of The Developer
People who regularly bet on sports are very aware of how reliable or safe a bookmaker is to use. When picking a vendor for your software, you need to look at how reputable they are. This can give you an idea of whether they can be trusted or not. This includes:
2 – Company Registration
In many cases, software developers register offshore. Having a supplier offshore (from your perspective) will often not be very profitable. You should choose companies with registration in places such as the UK, the USA, Australia, Japan, and more.
3 – Bookmaker Services Licensing
You need to make sure that customers of the software can get broker licenses. In certain places, such as the UK or Germany, the state will always keep a strict eye on gambling. The solution that you propose needs to be safe and secure.
4 – Recommendations
It's a good sign when large brands monitor their reputation via reviews and the recommendations they get from other companies. This can be a variety of statements or activities on social networks.
It's more important for a company to not have a negative reputation than to have a positive one. A bad reputation implies there is something wrong with how they conduct themselves.
5 – A Range Of Sports
When going to the site of a sports broker, the amount of sports is one of the first things you pay attention to. There should be a wide variety of leagues and tournaments across many events.
The best sites will be able to offer you +60 different sports, along with some that are more niche. This allows a site to bring in the biggest audience, and not just fans of the most mainstream sports.
Bookmaker Software: Making The Right Choice
As a bookie, finding the correct bookmaker software may take some research, but the advantages of software that is well suited to your business model will maximize your profits tenfold.
Need more information on what you need to take off in your career as a bookie? Contact the AcePerHead.com staff and start your own sports betting site, today.