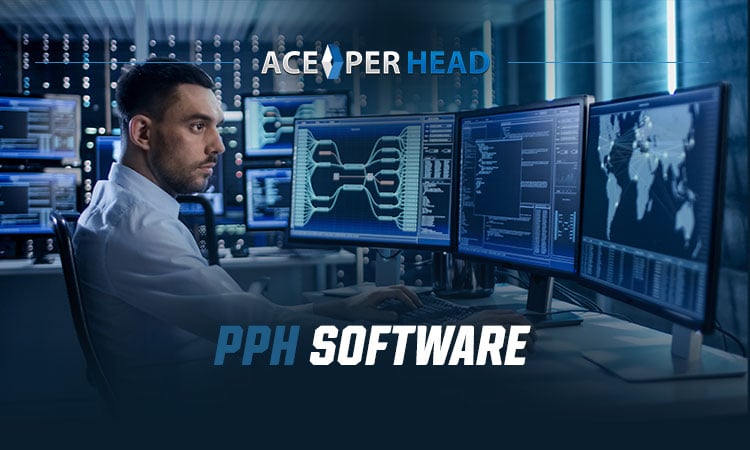 If you are a veteran bookie, or someone looking to break into the gambling industry, you are probably already well aware that the majority of the wagering nowadays takes place online. You might well be wondering how it's possible to open an online bookie service and lure in players when the market is already filled to brimming with such options. The easy answer is to use the services of a PPH software company, as this is far and away the most cost-effective way to get started as a bookie online.
There are sure to be plenty of you out there, even those who have been operating as a bookie for years, who are unfamiliar with the pay per head model, so allow us to take a minute to explain. In the pay per head setup, you are basically given an online presence and the chance to reel in a ton of players, with the going rate usually coming in at around $3 to $10 per player per week, depending on your package. There are many such services out there, but you really need to go with the one that delivers the best PPH software, which is something that we will get into in a little more detail shortly.
Features and Options are Key
Finding a company that delivers the best pay per head software should be at the top of your list, but what else should you be looking for? One of the most important things to consider when taking your bookie business online is how players wager today. Gone are the days when bettors needed to be sitting in front of a PC or laptop, as many players now wager on the go via their smartphones. The reality here is that no company can claim to have the best pay per head software without offering up a mobile version as well as one that can be played on a PC.
Ace Per Head is at the top of the heap in the pay per head market because of the software that they use, but there is more to what they offer than just that. While some companies will demand money right away or try to hook you into a long-term contract, Ace Per Head is more than willing to hand you the keys to your bookie business without placing any demands on you. They do this by offering you a 6-week trial, as well as the ability to create your own package, which includes choosing the skin you want for your website and mobile setup.
There are not a lot of pay-per-head providers who will even give you your own website, but AcePerHead.com takes it one step further. They have software engineers on hand to help you set the site up, as they are aware that not everyone is computer savvy when it comes to setting up a page and getting the ball rolling. Customer service is huge in any industry, and you can be sure that you will get the help you need whenever you need it.
Let's Talk about PPH Software
With the best pay per head software, you get access to all kinds of features that help you build a thriving bookie business, while also delivering a fantastic service to the players who choose to play with you. The goal is to have bettors come back as often as possible, which is what happens when they have a smooth and easy wagering experience every single time. Let's get into some of the features that you can enjoy when you use the software provided by Ace Per Head.

Players who wager on sports today want to be able to play while they are watching. The best PPH software should come with the ability to play live. This is an option offered by Ace Per Head, with bookies also having the option to upgrade to live mobile betting whenever they want. The ability to scale your business is huge, and it is only the very best pay per head software that is designed to allow you to do that. As your business grows, the software and features grow with you at the pace you deem to be the most comfortable.
At Ace Per Head, there is a huge board filled with available sports and events. All the major leagues are covered, allowing you as a bookie the flexibility to focus on the sports that you know your clients love. You also have the ability to go in and move the lines as you see fit, with a couple of points either way perhaps enticing in players who may have otherwise sat an event out. You can access a page that shows the bets as they come in, so you can see where the money is going, which comes in very handy if you are considering moving the lines one way or another.
Included in the best pay per head software is a secure chat client that allows you to get in touch with your players and answer any questions that they may have about an upcoming event or promotion. The chat client is totally secure and private, meaning that you and your players can chat with total confidence. You also have access to a virtual casino, racebook, and live scores, all of which make Ace Per Head have the best pay per head in the business.
Do Not Waste your Time
You might imagine that getting access to the best PPH software in the industry would be a little convoluted, but you can actually be up and running in a matter of minutes. Ace Per Head also offers a very generous 6-week free promo, which is more than enough time to test drive all the cool features that are available to both bookies and players. It won't take that long for you to figure out that this is the best PPH software you can get.
10 PPH Sportsbook Software Benefits
Sports betting is becoming more and more common so it's time to jump in now. Here are 10 PPH sportsbook software benefits that will convince you to get started.
Hey, bookies! That was a dark 2020, wasn't it? You watched the biggest gambling event of the year, the NCAA Men's Basketball Tournament, get canceled. After that came three months where there were no sports played in America.
That doesn't mean there weren't places to find action. 2020 featured record sports betting handles. Casino and large retail sportsbooks started taking bets on Russian table tennis and Korean Baseball while you lost your shirt.
Now that sports are in full swing, your business is up. You should know better than to bet against another shutdown, though. PPH sportsbook benefits you in many ways, especially now as the sports world still teeters on Covid-19.
There are many reasons you need to enroll in the best Pay-Per-Head betting platform. Here are the top ten.
1. Grow Your Business
It's not an exaggeration when we say the sports betting business from 2017 to now is like night and day.
Back in those old days, four years ago, you still operated out of a notebook or a spreadsheet. You looked to Vegas for help setting your lines and you took bets in person or over the phone the same way your father and your grandfather did.
It was a system that worked, so long as you faced zero competition. As states legalized gambling, the big boy national sportsbooks offered legal online sports betting platforms. You weren't the only game in town.
The old ways of bookmaking died. They were replaced with flashy smartphone-accessible sportsbooks that allow even your most faithful players to make in-game bets from the comfort of their living room.
You need to keep up with that current demand. The only way to keep your players and grow your business is through providing an online betting platform of your own, and you do that through great bookie software.
2. Convenience
In the old days, bookmakers had to be on-call 24/7 to make money. If one of your players felt a hunch about a game at 3 AM, you needed to pick up the phone and take the action. Why?
If you didn't, a player would take their business elsewhere. Also, if you waited until the morning to take the bet, the player might have talked themselves out of placing a bet.
You also pounded the pavement, visiting local bars and pool halls to make yourself available to gamblers before big sporting events.
With a PPH platform, you don't have to work as hard. Your sportsbook is available to your players at any hour of the day or night to place bets.
Once you enroll and set up your book, your players can download the app and make bets with you the same way they'd make bets with a large, commercial sportsbook. You both can give and take action without leaving the house!
3. Easy Line Movement
Lines are the lifeblood of a sportsbook operation. The tighter the lines, the more money you make. Line movement is all about risk assessment.
The best PPH sportsbook platforms offer services that provide the tightest opening lines around.
If you're inexperienced, you can rely on the experts found in the AcePerHead network of expert handicappers to keep your lines moving so you see action on both sides of a bet and reduce your risk.
Let's say you're an experienced bookie. You're a seasoned handicapper with sharp eyes for your lines.
You've seen it all through the years, from the Mike Tyson vs. Buster Douglas upset, the 2002 New England Super Bowl win, and the Houston sign-stealing scandal. You know when there's something fishy going on.
You also know your market. Sports gamblers, like all other gamblers, aren't always the most logical people around. Players make bets on hunches, or against teams, they don't like.
If you operate in a city like Pittsburgh, you know your players are loathed to make bets on teams from rival cities like Baltimore or Cleveland. You also know the hometown teams see more action from novice players than any other.
With this software, you can use your years of experience to adjust the lines based on your market circumstances. This allows you to reduce your risks and make maximum profits.
4. Offer More Bets
As sharp as your handicapping eye might be for the big-time professional and collegiate American sports, you need to offer a wide range of bets on other sports to win new players and keep your regulars.
AcePerHead's line service offers the tightest lines on a wide range of sports you might not be familiar with. Take bets on British Darts, Belarussian Soccer, and Russian Hockey just like the big books do.
The best part is, that you can rely on our experts to make and adjust the lines so you don't have to waste time and energy handicapping these less popular sports.
5. More Payment Methods
Before legalized online sports gambling swept across America, the gambling business was a cash business. Why?
In Nevada, casinos were able to take bets. As you well know, casinos only operate in cash. For the rest of the country, sports gambling remained a cash business because it operated under the table.
These days, big online books accept deposits from debit cards and bank accounts. A player can use a credit card. Offshore books accept cryptocurrency as payment.
If you're going to operate a sportsbook in the 21st century, you have to give your players options to deposit money. Your book needs to pay out just as easily. PPH sportsbook software levels the playing field.
6. Easy Evaluation
Sportsbook benefits come down to whether you make money. If you're operating a gambling venture that loses money, what are the benefits? There are none.
Running a sportsbook might seem like a way for you to make fast money. It's not. To make money, you need to perform a long-term analysis of your lines, your players, and your risk.
In other words, you have to do a lot of math. Save time by having a PPH service do it for you. AcePerHead offers you a real-time analysis of your book's performance so you can find vulnerable spots where you lose money.
7. Reduce Your Bottom Line
All businesses have costs built in. These are your operational costs. While being a bookie can be a cottage business, you still needed employees or agents to help you operate it.
These agents processed the bets and handled the money. You also needed employees to handle the accounting. You could only grow your business if you had the capabilities to hire.
With an online bookie platform, you can reduce your costs by running a one-man operation.
8. Promos for Bookies
You can cut your costs using PPH sportsbook software through promotions the platforms run for new bookies.
AcePerHead offers a few great promos to those who want to get into the online bookmaking business. New bookies who choose the AcePerHead platform can get up to six weeks free or a 50% off discount for five weeks with a $250 deposit.
With AcePerHead, you can also start your website for free with an initial $200 deposit. You're going to deposit money into your account anyway, why not get a free website and a few free weeks to get your new business started?
9. Easy Set-Up
If you're a long-time, old-school bookie, you might be wary of technology. You've run your business a certain way for many years and are unsure of change.
Since 2018, you've seen your profits diminish. Players lured by the convenience of online sports betting, as well as the huge bonuses and odds, boost the big books offer, aren't playing with you very often anymore.
You know you have to keep up. Don't worry about it!
The best PPH sportsbook software like AcePerHead is so easy for bookies to use. You can transfer your entire business from pencil and paper to virtual in a matter of minutes. In less than half an hour, your players can start making bets with you online!
10. Customer Support
The biggest advantage of the old way of running a sportsbook is that unless you were ill, you never stopped taking bets.
Let's say it's Sunday of the Big Game. The prop bets fly in. You do good business so your website traffic is high.
Then, out of nowhere, it crashes. What do you do? You know every minute you're not available to take bets is a huge hit to your profit.
AcePerHead knows this, too. Our Customer Support technicians work with the bookie in mind, knowing that every second your book is down, you lose money.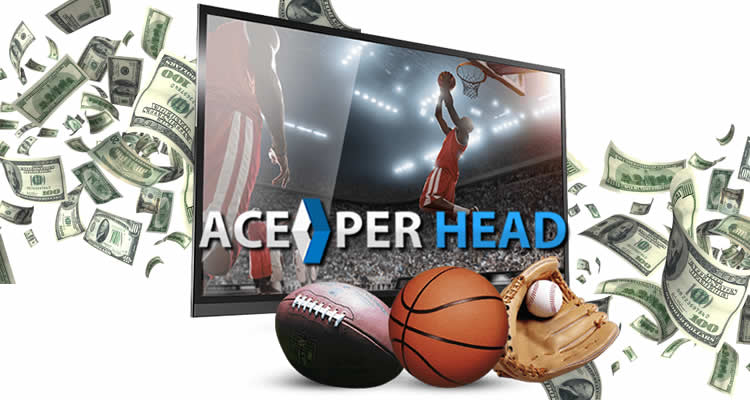 How to Choose the Right Pay Per Head Service for Your Sportsbook
So – you have decided to take your sportsbook online after months of operating out of your spare bedroom, with stacks of cash-filled envelopes carefully lined up according to the bettor. Or you have decided that your sportsbook website, which you set up on something like Wix or WordPress, has grown to its maximum size.
To take the next step, you either need to develop your own website, and make a major commitment to purchasing software, or you need to find another way to grow. Ace Per Head, the premier PPH software service, stands ready to give you a more cost-effective way to grow. However, we are just one of the options you have in terms of pay-per-head sportsbook management. Take a look at ways you can differentiate among the options to choose the best one for your needs.
What Does "Pay Per Head" Mean?
Instead of charging you a flat fee for your sportsbook page on the AcePerHead.com platform, we charge you a fee for every betting client you have on the rolls. So if you have 10 clients, you pay a fee for each one. If you have 1,000 clients, you pay a fee for each one. Obviously, the more clients you have, the more profits you have the opportunity to bring in. It is important to keep an eye on your clients betting lists to make sure that they stay active because if they are not placing any wagers, you are not making any money from them, but you still have to pay for them to be on your books each week. On the whole, though, this means that you get the same level of functionality as your bigger peers on the AcePerHead.com PPH platform while you continue to grow.
What Should I Look for in a PPH Software Provider?
AcePerHead.com has developed a reputation as a premier pay per head software service, which means you should expect the best in terms of functionality. What this means, though, is that you should not expect your pay per head provider to have the lowest fees in the industry. Why? Because you get what you pay for. There are some things that you shop for at discount stores, such as paper towels and bottled water. After all, paper towels and bottled water are basically the same, no matter where you get them and how much you pay for them. There are some things that you do not shop for at discount stores, though, unless you need to. Consider the mattress you buy for your bed. If you buy a mattress from a discount warehouse, you will save money. Still, your sleep will not be nearly as comfortable as it would be if you were able to afford some of the advanced features, such as a pillowtop on one side, or customization of the firmness.
What are the features that differentiate AcePerHead.com as one of the premier pay per head services? One of them has to do with the website's capacity for action. If you have signed up with a discount platform, then think about what might happen to your sports betting website near the end of December. You might have a slate of late-season NFL games, many of them with playoff implications, coming to an end at the same time. That same day, you might have a slate of college football bowl games, college basketball matchups, and a day's worth of games in the NBA and the NHL. All of a sudden, your website crashes because the service you signed up with to save some money could not handle the betting activity. Was it still worth a slightly lower weekly pay per head fee?
It might just take one event to shut down a discount platform. The one event that draws the most sports betting action is the Super Bowl. Can you imagine what would happen if your platform crashed 20 minutes before the start of the game, or right before the end of the first half? What would you do about the in-game props? What would you tell your betting clients? Most importantly, how quickly would they be changing to a new provider?
When you pay for a premier pay-per-head software service, not only do you have access to a website that offers the bandwidth to keep you up and running, all year round, but you also have a website with the staff to take telephone bets should the unthinkable happen and your players not be able to place bets online. After all, the problem might be on your betting client's end as well. What if their Internet goes down? With the right provider, you can still give them access to betting as long as they have access to a phone.
Another quality that you will appreciate in a PPH software service is quality staff and service. One of the primary complaints that come from sportsbook owners who signed up with a discount service is that the wrong point spreads or money lines get put on events. That seems basic, but when you are dealing with employees of discount companies, you get people who are paid a low wage and, as a result, have minimal motivation to provide top-shelf quality service.
What Questions Should you Ask a Pay Per Head Software Service?
One question has to do with the sort of encryption for data and other security protocols. The premier pay-per-head services have a password-protected system for login that each client will use. Betting customers should not have to provide their names, phone numbers, or email addresses to sign up. If a pay-per-head outfit asks you to provide that information, it is time to move on. You should only have to provide a username and a password for each of your clients.
Another question involves the number of options when it comes to sporting events. The best PPH bookie services will offer more events, as well as horse racing tracks and virtual casino games. Basically, if you want to offer action on it, the best PPH platforms will help you get there.
PPH Betting Software Advantages:
Pay-per-head (PPH) systems are becoming increasingly popular among bookies looking to run their own online sportsbook business. PPH betting systems are a type of service that provide bookies with the tools and resources they need to manage their business, including software, customer management tools, and customer support. Here are some of the advantages of using PPH betting systems:
Efficiency
Automation
Risk Management
Scalability
Cost-effective
Anonymity
Customer Support
Security
In summary, PPH betting systems provide bookies with a range of benefits, including efficiency, automation, risk management, scalability, cost-effectiveness, anonymity, customer support, and security. These benefits make PPH software an attractive option for bookies looking to run their own sports betting or online casino business.
Take Advantage of PPH Sportsbook Benefits
As more states legalize online sports betting, you face stiffer competition. Of all the PPH sportsbook benefits, the best one is that price per head sportsbook technology allows you to keep pace with the big books.
Are you a longtime bookie looking to grow your business? Are you a sharp who wants to get on the other side of the action? AcePerHead offers the best pay-per-head platform for experienced handicappers and novice bookies alike.
Start your free demo today and see what we can do for you.