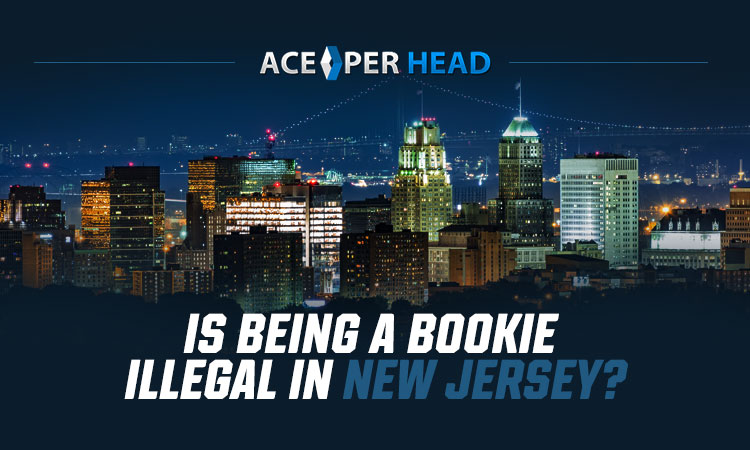 Since there are about 9.3 million people in New Jersey, it makes sense that there's a lot of interest in sports betting within its borders. Whether athletics enthusiasts want to bet on teams or players, there are tons of options available to them.
But is being a bookie illegal in Garden State? Read on to answer this question and get the run-down on New Jersey sports betting laws.
Are Bookies Illegal in New Jersey?
Being a bookie is 100% legal within New Jersey!
In fact, it was the state that caused the Supreme Court to overrule the Professional and Amateur Sports Betting Act (PAPSA). PAPSA, a 1992 law, was the reason that sports betting was outlawed in the US until 2018.
New Jersey's court case made it possible for individual states to choose whether or not they wanted to allow legal sportsbook operations. Of course, it opted into legal sports betting and immediately made a ton of money.
Within one month, the state had made $3,458,668 in revenue from legal sports betting. In 2018 alone, they brought in over $94 million.
This is a comparatively low figure when looked at alongside recent months. In 2021, the New Jersey gambling market brought in $815.8 billion in legal revenue. This positions New Jersey as one of the persisting sports betting leaders in the US.
A Run-Down of New Jersey Gambling Laws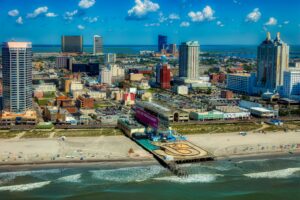 New Jersey has been invested in sports betting since before 1976. However, this is the year that shaped their gambling industry. This was when NJ residents voted in favor of letting people gamble in casinos within Atlantic City.
12 casinos were then built and thrived until 2014. However, at this point, there was a crisis in neighboring states that made some NJ venues less financially viable. 5 casinos closed between 2014 and 2016, and lawmakers started to look for ways to increase the industry.
After trying and failing to pass smaller legislation, they wound up opening a case to overturn PASPA. They won, which then let them open and run sportsbooks both in person and online across the state.
Today, gambling laws are covered in New Jersey State Statutes, Section 2. This law focuses on shutting down illegal gambling venues without restricting bets from individual gamblers.
So, assuming that you're a licensed bookie operating legally, you can conduct operations within New Jersey!
Are There Any Restrictions on NJ Sports Betting?
New Jersey residents have very few restrictions on gambling. They're free to wager real money in NJ-regulated casinos or sportsbooks. They also are allowed to gamble on offshore websites since the state does not criminalize being a player and participating in unlicensed gaming.
However, if you're looking to operate a sports betting business, it's important that you work with licensed professionals. At Ace Per Head, we'll make sure that you're operating within the confines of your state laws. You'll have nothing to worry about and can start taking bets and cashing out ASAP.
Note that there are a couple of simple restrictions New Jersey gamblers and bookies must follow.
Legal gambling is only open to those who are 21 and older. People also cannot bet on events that minors are partaking in. This means no betting on high school games.
Your bookie business also can't offer betting options on in-state collegiate teams and events. This nips cheating and game-throwing in the bud.
Taxation and Fees
Gambling revenue in New Jersey is taxed at 9.75% for retail in-person sports betting venues.
As an online bookie operating a website and mobile app, you will be taxed at 14.25%.
This may sound like a high tax, but it's fairly low compared to many other states with legal sports betting. Plus, all revenue goes to the Casino Revenue Fund and Casino Reinvesting Development Authority. They market and promote Atlantic City with this revenue to bring in more bettors and expand the industry that you already work in.
There are also some licensing fees for bookmakers in New Jersey. The initial license fee is $100,000. There is an annual renewal rate of $125,000.
Luckily, this isn't something that you need to worry about when you work with Ace Per Head. Our platform operates as a sort of umbrella that lets bookies operate legally. We're already licensed and simply take you on as someone who can run a sportsbook on our platform.
How to Become a Top Bookie in New Jersey
Running an online sportsbook or casino can be challenging, but our pay-per-head experts are excited to get you set up as a bookie in New Jersey.
We'll help you set up a mobile-ready website from one of over 50 templates. If you prefer, we can also create a custom website for you. Note that the templates are usually the better option because they already are made to meet dozens of sportsbook-specific needs.
Then, we'll help you launch a site with the top features. You can take advantage of wager alerts, real-time score tracking, configurable lines and limits, player watch reports, and more.
We'll also hold your hand every step of the way. Our 24-hour agent call center is here to assist you at any time of the day or night. It's a great way to stay in touch while signing on new NJ sports betting enthusiasts.
Why
AcePerHead.com

?

AcePerHead is a sports betting company with over 20 years of experience that provides software to bookies.

With AcePerHead software, you can create a betting platform with several bookie tools. If you already have one, you can switch to AcePerHead within 10 minutes.

The model that AcePerHead uses is pay per head bookie (PPH), which involves paying for each player that actively uses your platform. AcePerHead charges bookies as low as $3 per player weekly. With PPH, if you have 5 active players, you'll pay $50 per week.
AcePerHead Services
AcePerHead's team can help you become a bookie by providing several services included in their software. For example, AcePerHead offers website templates to new bookies that allow them to start their platforms immediately.
Here are some of the primary services we provide:
1. Sportsbook
Many bookies rely on sports betting to earn their money. With AcePerHead bookie software, you can let players bet on various sports, such as basketball, baseball, hockey, and football.
You can also view info about wagers and player accounts. When a player is due winnings, this will ensure they receive the correct amount.
2. Casino Games
Aside from sports betting, AcePerHead bookie software lets bookies offer casino games on their platforms. These benefit bookies because they create extra streams of revenue. It also encourages players to stay on the platform because they can use the same balance they use for sports betting.
Popular casino games that AcePerHead supports include blackjack, poker, and slots. When setting up your platform, you can choose the games you want to offer.
3. 24/7 Customer Support
An essential part of a bookie business is customer support. Instead of hiring employees, you can outsource customer support to AcePerHeadthere's a team of trained professionals ready to assist your players.
Ace Per Head's 24/7 customer support service ensures your players are satisfied with their experiences on the platform. Whenever they have an issue, they can contact a support rep that speaks their native language in minutes.
As a bookie, this will significantly reduce your overhead costs as customer support is included in the pay-per-head fees.
Your Bookie Business in 5 Minutes
After reading this pay per head software review, you can start and grow a bookie business.
Before becoming a bookie, consider the features you want on your platform. From there, AcePerHead can help you create a package that suits your needs.
Set Up Your Sportsbook Today
So, is being a bookie illegal in New Jersey?
Far from it. In fact, Garden State is one of the best places to launch a career in bookmaking. Sports betting isn't just live and legal, there are very few restrictions on bookies within the state.
Now that you know all about NJ gambling laws, it's time to set up your sportsbook. Ace Per Head is excited to help you create a website from a sportsbook-specific template designed to meet all your needs. Try our free six-week promo to get a feel for the ways we can help you.