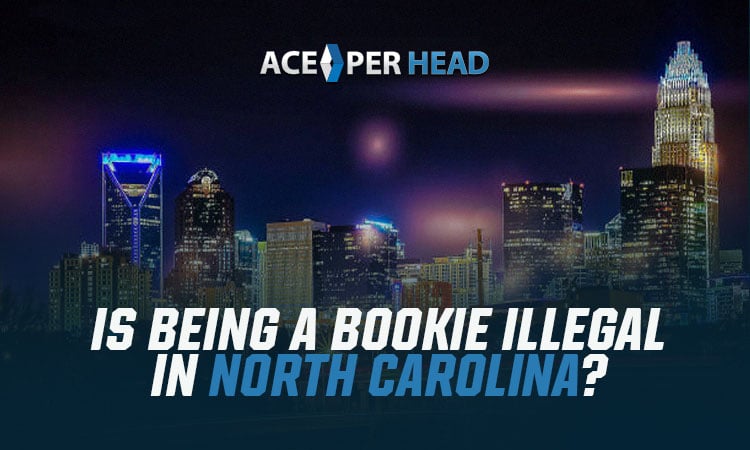 There are about 10.7 million people in North Carolina. Budding bookies looking to get an in with a big market may turn to this jurisdiction to make money.
But is being a bookie illegal in North Carolina? Read on to learn the ins and outs of sports betting in the Tar Heel state.
Is Being a Bookie Illegal in North Carolina?
After PASPA was repealed in 2018, North Carolina legalized limited in-person betting. This took place in 2019, though bets were not taken until 2021. Two tribal casinos were allowed to take bets, though they were miles away from any major cities.
However, being an online bookie in North Carolina is still not legal as of 2023. You cannot operate a sportsbook online and cater to gamblers in the Tar Heel State.
The Good News
Despite this, good things are coming to North Carolina gamblers and prospective bookies. The state House of Representatives passed a bill (H 347) to fully legalize online betting in March 2023. The bill still hasn't passed the Senate, but things are looking good.
This is because a similar bill (SB 688) came extremely close to passing in 2022. It got through the Senate before lawmakers came one vote shy of legalizing it.
The main reason for this was that lawmakers wanted to ban college athletics due to college basketball scandals. Since then, confusion over collegiate betting has been cleared up and more people have shown support for online gambling as a whole.
Plus, the current NC governor is an extremely vocal advocate for mobile betting. Since his term doesn't end until 2025, things are looking good for sports betting enthusiasts statewide.
What Does H 347 Look Like?
The bill currently under consideration is very similar to the rejected 2022 legislation. However, shifting attitudes and collegiate betting possibilities have since changed. It's more likely that this will pass than not.
H 347 makes 12 mobile licenses available across the state. It also would implement a fairly low 14% tax rate on legally-operating bookies. The legal implications of being a bookie in NC are still murky, but it seems like the state wants fairly loose and flexible laws to make sports betting easy.
Preparing for Changing North Carolina Gambling Laws
If the bill currently in the Senate passes, North Carolina may see legal sportsbooks opening online as early as 2024. If you're interested in getting in with this market, Ace Per Head can help you succeed.
We'll help you set up a sportsbook online that tailors to all areas with legal sports betting. You can also add casino games, live betting, and horse races to your repertoire with Ace Per Head. Regardless of what you choose to set up, you'll get automated updates and sportsbook-specific features to help you succeed.
This means that you'll be able to reach North Carolina gamblers immediately once H 347 passes. Until then, you can enjoy making money by taking bets from players in surrounding states.
What Is Pay Per Head?
To start, let's discuss the meaning of pay per head. It'll provide you with a better understanding of why you might want to work with a pay per head service while running a bookie operation.
A pay per head service is a service that will set you up with everything you'll need to run an online sportsbook and casino. From your own customized website and sharp betting lines to digital casino games and customer service, you'll get all the things you'll need to run your bookie business in one neat and tidy package.
For a long time, bookies were in charge of running their own operations using their own resources. But a price per head service can do a lot of the heavy lifting for you so that you can focus on catering to your clients and raking in profits.
What Are the Benefits of Starting a Bookie Site?
There are quite a few benefits you'll enjoy when you start a bookie site. For starters, you'll get a custom website like we just mentioned.
You can use this website to create accounts for your clients. They'll then be able to place sports betting wagers through your website and even play casino games on it.
You'll also come to love that a pay per head will keep track of all your clients' wins and losses and allow you to set up betting limits for them. It'll give you complete control over your whole operation.
Additionally, a pay per head bookie will provide you with customer service representatives for both yourself and your clients. You won't need to worry about fielding calls from your clients anymore about betting lines, website troubles, etc.
Which Pay Per Head Service Should You Rely On?
Since there are so many advantages to using a pay per head service, many PPH services for bookies have started to pop up. You're welcome to work with whichever one you like the most.
You'll find that Ace Per Head will be one of the best options of the bunch. We have more than two decades of experience when it comes to working as a pay per head business. We can help you take your bookie business to the next level with a pay per head sportsbook and casino for as little as $3 per head.
Get Started
Is being a bookie illegal in North Carolina? Sure, it is right now. But it won't be for long.
Ace Per Head is excited to help you set up a sportsbook and prepare for H 347 to pass through the Senate. Try a 6-week free demo of our services to see how we can help you succeed ASAP.