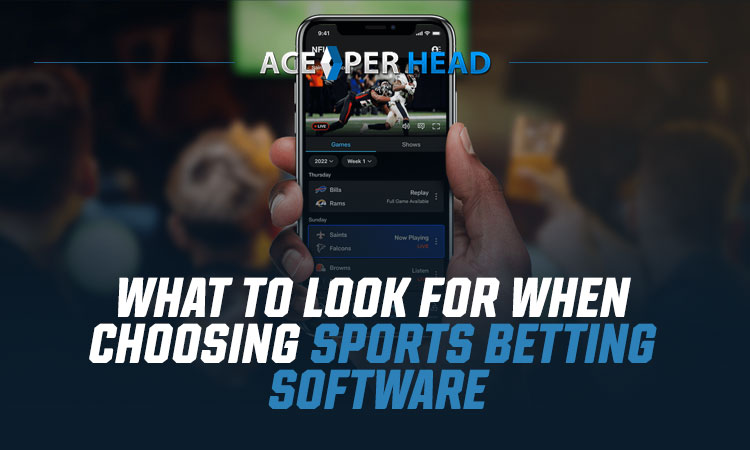 If you're in the market for sports wagering software and you Google something like "sportsbook software," you might be shocked by what you see. You're going to get hit with more than 6 million results.
But this shouldn't be too surprising. The sports betting industry is growing at a ridiculously rapid rate. It has made bookie software very popular and opened up a large market for it.
You shouldn't just choose the first sports wagering software you can find, though, after conducting a Google search like the one we just mentioned. Instead, you should look around for pay per head services you know you can trust.
Here is what you should look for when choosing bookie services.
Customization Options
Almost every single pay per head service is going to give you access to things like a sports wagering website. It has become a standard to some degree. But not all sports betting software is going to enable you to customize a site to fit your needs.
It's why you should search for a pay per head service like Ace Per Head that will make it possible to take advantage of customization options. It'll make your sports wagering site stand out so much more than it would otherwise.
Latest Sharp Betting Lines
When your clients are using your sports wagering site, you want them to have access to all the latest sharp betting lines. It'll be better both for them and you when they're able to get these lines fast.
It'll entice them to place more wagers through you, and it'll also guarantee that you aren't giving out lines that put your clients at an advantage over you. You'll love the fact that these betting lines will automatically update without you having to do a thing.
Safety and Security
If your clients don't feel like they can place bets through your sports wagering site safely and securely, it won't matter how nice it looks. They aren't going to be comfortable enough to push these bets through.
So when you're considering different pay per head services, make it your mission to find one that takes safety and security seriously. This should include an option to have phone calls and emails from your clients routed through your pay per head service so that they can have questions and concerns addressed.
The Benefits of
AcePerHead.com
Ace Per Head is a great choice for all types of bookmakers because it comes with many features at a low rate. Whether you're new to bookmaking or have years of experience, you can enjoy using Ace Per Head's premium software.
Affordable Prices
You don't want to enlist the services of a PPH wagering company simply because they charge the cheapest prices. They might not be able to provide you with the best sports wagering software.
At the same time, you also don't want to cut into your profits by calling on a PPH wagering site that's going to charge you more than the going rate for their services. You'll want to look high and low for a company that can set you up with prices that'll fit into your price range.
Ace Per Head charges as little as $3 per head for sports wagering software. It could be the most cost-effective option for you.
Variety
Aside from affordability, Ace Per Head's premium software lets bookies use several tools to grow their businesses. Instead of paying for extra features, everything is covered under the price per head fees.
Some of the main platform features include:
24/7 customer support
Website templates
Live casino games
Platform migration
These features can help you attract and keep more players, and you can easily transition to Ace Per Head from other software.
How AcePerHead Helps Bookmakers?
Regardless of your experience, you should never invest in premium wagering software until you're confident it can help you. You must also ensure you have enough money to pay the software provider until you build a consistent player base.
If you have no experience, AcePerHead can help you decide whether being an independent bookmaker is right for you. Once you start using our software options, you'll quickly learn how to handle bookmaking.
As technology advances, AcePerHead will update the software to ensure bookies can give the best experience to players at all times. This will prevent you from having to invest in various types of software for your platform.
Choose the Best Sports Wagering Software
You're not going to have any shortage of options when it comes to sports wagering software. But as we alluded to earlier, you don't want to just Google "sportsbook wagering software" and select the first software you can find.
Ace Per Head is a trusted name within the sports betting community. We've helped many bookmakers stake a claim to sports wagering profits by providing the latest and greatest sportsbook software.
See how this pay per head software works and try it out with our 6-week free promo.