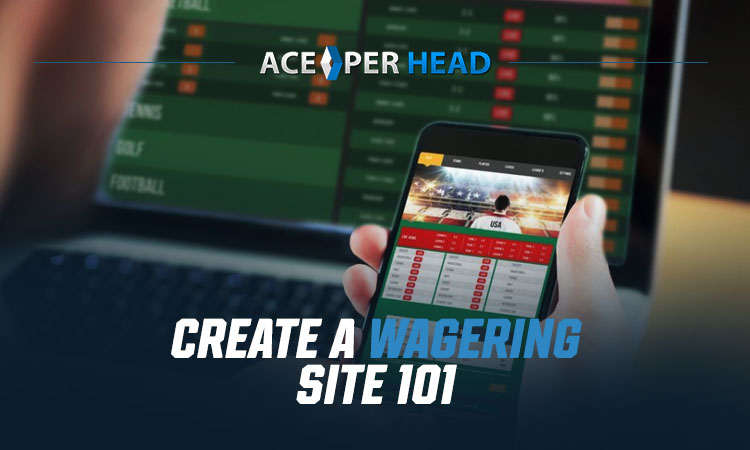 Sports are a popular worldwide pastime for tons of reasons. They're aesthetically pleasing and create a sense of community. They're invigorating enough to cause an adrenaline rush that boosts mental health.
Because tons of people love sports for a plethora of reasons, becoming a sportsbook agent can be a lucrative and exciting career. Read on to learn how to build a wagering site that engages and entices bettors.
Choose the Right Events
When creating a wagering site, it's important that you choose the right events for your sports betting business to track. Figure out where your target market is and offer betting on teams in those areas.
Research demographics and figure out which sports are most popular there, too. If most people in your area are football fans, focus on football betting. Basketball-heavy areas will place more bets on those events.
Still, make sure that you offer a diverse range of betting options. This is the best way to draw more bettors in and expand.
You also should offer wagering on things other than sports. Casino games are a great add-on to any sports betting website. You can offer live dealer playing rooms so people can engage with other users to win money in real-time.
Customize Your Skin
Once you have a general plan, it's time to create a sports betting website that people can use to make bets. The website interface, also called a "skin," will feature your sports betting business brand information. You can choose appealing colors, add your logo, and upload images that invoke strong feelings about sports and teams you're letting people bet on.
Ace Per Head will help you design a skin that embodies your vision and values. We have dozens of customizable templates that you can choose from. Once you make a decision, you just need to tell us what you want and we'll do all the dirty work for you.
If you want a 100% custom website that doesn't make use of a template, that's also okay! We'll build something from scratch for a small additional fee. Your wish is our command!
Take Advantage of Top Features
The good thing about using a template is that it comes with integrated access to top features. For example, Ace Per Head has easy ways of installing real-time sports scores on the application interface. Gamblers can see these scores alongside your lines so that they can make informed bets and track their progress.
It's also easy to integrate our platform with payment apps. You can easily offer payment in secure and anonymous cryptocurrency to protect your identity and your players'.
Combine this with bet tickers, player watch reports, in-app agent-to-player chat, and SMS wagering alerts. Your betting site will be fully ready to roll upon installation!
Understanding Sportsbook Software
Before delving into the mechanics of a PPH sportsbook, let's take a moment to grasp the fundamentals of sports betting software.
In essence, sportsbook software is a versatile platform that empowers you to tailor your very own sportsbook website, hosted through a reputable vendor. This vendor handles all the intricate backend logistics, eliminating the need for intricate coding or intricate web design expertise. It also manages the technical intricacies of bookmaking, allowing you to concentrate on player acquisition, payment management, and business expansion.
By conducting all your operations online, you bid farewell to the era of managing bets with pen and paper. Everything can be accomplished with just a few clicks, both for you and your players.
The Role of a Pay Per Head Bookie
As an offshore pay per head (PPH) bookie, you enter into an arrangement with a vendor where you pay a predetermined fee per active player on a weekly basis. This fee covers the costs associated with utilizing the service.
By adopting this payment structure, you ensure that you're not overpaying for unused bandwidth. Instead, you exclusively pay for players actively engaging with your site, driving revenue your way. At Ace Per Head, our pricing starts at a competitive $3 per player, aligning closely with industry standards.
In return for this fee, you gain exclusive access to your personalized professional sportsbook website. Here, your players can wager on a wide array of options, ranging from sports and horse racing to casino games. Your site operates 24/7 and can be accessed from any device, anywhere, anytime.
When assessing various pay per head alternatives, it's essential to maximize the features you receive. Explore the extensive range of tools Ace Per Head offers here!
Among the standout tools at your disposal are:
VIP live betting
Custom prop builders
Fully mobile compatibility
Line management capabilities
Real-time bet ticker
Real-time wager alerts
Support chat functionality
Experience Our Sportsbook Software Today
With the right bookmaker software at your fingertips, venturing into the world of a PPH bookie becomes a straightforward process. At Ace Per Head, we are dedicated to fostering the success of your burgeoning business.
Our comprehensive toolkit, designed to cater to bookies and players alike, is engineered to facilitate seamless scaling. With our equitable and competitive pricing model, you can effectively manage costs as you elevate your website to new heights.
Ready to embark on this journey? Explore our latest promotion and enjoy six weeks of complimentary platform usage!
Develop a Great Wagering Site
Creating a user-friendly wagering site may be impossible on your own, but it's a breeze with professional assistance. Ace Per Head's experts are committed to helping you customize a mobile-ready skin so that you can start taking bets ASAP. Create a custom package today to build a bookie business from the ground up with 24-hour support.