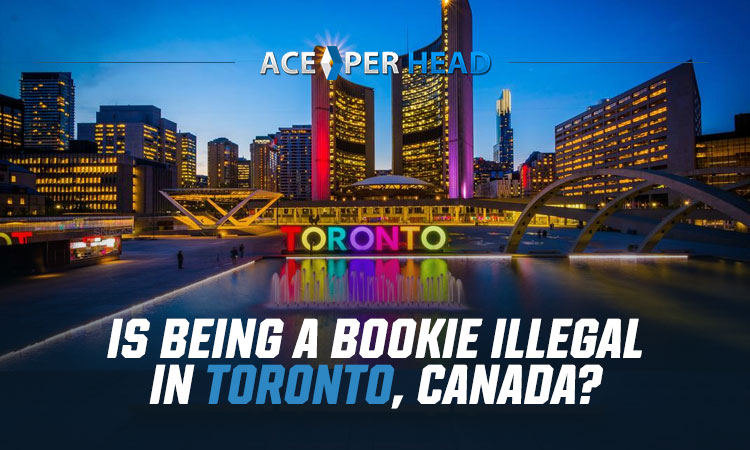 Toronto is the most populated city in Canada. Over 7.6% of its residents live there and it has a bustling culture filled with food, community, and gambling.
Offshore betting is extremely popular in Toronto. But is being a bookie illegal there? Read on to learn the ins and outs of Toronto gambling laws and what they mean for you as a bookie.
Toronto Betting Laws
In the United States, the federal government leaves it up to each state whether to legalize gambling inside its borders. Canada does essentially the same thing. Gambling laws are created and enforced by each province.
Toronto is a city in Ontario. Ontario has a wide range of legal sports betting options, and residents have been enjoying land-based gambling for years. Mobile sports betting was launched in 2022, at which point dozens of mobile apps became legal within the province.
Offshore Betting vs Onshore Sportsbooks
However, only certain sportsbooks are regulated by the province's government. Other mobile apps and betting sites are free to operate there, but they're unregulated.
Offshore betting happens when a Toronto resident places a bet on an app that Ontario's government doesn't regulate. This sports betting platform usually is run by an independent bookie in a different area. This bookie might work from another part of Canada, but they also may operate in the United States.
As a bookie, this is a great way to reach a wide betting audience in Toronto. Canada sports are a lucrative market, especially popular events like hockey, lacrosse, and soccer. However, you won't have access to the protections that larger regulated sportsbooks have.
This means that if fraud or theft happens, you'll have no legal recourse to recover lost funds. Luckily, there are ways that you can save money and protect yourself.
What Bookie Laws Mean for Budding Agents
The lack of regulation for independent bookies means that you'll need to choose a betting platform provider that will protect you. Ace Per Head offers high-level MFA features and firewalls that keep you safe. Comprehensive cloud infrastructure, 7-layer DDoS protection, and crypto payment methods all work to keep you secure.
Legal sports betting across Toronto also means that you'll have a lot of competition. A mobile-ready sportsbook app can help you stand out assuming that you select a platform with quality features. VIP live sports betting, attached casino betting features, and free plays can all attract bettors.
Plus, you'll have access to 24/7 assistance from our call center. So will your players. Along with a secure in-app chat, this means that communication is always easy and reliable.
Elevate Your Bookie Business with Ace Per Head's Pay Per Head Software
Understanding the pivotal role of a pay per head service is the cornerstone of building a successful online bookmaking enterprise. This symbiotic partnership hinges on a straightforward concept: you pay a predetermined weekly fee per active player to the service provider. The fee you pay encapsulates all expenses associated with utilizing their comprehensive services.
This payment structure brings a crucial benefit – you only bear costs when your players are actively engaged on your site, generating revenue. Ace Per Head embraces this approach with a competitive fee structure commencing at just $3 per player, aligning with industry standards.
In exchange for this modest fee, you gain exclusive access to a meticulously crafted professional sportsbook website, tailored to meet your unique requirements. Your players can immerse themselves in a wide array of betting opportunities, spanning sports, horse racing, and engaging casino games. Moreover, this website operates seamlessly around the clock, ensuring accessibility from any device, anywhere, at any time.
A Toolkit Designed for Success
When you evaluate different price per head platforms, it's paramount to choose one that offers a rich set of features. At Ace Per Head, our comprehensive toolkit includes:
VIP live betting
Custom prop builders
A fully mobile service
Line adjustment capabilities
A real-time bet tracker
Instant wager alerts
Support chat functionality
These cutting-edge features empower you to provide your players with an unparalleled betting experience. VIP live betting ensures that your players can engage with the action in real time, enhancing their excitement and engagement. Custom prop builders enable you to tailor the betting options to suit your clients' preferences, creating a personalized gaming environment. The fully mobile service guarantees that your players can access your platform from anywhere, driving convenience and accessibility. Line adjustment capabilities allow you to fine-tune odds to optimize your profits. Real-time bet tracking and instant wager alerts keep you informed about your players' activities and potential opportunities for growth. The support chat functionality ensures that your customers receive timely assistance and support, bolstering their overall experience.
Embark on Your Sportsbook Journey with Ace Per Head
The gateway to establishing your thriving bookie business lies in the realm of top-tier sportsbook software. Ace Per Head is your steadfast partner in this endeavor, offering an array of tools and features meticulously curated to cater to the distinctive needs of bookies and their discerning clientele.
Our platform supports seamless scalability while maintaining a fair and competitive pricing model, ensuring cost efficiency as your site and services expand.
Are you ready to make your mark? Explore our latest promotion, which provides an enticing six-week free trial of our platform. This exclusive opportunity unlocks the unparalleled potential of Ace Per Head's industry-leading sportsbook software, enabling you to elevate your bookie business to unprecedented heights. Ace Per Head isn't just another sports betting platform; it's your pathway to online gaming excellence. Join us today and take your bookie business to new horizons.
Grow Your Sportsbook Across North America
Both offshore betting and onshore sportsbooks are legal in Ontario, and Toronto is no exception. Now that you know the ins and outs of Toronto gambling laws, it's time to set up a quality sports betting app that caters to Canada's biggest sports enthusiasts. Create your custom package with Ace Per Head to start a free 6-week promo period for one of the best bookie platforms around.