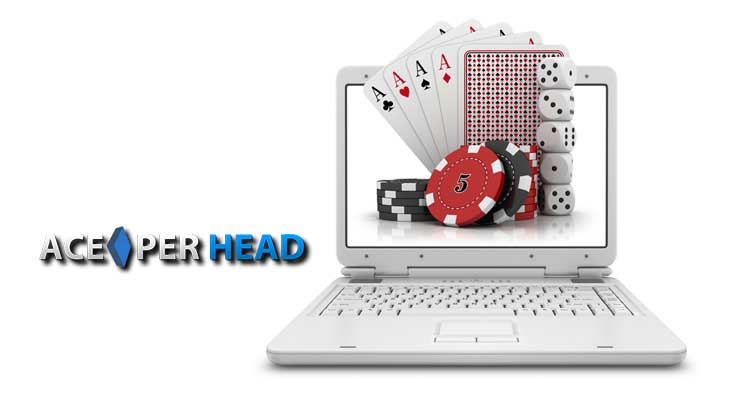 Gambling is the fastest-growing industry on the planet, and casino games have been luring players for centuries with no signs of stopping anytime soon. Therefore, it is no surprise that more and more people are looking for ways to get in on this multi-billion-dollar-a-year business.
Online Is the Way the Go
In order to open a successful online casino, that appeals to customers and keeps them coming for more, potential owners need to find a reliable and trustworthy casino software provider. Contrary to popular belief, you don't need to have extensive knowledge of how to run a casino to own one, what you need, however, is to find the most qualified pay per head casino provider that can handle the nitty-gritty of everyday admin so you can focus on finding clients and establishing a name for yourself.
That is where AcePerHead.com comes in, with over 25 years of experience in the online gambling business, they have the expertise to manage an online casino with extreme efficacy, so you don't have to worry about such things as collusion, and other forms of fraud.
As the leading casino software provider for pay-per-head agents, Ace Per Head offers more than just a software license, they provide all the necessary know-how, technical support, and admin support you will require to get your business to run smoothly, saving you all the hassle and avoid common mistakes that could set you back thousands of dollars or even bankruptcy.
Aside from great graphics and sound effects, your casino software provider should provide a great selection of popular casino games like Blackjack, Pai-Gow, Video Poker, and lots of slot games. And a truly great provider like Ace Per Head will also provide access to the latest craze in an online casino, a Live Dealer Casino platform, complete with beautiful, sexy female dealers.
The casino platform offered by AcePerHead.com, comes fully equipped with detailed reporting for you to have complete transparency in your business, knowing which players are winning and which are losing is an important piece of the business puzzle, and very helpful for decision-making.
However, the most valuable component of Ace's service is the support you will receive, when you sign up as an agent with them you will automatically get the following:
With 24/7 technical support, with their incredible tech infrastructure, your casino will never be offline.
Casino management and Admin support, you don't need to be glued to your computer, studying each hand played to ensure there are no issues, the professional casino managers at AcePerHead will do this, all day every day.
Player support, Ace Per Head is known for its outstanding customer service, and they will be available to assist your players with any questions or technical issues they may encounter.
If you wish to establish an independent casino operation, you can opt for their white-label casino solution, where you can commission a personalized branded website and market the casino as if it were a standalone enterprise.
If you have dreamt of becoming a casino owner, Ace Per Head can make your dreams come true in an easy and fast way. For more information on how to get started, contact AcePerHead.com today.
How Much Does It Cost to Start a New Online Casino?
Are you thinking about starting a new online casino but want to know more about the expenses involved?
If you'd like to earn up to $100,000 weekly, an online casino is a great investment opportunity to consider.
Online casinos allow people to play games and bet on sports to win cash. As more people partake in online betting, bookmakers are earning more money than they have in the past.
The best part about starting a new online casino is that it doesn't cost as much money as a traditional casino. However, several expenses exist that you should know about if you'd like to succeed.
Read on to learn about the main costs of building an online casino with the best pay per head service.
Software Provider
When becoming a bookie, one of the first things you'll pay for is software.
Software providers create software and distribute it to bookies for their betting platforms. Some software providers charge one-time fees for their software whereas others charge periodical fees.
If you use software from a provider like Ace Per Head, you can pay as low as $3 weekly for each player that bets on your platform. This will prevent you from overspending when starting a small platform.
Web Development
Another large expense is web development, but the cost will vary depending on your approach.
Some bookie software providers, such as Ace Per Head, offer simple web development services in the form of templates. This allows a bookie to start their platform as quickly as possible, though it won't be as unique as a platform built by a web developer.
When hiring a web developer, expect to spend around $75 per hour for their services. If you have a strict budget, it's best to use a template from a software provider.
Customer Support
To ensure you start the best online casino, invest in customer support.
Customer support is essential for the success of any business because it allows customers to resolve their issues. A simple way to invest in it is to hire representatives that can take calls throughout the day.
The cost of hiring them will vary depending on how much you want to pay. However, it's common to see businesses pay their reps anywhere between $10 to $15 per hour.
Prize Money
The last expense to consider when building an online casino is prize money.
Because online gambling revolves around winning money, you must have enough to distribute it at all times. If you don't, you'll upset players and convince them to leave the platform.
Saving money is as simple as cutting costs wherever possible. Consider saving at least $10,000, which is enough to offer different types of bets to players. As you attract more players, you'll earn more money and can increase payout amounts.
Build a New Online Casino with Ace Per Head
Now that you know what it takes to build a new online casino, start saving money so you can become a bookie. When ready, you can work with Ace Per Head to take advantage of various services.
Have a look at our bookie software demo to learn about the tools successful bookies use.