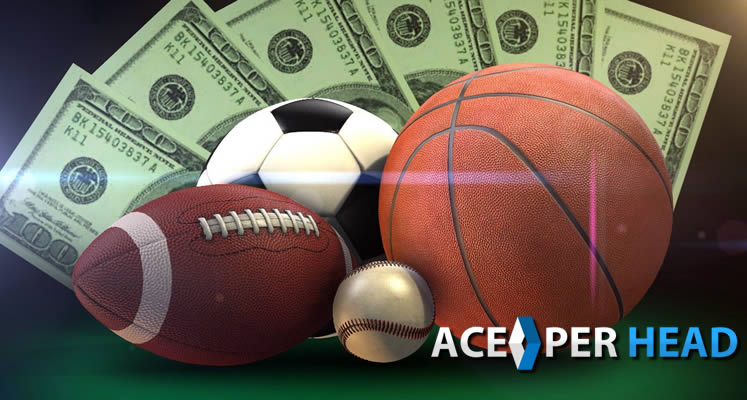 AcePerHead.com is one of the top pay per head providers in the sportsbook industry. Pay per head providers are companies that provide Bookies or Agents with a website where their players can make wagers. These companies manage all the odds and update all the odds up to the second, and provide live lines to bet on while games are in progress. After each sporting event is completed these services grade all the bets and all players' and agents' accounts have their balances updated immediately to reflect the win or loss.
PPH Price
AcePerHead.com has been a service provider in the sportsbook industry for 25 years, and the price they offer for their service is as low as $3 per active player per week. This is pretty much the average price in the industry, however, there are services that do charge less or more, depending on the quality of the product. The Ace Per head price of $10 per player is only charged if the player has a graded wager for that week, and the player can make 1 or 1000 bets that week and the price is still just as low as $3 for that player.
Then the agent is in charge of paying players when they win and collecting from players when they lose. Anyone familiar with the gambling industry and Vegas know that it is a business that is built and grows off of losers. So even if a player has a couple of good weeks of winnings, players will always lose over the long term. This means there is truly no limit to how much money you as a Bookie can make from a fixed-price service.
The only other price or fee that Ace charges are for their premium live service, which is $5 extra per week if the player uses it. Regular live that has football, basketball, hockey, and baseball, has just the side, total, and money line for players to bet while the game is in progress. However, the extra premium live service has 50 to 70 different live betting options to choose from per game and also has soccer, tennis, golf, European sports, cricket, and Boxing along with football, basketball, hockey, and baseball. Ace Pay Per Head does have a promo where the first two weeks of service would be free for the premium live option.
Since Live is getting increasingly popular because of the huge amount of betting options and volume it creates, along with the ability to make wagers while actually watching the game in progress, it is a valuable option to offer players. Players that bet live end up making more bets each week than players that do not bet live, which increases betting volumes and the amounts players will lose in the long term.
Use Cryptocurrencies
Lastly, AcePerHead does have one other option where bookies get up to 20% off, then the bookie pays their website fees by using cryptocurrencies such as Bitcoin, Litecoin, Ether, and Stellar. Even if you are someone who is not familiar with cryptocurrencies it is very easy for you to quickly open up a bitcoin wallet and set up an account so you can anonymously make your payments to Ace Per Head with cryptocurrencies. The potential price savings alone is worth it, and once you are set up with your own crypto account you can make and receive payments with it anywhere in the world, which means it will also be a useful way for you to collect from your players as well.
The Real Costs of Pay-Per-Head Services
When potential AcePerHead.com customers are a little hesitant to sign their contracts to use our bookie platform for their sportsbook, one question they ask has to do with paying a weekly fee for each of their active betting clients.
The question has to do with why they have to pay each week to use a website when they could set the website up themselves. We respect this question because we understand that the sportsbook agents who put their businesses on our bookie platform are making an investment, not just in terms of money, but also in terms of the trust. After all, if our sportsbook platform crashes during a crucial moment in a game, our sportsbook agent clients will lose business, because the betting clients who were relying on those outcomes will leave, heading for greener pastures where the servers never crash.
Let's take a look at how pay per head sportsbook platforms work and how they can revolutionize your book – and make it your primary source of revenue.
You Get What You Pay For: A Look at the Costs of Pay Per Head
It's worth pointing out here just what "pay per head rates" means. This structure has become fairly common in the world of sports betting, but there are still some prospective clients who do not know what the term means. Let's say that you have 300 people betting on your sportsbook. If you sign up with AcePerHead.com, you would pay a fee each week for every 300 people who placed a bet that week.
(This, of course, is one reason why AcePerHead.com is so much better than a lot of the competition – we track the clients so that you are not charged for clients on your roll who did not bet that week. A lot of the "value" sportsbooks do not handle that sort of tracking, which means you have to go through the records yourself and track people who are not betting so that you can either purge them for inactivity. Instead, AcePerHead.com saves you a lot of time each week.)
How much do pay per head rates cost?
There is a significant amount of variety in the price point. As of this writing, the cheapest rate that you are likely to find is $2 per head per week. That means that if you have 300 people in your sportsbook, and all of them make a bet on your book that week, you would owe $1,500 in fees for the week. That might seem like a lot until you remember all of the costs that the company has in setting up the server.
Also, with 300 customers placing a wager each week, hopefully, you've set your lines and point spreads correctly, the teams have won and lost in accordance with your thoughts on the games, and you will make enough money to clear a profit, even after the $1,500 fee. But what do you get in exchange for that pay per head presence?
The benefits of the AcePerHead.com experience
It is true that AcePerHead.com does not offer $5 weekly pay per head rates. We don't offer $7 either. We do offer rates that are competitive in the upper tier of the industry, and our rates do have different levels on the basis of how many customers you have. That means that you get rewarded for building your business – and bringing more profits to us.
One perk of signing up with AcePerHead.com has to do with the variety of experiences that you can offer your customers. Want to offer some side props on some of your NFL or NBA games this weekend? Go right ahead. A lot of the "value" bookie platforms not only do not let you set up your own side props, but they control the odds as well. You want to be able to manage as much of your sportsbook as possible, so you will want to take advantage of the extra flexibility that comes with the slightly higher rates than elite platforms like AcePerHead.com ask.
Another benefit of the AcePerHead.com membership has to do with the way your website will look. At the value end of the spectrum, sportsbook clients have to settle for skins that are not customized. Instead, they just look like slightly different versions of one another, perhaps with different text colors but overall in the same format. If you sign up with AcePerHead.com, your website will not only offer a considerable number of customizable options but the whole package is designed to look competitive with the big sportsbooks out there. That means that instead of looking just like the other websites that are on the least expensive pay per head bookie platform, upgrading just a few dollars in terms of pay per head rates means that you have a book that looks and navigates just as professionally as the biggest sportsbooks in Atlantic City and Las Vegas.
Here's the thing – with many things in life, you get what you pay for. There are times when buying the Groupon pays off, for example, such as when a new golf course is just opening and they need people to come to play. Once that golf course is up and running, though, with lush greens and fairways, and with full tee time books each weekend, you won't be able to get half-price greens fees anymore. However, the golf experience will be much better than the dry fairways and the bumpy greens you get for the cheap fees. When you invite your business associates to play golf with you, they will be impressed. It's the same idea as your sportsbook. You want to build your business, right? Then you want your book to stand out from the competition, and you want your offerings to be competitive with the best in the business. That means paying a bit more in your pay-per-head rates, but it also means making a lot more money as a result.
More Info About PPH Rates:
Running a bookie business is an extremely lucrative business if it is done correctly. The first thing you obviously need if you want to book action on sports and accept wagers from people is people that would like to gamble on games. Finding people is actually very simple and just starts with word of mouth, by reaching out to all friends, family, coworkers, schoolmates, and social media friends.
If you can get players that want to bet on sports then the next important thing to do is to find a company that will provide you with a sportsbook website for your players to bet on. The best way to find this type of company is by searching for a pay per head website. These companies provide bookies with a fully inclusive sportsbook website that they can offer to their players, where the pay per head site manages all the lines up to the second and then grades all games as soon as each event is over, and then the balances are updated automatically into both the players' account and the bookies' account.
These services are called pay per head companies because the rate they charge is just a flat fee that is based on how many heads or players actually use the site each week. The pay per head rate will vary from company to company. The standard rate is around $10 per player a week and you only get charged if the player actually has a graded wager that week, so if they don't bet that week you don't get charged for that player.
The price can be lower, however, you get what you pay for, and lower prices, often mean fewer betting options available, softer slower-moving lines, services that are not 24/7, sites that go down during peak betting times such as NFL Sunday before kickoffs, and poor customer service.
One of the more reasonably priced services is AcePerHead.com They check all the boxes in terms of having more betting options than the average book, very sharp lines that move up to the second, an American English-speaking customer service department that has over 25 years worth of experience and is available 24/7 thru phone, text, live chat, and email every day of the year, and over 10 servers around the world to ensure the site never experiences any type of interruptions.
The pay-per-head rate is as low as $3 per player and they also have numerous different start-up promotions for brand-new bookies to take advantage of. They have up to 9 free week promotions, along with a 6 free week, 4 free week, and 1 free week option to choose from. There is another option to have a free customized website with the URL name and logo of your choice. A 50% discount on the price for the first 5 weeks, and also a 100% credit referral promotion when bookies refer new bookies to Ace.
So if you are looking to become a bookie and want not only to use one of the best services in the industry but also one of the most affordable services, then give Aceperhead.com a call today at 1-800-909-5193.