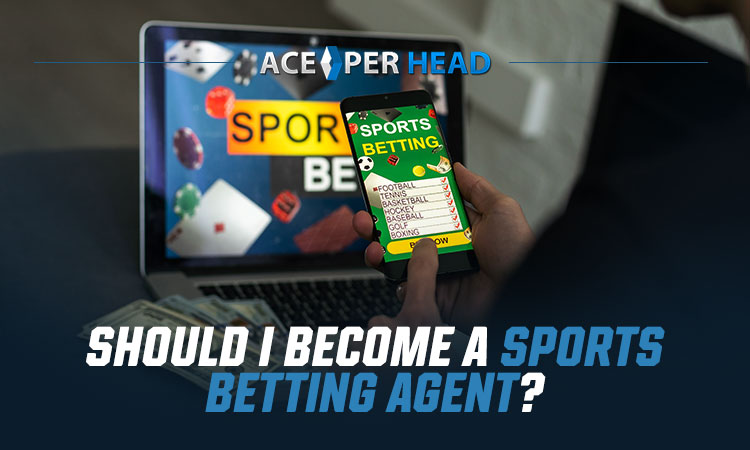 Are you a sports fan looking to turn your interests into a lucrative, rewarding business? If so, it's time to consider becoming a sports betting agent!
In this role, you'll help players place bets on various sporting events, and distribute their winnings if they wagered on the correct outcome. It's an exciting field to be in, especially as more states legalize online betting.
Could this role be right for you? Today, we're taking a look at what you can expect!
Work From Anywhere
One of the best reasons to become a sports bookie is that you'll have the ability to work from anywhere, at any time. When you use mobile-friendly sportsbook software, all you need is an internet connection! Plus, you'll have the ability to run your own operations and set your own terms.
You're free to explore the various features of our platform, creating the ideal betting experience for your players. With this flexibility, you can adjust odds, set specific terms, and even change the sports you offer with just a few clicks. If you value work/life balance and professional autonomy, this can be the ideal setup.
Quick Setup
Wondering how to become a bookie? The setup process may be quicker and easier than you realized! With software like Ace Per Head, you can get started right away.
Our advanced platform takes care of the back-end legwork for you, so you don't even need technical expertise to run your own successful site. We'll even give your players access to our own dedicated call center, where they can place wagers and ask questions.
Dedicated Website
Once you decide to open your own business, you'll need to know how to take bets. While you could spend hours learning how to create your own website, why not go through us?
With our pay-per-head services, you can set up your own custom site that allows players to browse available wagers, view lines, and place bets online. This makes it even easier to get up and running. You don't have to worry about building the site or ensuring player privacy and security.
We'll take care of the logistics on our end, so you can start growing and scaling on yours.
Unlimited Potential
If you're thinking about entering the professional betting sphere, it's important to think about longevity. Is this an industry that you can take as far as you want to?
When you partner with us, the answer is yes. We offer a pay per head sports betting software model that allows you to only pay for what you need when you need it. When you don't have to worry about the day-to-day operations of your business, this frees you up to dream big.
A Guide To The AcePerHead's Premium Software
Bookies have several duties that revolve around customer satisfaction, like many other businesses. Yet, without the best premium software, a bookie will have a hard time managing their platform in a way that guarantees they earn money while keeping players happy.
That's where Ace Per Head — a sportsbook provider — can help you, but how?
Ace Per Head offers some of the best software options in the sports betting industry. Read on to learn all about the company.
Benefits of Ace
Ace Per Head is a great choice for all types of bookies because it comes with many features at a low rate. Whether you're new to bookmaking or have years of experience, you can enjoy using Ace Per Head's premium software.
Affordable
One of the main benefits of using Ace Per Head is its affordability. Ace Per Head offers pay-per-head (PPH) services, which are cheaper than the flat rates of many companies.
If you have a small player base of 10 players, you'll pay a lower amount than someone with 100 players. Pay-per-head services only require you to pay for each person who actively uses your platform.
Variety
Aside from affordability, Ace Per Head's premium software lets bookies use several tools to grow their businesses. Instead of paying for extra features, everything is covered under the PPH fees.
Some of the main features include:
24/7 customer support
Website templates
Live casino games
Platform migration
These features can help you attract and keep more players, and you can easily transition to Ace Per Head from other software.
How Ace Helps Bookmakers Around the Globe?
Regardless of your experience, you should never invest in premium software until you're confident it can help you. You must also ensure you have enough money to pay the software provider until you build a consistent player base.
If you have no experience, Ace Per Head can help you decide whether being an independent bookie is right for you. Once you start using our software options, you'll quickly learn how to handle bookmaking.
As technology advances, Ace Per Head will update the software to ensure bookies can give the best experience to players at all times. This will prevent you from having to invest in various types of software for your platform.
Now that you know about the benefits of Ace Per Head and how it can help you, start thinking about a career in bookmaking. Even if you're already a bookie, you can transition your platform to Ace Per Head's software without losing any data.
When you're ready to become a bookie, Ace Per Head will provide you with all the resources you need.
Read the beginner's guide to get a better idea of how the best pay per head bookie software works. You can contact us at (800) 909-5193 with any questions, and we'll be glad to help!
Become a Sports Betting Agent Today
Chances are, you're already immersed in the sporting world anyway. If you spend your days checking scores and comparing stats, you could tap into some serious earning potential by becoming a sports betting agent.
At Ace Per Head, we're here to make the next step easy. Sign up for our current promotion to try our software for six weeks, totally free!