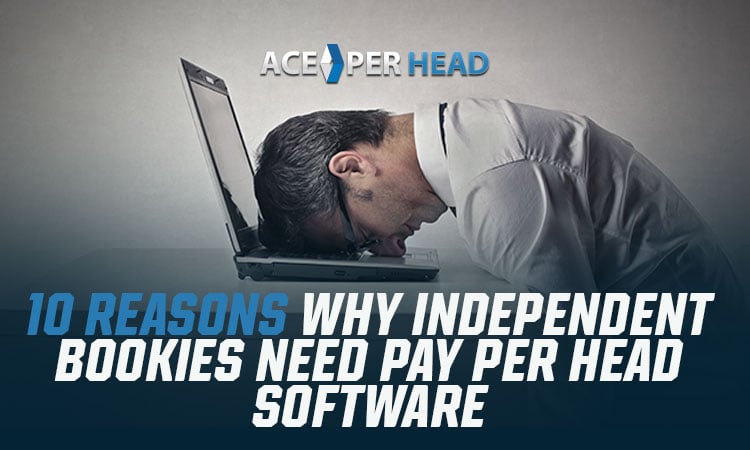 Since the Supreme Court ruled in favor of legalized sports betting in 2018, over $220 billion in bets have been made. The industry is only expected to continue growing as more states decide to legalize sports betting.
Independent bookies have been more successful throughout the years because of their ability to adapt. Now is the time for you to take your betting business to the next level by implementing pay per head software.
Before you start daydreaming about the massive influx of customers a quality platform will bring you, we have to chat briefly. If you aren't equipped to handle the sudden increase in traffic you could get in trouble.
If you've been thinking about adding pay per head bookie software but aren't convinced you need it, keep reading to find out why you should.
1. Customizable Sportsbook
Customizable Sportsbook is one of the innovative features that Pay Per Head (PPH) software offers for bookies. It provides flexibility that allows you to tailor the platform to suit your brand and preference. The customizable feature is excellent for attracting new players.
A customized sportsbook will differentiate your business from thousands of online betting sites. It will invite new players to join in on the fun without having to sift through endless activities.
PPH bookie software provides a range of sports and leagues you can choose to include in your sportsbook. You can choose to add only the ones which you think are bringing significant turnovers.
Adding total control over your sportsbook can be tricky for many bookies to manage alone. PPH bookie software is ideal because it can customize a sportsbook to suit your preference.
2. Player Management
Managing the players' accounts is a vital aspect of any bookie business, and PPH bookie software takes care of that. Player information, such as account details, deposit and withdrawal history, and betting history, are neatly organized and secured in one place. This makes it easily accessible when needed.
Pay per head bookie software prevents mistakes such as added credits, calling a wrong bet, or missing a canceled bet. It ensures a safe and secure payment gateway that instantaneously approves deposits.
3. Protection Against Shaky Lines
A line refers to a curve that connects all the different sportsbooks' odds. Bookies may refer to lines as set "points." You must ensure you keep the score close to your lines because it's a point where both parties win.
Betting too much can lead bookies to surpass the set line. When a significant win is made, the books may have put down an excessive amount, usually called a 'shaky line.'
PPH bookie software platform has a feature called a phone-management system to avoid such events. Insurance limits take care of a cap and insurance management solution you can opt-in.
4. Risk Management
When running a successful bookie business, one of the main challenges bookies face is managing risks presented by uncertainties emanating from a sports event. You must look at historical and current data and financial trends to mitigate possible financial risks and select games that minimize risk.
PPH sportsbook software employs the latest technology and uses advanced tools to provide comprehensive analyses, helping bookies reduce risks.
5. Bookkeeping Simplification
Bookkeeping is mission-critical to your bookie business. Even a minor oversight may bring your business a terrible loss. Using sportsbook software can help relieve stress and save you time by generating reports and financial statements.
Using PPH software means that you have access to all reports 24/7. It makes it easier for you to calculate your net worth and manage payouts, losses, and revenue.
6. Comprehensive Reporting
PPH bookie software provides consistent reports, which prevents time fraud and cheating. A comprehensive analysis of business activities has more significant financial information that helps you understand when you need to scale up or down. Gambling software gives you all the necessary data about the event, sportsmanship, player performance projections, and other essential statistics.
7. Competitive Pricing
Pay per head bookie software allows you to manage pricing across sporting events and sportsbooks with ease. With access to reliable and current pricing data, you can match or beat the odds of other sportsbooks. This can result in more customers coming to you instead of going to a larger sportsbook.
PPH software also allows you to customize your pricing in order to maximize profits and minimize losses. This helps you stay competitive and profitable in a crowded sportsbook market.
8. Better User Experience
Pay per head bookie software gives you access to complete turnkey sports gambling solutions. This can improve the user experience by giving players a more efficient way to place their bets. With PPH software, you can set up automated betting and gaming systems that take care of all the transaction processing, customer service, customer tracking, and reporting.
The user experience can be further enhanced with player management software allowing you to quickly review and manage risk by closely monitoring activity and bets. Players can review account details like balances, statements, and limits. This makes placing bets a much smoother process as their bankroll and other important details are readily available and secure.
9. Scalability and Flexibility
Using Pay per head software gives you the scalability and flexibility you need to run a successful business. You can scale your business up or down, depending on the sports season. The software is customizable and can be adapted to fit specific bet sizing, rules, or even languages.
This software gives you the option to control your own prices and markup your own lines. This gives you more control over the pricing of the lines and your overall margin and profit. With the ability to create custom alerts or limits based on customer activity, you can keep on top of your players' activity and better protect your profits.
10. 24/7 Technical Support
PPH bookie software technical support ensures clients' questions are answered quickly and efficiently. Other bookie issues are handled by expert customer service operators whenever called upon.
We pride ourselves on our quick response times of under 5 seconds. We also employ excellent customer relations professionals who can solve even the most difficult of problems.
Start Using Pay Per Head Bookie Software Today
Pay per head bookie software is the perfect tool for independent bookies to ensure success with minimal effort. Eliminating the need for manual processes and providing a full suite of services, this solution is essential for managing and growing your business.
So don't wait to get started. Explore the various Pay Per Head solutions today and get your betting business off the ground.