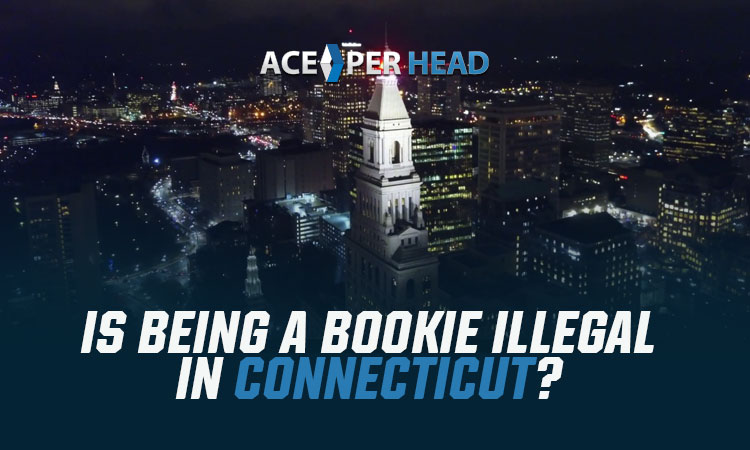 Connecticut was one of the first states in the New England area to legalize sports betting back in 2021. Many of the other states in the area have since followed suit.
This might lead you to believe that Connecticut would be open to the idea of allowing you to go through the process of becoming a bookie. But the Connecticut sports betting laws are actually on the stricter side.
Thus far, Connecticut has only allowed a few select sportsbook operators to set up shop in the state and take advantage of the legal sports betting the state offers. But other sports betting laws have prevented people like you from starting a Connecticut bookie business.
Find out more about being a bookie in Connecticut and the legalities surrounding it.
Is Becoming a Bookie in Connecticut Legal?
Now that Connecticut sports betting is legal, you might be under the impression that being a bookie in the state will also be legal. But unfortunately, this couldn't be further from the truth.
While Connecticut has allowed several sportsbook operators to step in and offer legal sports betting, the state has been stingy with its sports gambling licenses. They've been hesitant to hand them out to some of the biggest gambling companies in the industry. It's why you shouldn't be too surprised to hear that being a bookie in the state won't be legal, at least for now.
Why Isn't Being a Bookie in Connecticut Possible?
Being a bookie in Connecticut isn't legal right now because you need to have a license to offer sports betting in the state. In fact, even non-profit organizations that want to offer people the chance to take part in things like raffles need to get permits from the state prior to doing it.
This shows just how seriously Connecticut takes betting laws as a whole. You probably won't get the opportunity to become a Connecticut bookie anytime soon because of it.
Will Being a Connecticut Bookie Always Be Illegal?
Working as a bookie in Connecticut might not be legal right now. But that doesn't mean things will always be this way.
Just like many other states, Connecticut sports betting laws are always changing. This could lead to bookmaking becoming legalized to some degree in the state.
As of now, there isn't any indication that something like this would be on the table. But you could say the same thing about sports betting just a few years ago. This industry is moving a mile a minute, and it could lead to you being allowed to become a bookie at some point.
Create Your Own Sportsbook Website
Creating your own sportsbook website doesn't have to be complicated or time-consuming. With pay per head bookie software, you can have your own sportsbook up and running in a matter of minutes. The best PPH bookie software providers offer a variety of customizable website templates that are visually appealing and easy to navigate.
When you're creating your sportsbook site, make sure to include pages like About, Contact Us, and Terms and Conditions. Providing transparency about your company goes a long way. By doing so, players get the impression of a legitimate and trustworthy sportsbook.
Optimizing your website with relevant keywords, images, and offers can help you rank higher on search engines such as Google. Connecting and sharing your sportsbook website on online forums, gaming communities, and social media accounts can also help drive traffic and attract more potential clients to your business.
In short, choosing the best pay per head software that provides an engaging and streamlined sportsbook website can give your business a competitive edge over others and provide a pleasant gaming experience to each player.
Manage Your Bookie Business More Efficiently
Managing your bookie business manually can be tedious and time-consuming. With excellent PPH bookie software, like the one provided by us, you gain access to various incredible features that can help you run and streamline your business more efficiently.
Aside from offering user-friendly reports and dashboards, the site should also have seamless features like payment processing, excellent fraud control to prevent betting scams, and data analytics for compliance, among many others. To nail it down, a PPH bookie site with state-of-the-art encryption guarantees maximum security to evade any security threats and protect the confidential information of players and operators.
In this aspect, we help to manage your bookie business roadblocks and focus more on line spread management, odds optimization, player analytics, and much more.
Streamline Your Sporting Events
Offering a wide variety of sports and games is a top priority for any successful bookie business. With the PPH sportsbook platform, merchants can offer a wide range of sports including football, basketball, and baseball-on-Demand.
One of the strengths of using PPH bookie software is the ability to offer real-time live betting and live streaming for a wide range of events, with digital sportsbook options like eSports, table games available, and casino and race bet features. Betting odds and lines get updated frequently and automatically to give players the best real-time gaming experience, showing relevant data, info, and banking transactions in an easy-to-use interface available in desktop and mobile app versions.
Moreover, it offers additional perks and add-ons such as prop betting, horse racing, casino games with over 50 digital games on the catalog, and more.
In conclusion, offering excellent streaming capabilities with lots of in-play betting and safe betting options against players who try to abuse the system are some of the things that differentiate a PPH bookie software from the rest.
Grow Your Bookie Business
One of the most exciting factors when it comes to PPH bookie software is how it's easy to market and the ability to attract new customers.
Once you implement your initial sportsbook strategy with any of the pay per head software providers, market social media posts, product demos, and instructional videos help create awareness of potential users that might want to try your sportsbook. And once the users start playing trust is quickly built up by excellent customer service, fast payment processing, and seamless live betting options.
When players find an enjoyable, seamless, and interactive betting experience on your sportsbook, they are more likely to share it with friends. Personal recommendations are a strong point of reference for driving new customers to your business.
In addition, services like customer segmentation help in giving personalized offerings to your players. The PPH software captures and records the gambling activity of each player, including habits and preferences over time, making it easy to understand the peak interests of each player.
This leads to personalized offers, unique promo codes, or a variety of bonuses as means to incentivize player retention and secure your business' profits. Therefore, growing your sportsbook business comes effortless, once you provide quality PPH products, customer care, and provides satisfying and memorable gaming experiences.
Even better, all of these features are very affordable.
Monitor the Latest Connecticut Sports Betting Laws
If Connecticut sports betting laws permit you to become a bookie in the not-too-distant future, you'll need to be prepared for it. A price per head service like Ace Per Head can set you up with everything you'll need as you work toward becoming a bookie.
Our state-of-the-art sports betting software will help you become a bookie in no time. Start learning more about it today so that you're ready to go if and when the time comes.
Read more about how pay per head services work to start your preparations.