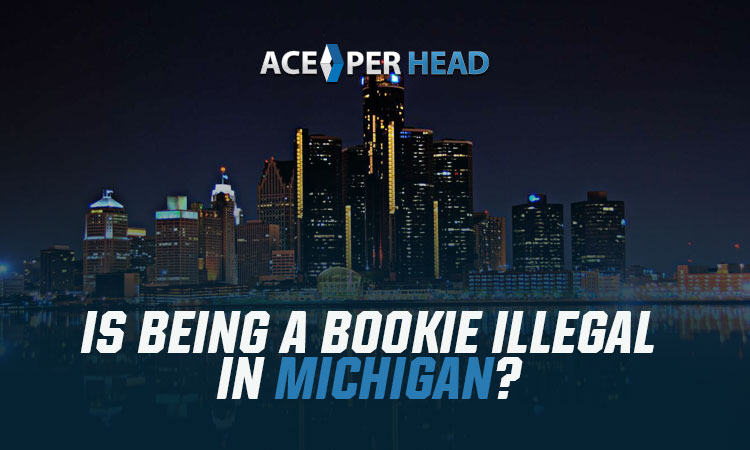 Michigan sports betting was first legalized way back in 2019. But it took the state until 2021 to start letting people bet on sports both online and in-person.
Now that sports gambling is legal in the state, though, millions of Michiganders are placing sports bets each year. It might have you thinking about potentially trying to become a bookie in the state.
So, is being a Michigan bookie legal? That's the question you'll need to ask yourself before you allow people to bet on sports through you.
Find out whether or not Michigan sports betting laws will let you become a bookie below.
Can You Legally Become a Bookie in Michigan?
The state of Michigan has been fairly open-minded when it comes to sports betting over the last few years. The state has moved mountains to enable companies to come in and set up sports betting options for those who live in Michigan.
But unfortunately, Michigan sports betting laws still prohibit people in the state from becoming bookies. If you're caught breaking these laws, you could be subjected to up to 1 year in prison and a $1,000 fine.
What Would You Need to Do to Be a Michigan Bookie?
To become a bookie in Michigan, you would need to work to obtain a sports gambling license from the board that has been established to oversee this industry. But as of right now, it appears as though this board is only approving sports betting licenses to those who work for commercial casinos and Native American tribes within the state.
Even if this process was open to the general public, it would likely cost too much money for an ordinary individual to get approved for a license. There are also some very stringent rules and regulations in place with regard to getting approved for a license.
Will Michigan Ever Allow Bookies in the State?
Michigan sports betting laws might not allow bookies in the state at this very moment. But that isn't to say there won't be opportunities for you to become a bookie in the future.
As the sports betting industry grows and evolves in Michigan, there might be a chance for you to work as a Michigan bookie. When this day comes, Ace Per Head can provide you with the sports betting software you'll need to get a bookie business off the ground.
What Is the Best Bookie Software?
Sports betting is being legalized in so many different places in both the U.S. and Canada right now. This has led to a gigantic uptick in the number of pay per head companies offering PPH software.
Most of these companies will tell you that they have the best bookie software around. But Ace Per Head truly has the bookie software that's going to make it possible for you to become a successful bookmaker for the foreseeable future.
Ace Per Head is committed to offering every single thing you'll need to get your bookie business moving in the right direction. You'll be blown away by just how easy it'll be to work as a bookie when you get access to the best bookie software from Ace Per Head.
What Are the Benefits of This Sportsbook Software?
We want to do more than just tell you that our PPH software is the best option of the bunch. At Ace Per Head, we also want to you be familiar with everything you'll be getting when you start using our sportsbook software.
To accomplish this goal, we've created a list of some of the biggest benefits that'll come along with using our PPH platform. Check out the top benefits of Ace Per Head's bookie software below.
Custom Website
For a long time, bookies used to have to run very rudimentary operations that often included them scribbling down sports wagers on slips of paper after taking them over the phone. Those days are long gone.
Today, most sports bettors place wagers online. As a result, you're going to need to have a website to provide to your clients to ensure they're satisfied with your services.
Ace Per Head has the best bookie software for those bookies looking for custom websites for their clients. You can create a site that you'll be proud to show off to those interested in using it to place sports bets through you.
Sharp Betting Lines
Once upon a time, most sports bettors could rely on the betting lines printed in the newspaper each day. But in this day and age, these lines are typically outdated by the time they land in your driveway each morning.
It's why Ace Per Head goes above and beyond simply setting bookies up with custom websites. We can stock these sites with the latest sharp betting lines so that your clients can access them with ease.
We'll see to it that these sharp betting lines are updated accordingly, too. If a line changes, you'll see it reflected on your custom website in no time at all.
Extra Features
If you'd like to keep your bookie business on the more basic side, you don't need to add too many bells and whistles to your custom website. You can keep the sports betting options you offer on the simpler side.
But you're also welcome to mix and match extra features that can be added to your custom site. For example, you can stick a special prop bet building tool on your site. You can also work an online casino into the mix.
These types of things will set your sports betting platform apart from all the rest and have your clients coming back to use your site over and over again.
Dedicated Customer Service
Ace Per Head's bookie software is so intuitive and easy to use. Because of this, you and your clients shouldn't have too many questions about it.
But in the event, that either of you do have questions, Ace Per Head will provide you with a dedicated customer service team that can address any concerns you might have. You'll be able to contact them quickly to get the answers you're looking for.
You'll come to appreciate the fact that you won't have to be glued to your phone 24/7 to answer questions from your clients. You can direct them right to our customer service department.
Low Cost
After hearing about all the benefits of the best bookie software, you might think it would cost a small fortune. But in reality, it can be yours for as little as just $3 per head.
There is also a tremendous 6-week free promo you can use to get a better feel for how Ace Per Head's bookie software works. It'll let you see what it's all about so that you can decide if it's right for you. What could possibly be better than that?
Trust Us to Help You Elevate Your Bookie Business
Using the best bookie software could be the difference between you running a very profitable bookie business and you falling flat on your face as a bookmaker. It's why you need a PPH solution like the softwa`re developed by Ace Per Head.
Keep an Eye on the Michigan Sports Betting Laws
You might not be able to establish a legal Michigan sports betting operation on your own in 2023. But there might come a time when this will be perfectly acceptable.
If you would like to become a bookie in Michigan one day, it would be worth learning about how pay per head services work now. They can make it possible for you to create a bookie shop from scratch without investing too much of your own money.
Discover more about how pay per head sports betting software works so that you're ready to use it at some point down the line.