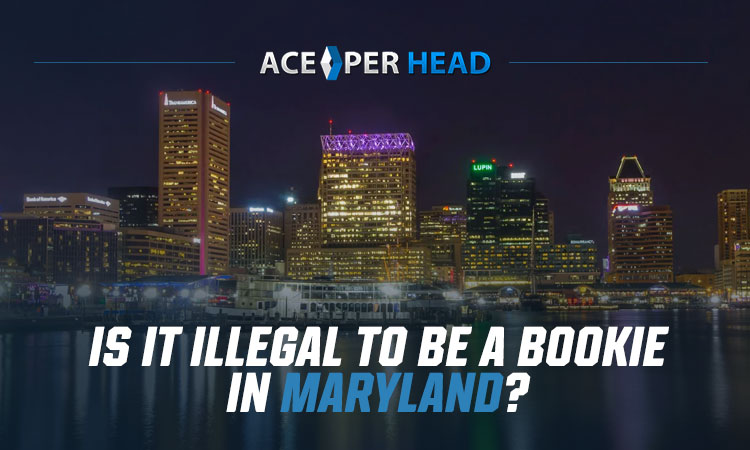 Maryland sports betting was actually approved way back in November 2020. But the first in-person sportsbooks didn't start popping up until the end of 2021. And the first legal sports betting sites in the state didn't make an appearance until the end of 2022.
Since then, sports bettors have placed their fair share of wagers on sporting events at both in-person and online sportsbooks. You might be among them.
But you might also be interested in taking wagers from sports bettors now as a bookie as opposed to taking part in sports betting itself. The only thing stopping you might be the lack of knowledge when it comes to the various sports betting laws in Maryland.
So, it is illegal to become a bookie in Maryland? Get the answer below.
Is Becoming a Bookie Legal in Maryland?
In the past, Maryland has come down hard on those who have engaged in bookmaking. They've targeted bookies and charged them with serious crimes instead of targeting those placing sports-related wagers through them.
But now that Maryland sports betting is legalized, there is a clear path to becoming a bookie in the state. You will need to get licensed and prepare to pay taxes on your profits. But the obstacles that existed before are no longer in place.
How Can You Become a Bookie in Maryland?
If you'd like to become a bookie in Maryland, you will need to go through the formal process of securing a license. Maryland has created an application process for this, though it should be noted there is a cap on the number of sports betting sites allowed at one time.
You'll also need to invest in bookie software provided by a trusted pay per head service like Ace Per Head. This software will put you in a position to create a custom sports betting website for your clients, complete with all the latest sports betting lines.
Why Should You Become a Bookie in Maryland?
Becoming a bookie in Maryland will give you access to so many advantages. You'll be able to bring in consistent profits as long as you're able to put together a collection of clients.
Bookie software will also make it possible for you to take wagers from clients with next to no effort on your part. You'll be pleasantly surprised to see how simple it'll be to turn yourself into a legitimate bookie even if you don't have much experience working as a bookmaker in the past.
How the Best Pay Per Head Software Can Help You Save Money
Is the cheapest bookie software your best option for saving money? Do you need to pay more for the best pay-per-head bookie software? Find out here.
Have you chosen to work as a bookie? If so, your ultimate goal will be to bring in as much money as you possibly can on a daily, weekly, monthly, and yearly basis.
You have the potential to earn an amazing bookie salary. But some online bookies struggle to do this because they don't take the right approach to running a bookmaker sportsbook.
One way to put yourself in a better position to make the most money possible as a bookie is by investing in the best pay per head bookie software. Working with a PPH service will cost you some money upfront. But it could turn your online sports betting operation into a more lucrative business overall.
Here are a few ways in which the best pay per head bookie software can save you money.
Provides a Custom Online Sports Betting Website
Some online bookies will take the time to create their own custom sports betting websites. This can cost a lot of money, especially if you have to hire a professional web designer to help.
The best pay per head bookie software will provide you with a completely customized online sports betting website. It'll help you steer clear of having to pay for it yourself. This alone can help you save so much money when you're getting an online sports betting establishment going.
Delivers the Most Recent Sharp Betting Lines
The online sports betting world can be very cutthroat. Sports betting lines are always changing, and if you fail to adjust your lines accordingly, it could come back to bite you. A betting line that's off by just a point or two could be the difference between you winning a ton of money and losing it.
This is another area in which the best pay per head bookie software will help you save money. It'll give you constant access to the latest sharp betting lines so that you're always extending the right lines to your clients.
Offers Dedicated Customer Service
Time is money, as they say, so any time that you're able to avoid wasting will save you money in the long run. The best pay per head bookie software will let you save time and money by providing you with a dedicated customer service team.
Your clients will be able to touch base with this customer service team as opposed to having to reach out to you every time they have a problem. It'll make working as a bookie less stressful. It'll also give you a chance to focus on other aspects of your bookie business.
As you can see, getting your hands on the best pay per head bookie software in the industry can work wonders for your bottom line. Ace Per Head is here to help you obtain the pay per head services you need.
Our PPH services will cost you as little as just $3 per head. It'll be a great investment for you to make to keep your bookie business costs under control.
Discover more about the best pay per head bookie software to see how it can benefit you.
Take Advantage of the Latest Maryland Sports Betting Laws
The latest Maryland sports betting laws are great for sports bettors in the state. But they could also be great for anyone interested in pursuing a career as a bookie.
With bookie software from Ace Per Head, you'll be able to compete with other sports betting sites. You'll also be able to utilize all the newest pay per head services for as little as $3 per head.
Take a look at the features found in our bookie software to see how it can help your operation get off the ground.