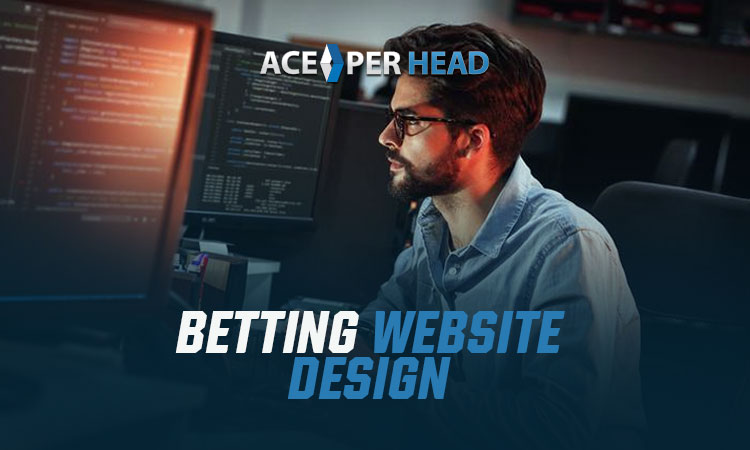 Since 75% of people judge credibility based on web design, it's important that budding bookies have bang-up PPH sites. This is the best way to look professional enough for people to trust your odds. They'll know that they can expect a reliable payout, feel safe with a secure portal, and communicate with your betting service.
Read on to learn some ways that you can make your betting website design stand out and engage gamblers in no time.
Brand Your Content
At its core, your sportsbook is a business. Bettors are your clients and you're trying to turn a profit. Like any business, it's important that you brand well so you can appeal to your target gamblers.
Make sure that you have a clear logo that's both minimalistic and relevant to your sportsbook. Make it interesting and appealing to sports enthusiasts, but have it be unique enough that it represents you alone. You want people to see it and immediately call your sports betting platform to mind.
Keep your sportsbook's name in bold, clear lettering. Make it impossible to miss by putting it front-and-center on your webpage. Use branded colors and layouts to stand out from other similar PPH sites.
Be Clear About Bets
It's important that you make it easy for gamblers to visualize ongoing bets. After they put money down on a team or event, they should be able to see the status of that bet on their dashboard.
Create a sidebar or area on the website where people can see all the open bets that they have. Show those that they've won and those that they've lost, too. This will give everyone a clear picture of where they stand, how much they've made, and how much they owe.
Integrate Score Tracking Tech
One of the best features of bookie-specific software is an integrated technology that tracks teams and events in real time. Players will be able to see scores and monitor ongoing bets. This will let them react as the event is going on and figure out how well they're doing.
You can also allow live betting where people make bets on ongoing events. They'll be able to cash out quickly, so this can help you stand out.
Make Bitcoin Payments Easy
Crypto payments are more secure than alternatives. They're untraceable, aren't linked to a bank account, and minimize the chances of theft if a breach happens. Because of this, you need to make it easy for people to select Bitcoin payment options.
Have a clear page detailing how they can link their eWallet to the payment methods. Give gamblers step-by-step prompts. The easier your site is to use, the more people will enjoy placing bets with you.
Best Pay Per Head Software
Are you setting up a bookie website? Are you trying to decide what software is right for you? Make sure you read this overview of AcePerHead software.
An Overview of the AcePerHead Software
AcePerHead is a fully managed sports betting platform. This means that in exchange for a small monthly fee, we take care of every aspect of your sports betting website.
We'll automatically update and upgrade it to ensure that it's competitive. We'll look for blips in your system trends to make sure that you don't struggle with downtime. We give you the security features needed to keep both you and players safe.
All of these simple features as well as more advanced ones are fairly inexpensive. We use a pay-per-head (PPH) payment model. This model is a subscription service, but you pay for each active bettor instead of paying a flat fee. 
Typically, you'll pay anywhere between $3 to $10 per person. People often place bets for $100 or more, so it's 10% or less of what you make. You'll never lose more than you make because of the PPH model.
Betting Site Design
One of our initial services is designing a PPH site that fits your specific needs. We'll talk with you about your brand and your vision. Then, we'll assess dozens of sportsbook-specific templates to find one that best matches your desired outcome.
These templates are great because they're pre-equipped with features that bookies need. Unlike eCommerce or blogging websites, you'll have built-in score tracking software, areas to showcase ongoing bets, and a portal that allows people to put money down on their favorite events and teams.
If you don't want a template-based website, there are still options open to you. We're happy to design a website from scratch for a slight fee. This is usually unnecessary because of how heavily customizable the templates are, but it is an option.
Features to Know About
Once your site is set up, you'll gain access to tons of features that make being a bookie easier. In addition to basic security updates, you'll also get Bitcoin payment options embedded into your website. We encourage you to pay us in crypto, and it's a great idea to afford players that security as well.
You also will get SMS alerts when someone places a bet, notifications for automated payouts, and 24/7 support. There's a secure in-app chat where you can talk to players and a round-the-clock hotline where both you and bettors can contact us.
Plus, if you want to make your betting site even more fun and competitive, you can try out live betting options!
Now that you have an overview of the AcePerHead sportsbook software, it's time to begin building a betting website with our knowledgeable experts. Our team is committed to helping you with engaging betting site design, mobile app development, and integrating sportsbook-specific features to help you along.
Get Top Betting Website Design Services
Now that you know the basics of having a solid betting website design, it's time to work with AcePerHead to make your app look awesome. We're excited to help you create a mobile-ready site that appeals to modern bettors. Our goal is to make you stand out above strong competition, so give us a whirl by signing up for a 6-week free promo period.