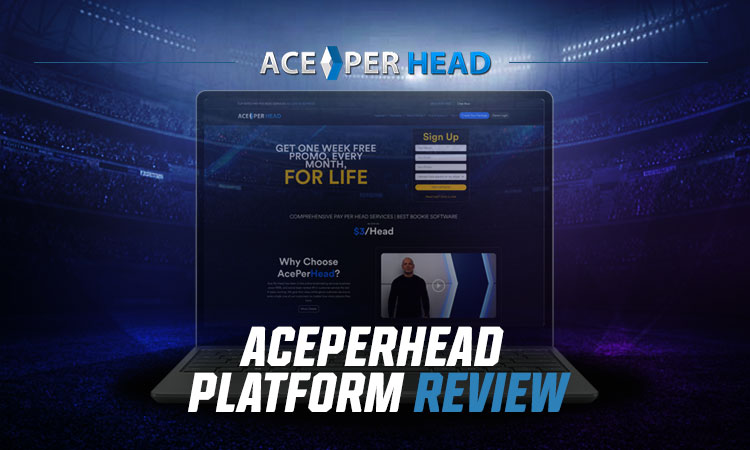 Would you like to make sure you're providing all your sports betting clients with the best experiences possible when they place bets through you? You can do this by investing in pay per head software through a PPH provider.
But you shouldn't just Google "PPH providers" and pick the first one you can find. Instead, you should read through different pay per head reviews and choose the provider with the best pay per head review possible.
AcePerHead is one of the best pay per head providers in the business. Check out this AcePerHead review to see what sets them apart from all the other PPH providers that are out there.
Easy-to-Use Interface
If you provide your clients with a sports betting website that's difficult to navigate, that alone might send them scurrying to find a new bookie. That's why you'll want to be able to set them up with an interface that's very easy to use.
That's exactly what you'll get with AcePerHead. Your sports betting clients won't have any complaints about how your site operates.
Completely Customizable Options
In addition to being very easy to use, your sports betting website will also be customizable when you secure it through AcePerHead. You can alter the way your site looks so that it's unique to your sportsbook business.
You can also customize everything from the sports that your clients can bet on to the types of bets your clients can place. It'll make your site stand out from the others that exist.
Automated Updates
Over time, there will be updates that'll need to be made to your site to keep it looking current and functioning the way it's supposed to. But you don't want to have to worry about making these updates to it every few weeks.
Fortunately, you won't have to do this when you trust AcePerHead for PPH services. You'll get access to automated updates that'll work wonders for your site without you having to lift a finger.
Simple Player Watch Reports
As a sports betting agent, you want to keep a close eye on how your clients are doing at all times. It'll put you in a position to limit their bets so that you can minimize your risk.
With AcePerHead, you'll be able to read through player watch reports that'll fill you in on how your clients are performing. You won't have to sit and monitor every single bet your clients make anymore.
Excellent Online Security
Simply put, AcePerHead wouldn't deserve the best pay per head review if it didn't provide you with the online security you need. But you can rest assured knowing your site and all your credentials will be as secure as they can be when you rely on AcePerHead for PPH services.
The engineers from AcePerHead work very hard to keep all the data connected to your account well-protected all the time.
A Breakdown of Ace's Pay Per Head Demo
You may be hesitant about working as a bookie and don't want to commit yet. If that's the case, take a look at our pay per head demo that you can try today!
What Is a Price Per Head Demo?
Pay per head (PPH) software is a type of bookie platform. You pay a small fee for every active bettor you have of between $3-$10. In return, you get a custom website and dozens of great services like web support, player watch reports, and real-time bet tracking.
However, many people who don't know the ins and outs of the PPH bookie platform want to try it before putting money into their website. This is where Ace Per Head's demo period comes in. You get some time to try out our company's services and get the same benefits that paying clients receive.
If you decide you like it, you can keep the website and features that you accessed during the promo period. You can also get more help refining and updating your platform to make it more appealing for players. Plus, we'll make it easier for you to use as you go forward!
Features and More
A PPH demo period lets you try out all the top features that we have to offer. You'll have the chance to see what our fully mobile betting interface looks like and how it can grow your sheet. You'll be able to discover how you can customize it, make the most of it, and configure boards, players, lines, and limits.
The Benefits of Scheduling a PPH Demo
Scheduling a pay-per-head demo is 100% free. There's no reason not to do it because you might find that it can save you a lot of time and money. You'll see how the services compare to your needs and whether we're a good fit for your growing bookie business.
You also can back out at any point during the promo. It's completely free of obligations. Though you likely won't want to do this, there's no reason to be stressed since you can if you want to.
In the end, a PPH software demo can help you feel more confident in your decision to work with Ace Per Head. You won't need to invest any money into the software in order to learn whether it works for you. This means that you can be informed and have no regrets when paying for our services.
Ace Deserves the Best Pay Per Head Review Possible
Now that you know more about what AcePerHead brings to the table, it's easy to see why they deserve the best pay per head review. AcePerHead is the PPH provider you can count on for pay per head services.
Create an account with us and see how our PPH software works for you.