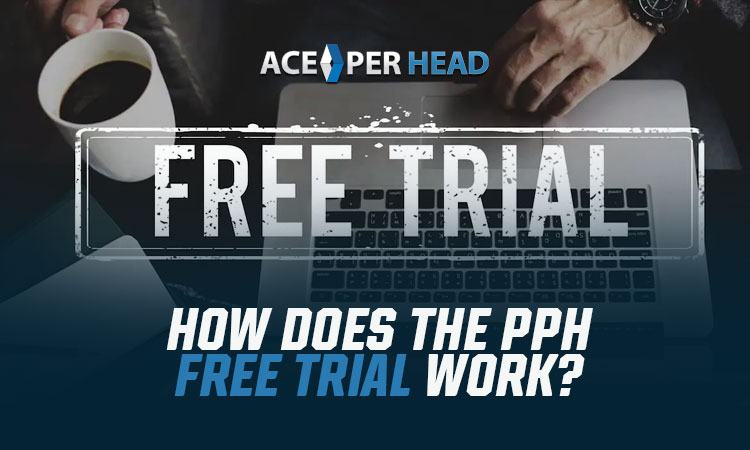 The average bookie makes about $21,000 annually, making it a super profitable side gig. Plus, if your business becomes a behemoth, you can make up to $5 million per year.
But it's important that you get started with low upfront costs, so a PPH free trial is a necessity. Here, we're going to talk about PPH services and promotional offers that can help you get cracking.
Immediate Support
When you sign up for a demo of Ace Per Head's services, you'll immediately have access to our agent support team. This will give you the chance to ask any questions you have about our software.
Whether you want to learn about your setup options, the features you're interested in, or something on our website, there will be someone available to answer your questions. This is a great way to get started with someone in your corner ready to help.
A Fully-Configurable Website
Demo users then have the chance to set up a mobile-ready website from one of dozens of templates. You'll get to experience the backend and see how easy the platform is to use. You can also schedule a player demo and see what bettors will be able to access in-app.
You'll be able to integrate score-tracking technologies, change the look of the website, and decide on the features that matter to you. You'll also have the chance to customize lines, players, and limits from the get-go. Once your trial period expires, you'll still get to keep the website and everything on it.
Demos of Top Features
It's important to note that Ace Per Head's demo is free of obligations. If you don't think we're a good fit, you can walk away with no hard feelings. It's important to try out our many awesome features before you can make an informed and confident decision.
That's why we'll let you try out our bet ticker, SMS alerts, customizable lines, knowledgable oddsmakers, player watch reports, automated payments, and more. You'll also get to test out our in-app messaging system that lets you talk directly to players 24/7.
This will help you decide whether you want to continue working with us!
Promotional Offers
When you schedule an AcePerHead free trial, you'll get to try our services free for six weeks. But there are also other perks, too.
You'll get one week free per month for the entire duration of working with us. This can save you a ton of money, especially around major sporting events where you'll be paying for more heads.
Some of our packages let you pay as low as $3 per active bettor. So, you'll be saving a lot of money with our fully-managed packages anyway. A trial only adds to those savings and helps you feel more confident about setting up shop with Ace Per Head.
Sports Betting Software: How Much Does It Cost?
Sports betting is a popular pastime that has been around for centuries. In the past, sports betting was done informally between friends, but with the advent of online betting, it has become a lucrative business. Online sports betting has become increasingly popular due to the flexibility it provides, allowing players to bet on their favorite sports from the comfort of their own homes. To facilitate this, sports betting software has been developed by companies known as software providers.
Sports betting software is designed to help bookies and players make money. AcePerHead is one such software provider that can provide you with all the information you need about bookie software. It allows bookies to create their platforms using a variety of tools and outsource things like website development and customer support, depending on the software provider.
Players interact with the software by accessing the bookies' platforms, which provide access to mobile betting, live betting, casino games, and more. Everything a player sees on a bookie's platform is the result of sports betting software. This means that the software must be easy to use, reliable, and efficient.
The Pay-Per-Head Model
AcePerHead's sports betting software uses a pay-per-head (PPH) payment model, which is becoming increasingly popular in the industry. PPH software benefits bookies because it allows them to pay rates depending on the number of players they have instead of flat rates. For example, if a bookie has 10 weekly players, they'll pay less than someone with 30.
PPH software is an excellent option for new bookmakers as it helps them save money to invest in their business. PPH also allows software providers like AcePerHead to provide a plethora of beneficial services to bookies. With AcePerHead, the rates start as low as $3 per head weekly, and they accept a variety of payment methods. However, the rate can increase depending on the services a bookie wants.
The Benefits of Using AcePerHead's Sports Betting Software
AcePerHead is one of the most popular sports betting software providers in the industry. The company has been around for over a decade, and during that time, they've built a reputation for providing reliable and efficient software. Here are some of the benefits of using AcePerHead's sports betting software.
User-Friendly Interface
AcePerHead's software is designed to be user-friendly. It's easy to navigate, and the interface is intuitive, making it easy for bookies and players to find what they're looking for. The software is also designed to work on all devices, including mobile phones, tablets, and desktop computers.
24/7 Customer Support
AcePerHead offers 24/7 customer support to all its clients. The support team is knowledgeable and can help with any issue you may have. This is an essential feature for bookies, as any downtime can result in lost revenue.
Variety of Betting Options
AcePerHead's software provides a variety of betting options, including live betting, mobile betting, casino games, and more. This allows bookies to offer their players a range of options and keeps them engaged.
Conclusion
Sportsbook software has become an essential tool for bookies and players alike. AcePerHead is one of the most popular sports betting software providers in the industry and for good reason. Their software is user-friendly, offers a variety of betting options, and has reliable payment processing. Additionally, their pay-per-head model allows bookies to save money and invest in their businesses.
Start a PPH Free Trial Today
Now that you know how a PPH free trial works, it's time to try out the best software for bookies on the market. We're excited to show you how our perfectly-designed websites, mobile-ready accessibility, and top-notch features can make your sportsbook more competitive.