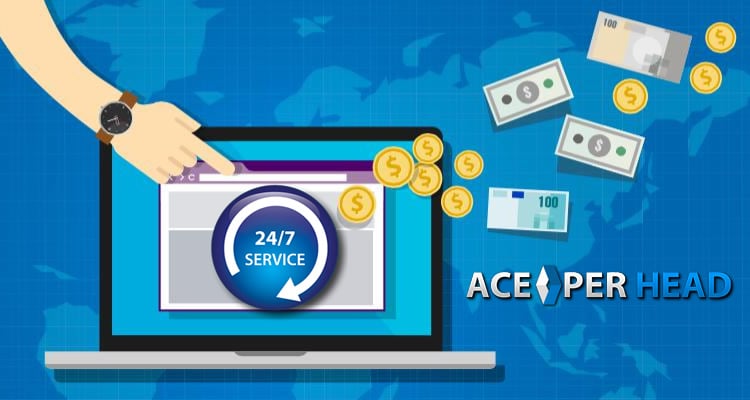 We live in a world that doesn't sleep when one hemisphere is getting ready to call it a day the other is just beginning a new work day. Technology has brought us closer, there are no boundaries or time constraints, and we can watch games being played half across the world in real-time on our televisions and our mobile devices.
Don't Miss a Beat
So, with so much going on in the world, why would you want to deny yourself the chance to make more every minute of the day or night by working with a price-per-head company that does not offer a complete 24/7 bookie service?
Sure, all price per heads claim they are 24/7, but, have you noticed how the quality of the odds diminishes after hours? This is because most PPH sites employ their best assets during the daytime, and they hire bodies to fill the chairs and keep an eye on things during the night.
This is why AcePerHead.com is different, they understand the importance of sharp, solid lines and how these should be provided every minute of the day or night, not just during prime time.
The rise in popularity of sports like soccer that are played around the globe means important games are going on all the time, and these are potentially great money-making games, therefore it makes no sense to risk losing money by having weak or poorly managed odds during the night.
A lot of agents have resorted to lowering their wager limits after hours just to avoid getting hurt, this is simply wrong, you should not have to inconvenience your players, some may not have the opportunity to bet their games in advance, and others may only be able to access their account during the night after their families have gone to bed.
Contracting the services of a pay per head company that has proven to be a real 24/7 bookie service with knowledgeable staff working the night shift, who can post and manage sharp betting odds, and conduct regular risk management tasks to protect you from potentially dangerous players is no longer optional it is a necessity.
24/7 online betting is available across the AcePerHead.com network including their mobile betting interface, and agents can have the peace of mind of knowing that the lines offered at 3:00 a.m. are as sharp and solid as those offered at 3:00 p.m.
The Ace Per Head Difference
As mentioned before, most pay-per-head bookie software companies don't invest in hiring experienced, quality line managers for their night shift, truth be told these individuals are hard to come by, not everyone is a night owl.
Those that meet the requirements of being excellent odds managers while being nocturnal creatures don't come cheap, and most competitors simply don't have the financial capabilities to be able to afford these experts.
Ace Per Head understood early on that their biggest asset was their employees, like some of the biggest corporations in the world, they go to great lengths to acquire and retain the best talent in the industry, and for this, they are more than willing to dish out a hefty sum, and offer many perks to those individuals they feel make a difference in the quality of their service, and provide added value to them.
This policy extends to all levels of the organization and includes the night shift staff, who most consider second-class citizens, but AcePerHead.com considers just as important as the daytime staff.
How Quality 24/7 Service Impacts an Agent's, Bottom Line
It is not enough to offer lines 24/7, you must offer full betting limits and extremely sharp lines as well, circling games during the night hours only hurts the agent's bottom line, players become frustrated, and lose interest in games that could have generated huge profits for the agent.
On the other hand, having full betting limits but neglecting the lines can be equally detrimental to an agent. By now, most agents have come to realize that the night shift crew at the most price per head companies is subpar at best and incompetent in most cases. The night shift staff at most competitor sites does not pay attention to what is going on, they become distracted easily and no doubt fall asleep at times. This neglect in the lines can cost agents dearly regardless of whether they have opted to implement reduced wagering limits during the night time.
Another area where most night shift crews fail is in real-time grading of games because most are not paying attention some games could be finalized and not graded, I've known of instances where players need to call in to request a game be graded, this is simply unacceptable.
The Solution
There is only one way to improve your current nighttime performance, and that is to switch to the only price-per-head company that offers the highest quality 24/7 bookie service, www.AcePerHead.com.
What you get when you switch to their service is:
The sharpest lines in the industry are offered every minute of the day, not just during office hours.
Best customer service in the industry, available around the clock.
Most innovative mobile betting platform.
More live wagering games are offered per month than any other price per head service.
The most secure network is comparable only to networks of companies like Google and Apple.
Top industry line experts, with experience and dedication working for you around the clock every day of the year.
The most cost-effective price-per-head sportsbook solution, when you work with Ace Per Head you get more bang for your buck, period.
There is no better time than now to switch. AcePerHead.com is offering new agents an incredible offer of 6-weeks' worth of free, no other pay per head will offer this deal going into the offseason, so hurry and register today to take full advantage of this incredible offer.
For more information on services, products, and how AcePerHead.com can help you make more money around the clock contact one of their friendly account managers today.