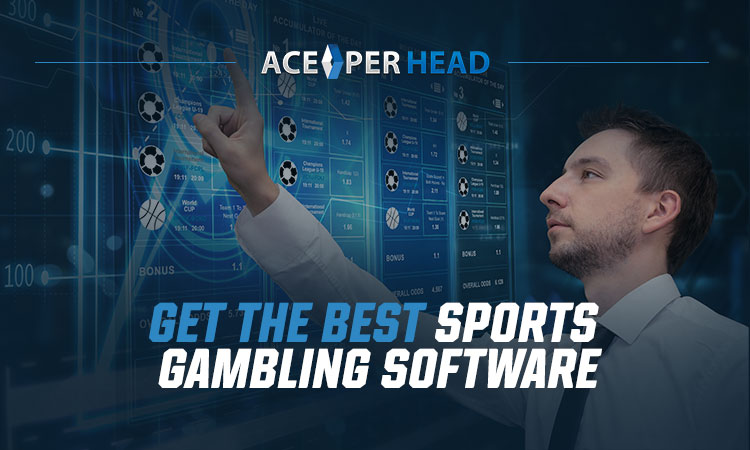 In recent times, sports gambling software has become popular. The nature of the business is fascinating. You may ask how. And why?
A lot of people are intrigued by the concept of guessing a team that's going to win or an event that will take place first.
Also, it involves placing wagers and getting an opportunity to earn cash in the process. With the increasing interest in sports gambling, several dedicated online platforms are now emerging as well.
No doubt, being a bookie is lucrative and the requirements to become a bookie aren't difficult. But it needs an entrepreneurial attitude. Also, the job isn't for lily-livered individuals. Just the way keen readers don't make superb writers, enjoying betting isn't enough to be a bookie.
Remember That you're an Entrepreneur.
Indeed, bookies need to know the intricate details of the betting industry. But having an avid business sense, sports software and the skill of self-promotion is vital.
Like the various types of gambling, including sports gambling, horse racing (Racebook), online casino, and live casino, you'll need a software package if you want to start up your platform.
Also, it is important to know the benefits and features that make a great sportsbook gambling software platform. Some features include:
User Features
There are several options available. Hence every developer offers (unique features and features with a distinct software package.
Let's review the options provided by AcePerHead.com —a reliable company with several years of experience. If you make use of their gambling software, your players can do the following:
Wager before a game begins and during the game
Wager through self-service systems
Selects teams and matches from a list of sports events
Select the types of wagers they have an interest in
The aforementioned options are diverse and attractive. But, you can modify the software to suit your needs. With the right sports gambling software, customers can visit your site to engage in the fun of betting on their favorite games.
Technical Features
Every gambling software developer offers different packages. Some developers offer a wide range of payment options like AMEX Gift Cards, Mastercard, Visa, PayPal, Bitcoins, Litecoin, Ethereum, and more. Make certain that the platform facilitates communication between you and your customers. Ensure that it works with the payment platform you support. Also, use reliable data providers and the software must comply with privacy mandates.
Having good PPH sports software is part of the requirements to become a bookie. Good software will let your customers communicate with the interface in different languages.
Also, it must offer a lot of currency options. It should include tools that let you manage the site and configure settings to improve your clients' experience. If the site is accessible and convenient, you can build a loyal user who will always come back for more.
So if you need an all-in-one solution, that offers all a bookie agent needs for a flourishing business, then you need AcePerHead.com. It's the most affordable way to open a sportsbook.
Why do You Need to Use Sports Gambling Software?
Wondering what the deal is with online sports Gambling software? Read on to learn all about why you need to use the programs.
Did you know that sports betting is either legal or nearly legal in 48 out of 50 states? Not only is it a legal practice, but it's also a widespread one. Over 50% of Americans have placed a bet on a sporting event at least once.
If you're interested in making money in this growing market, becoming a bookmaker is a great choice. Whether you're a new bookie or have been taking bets for a while, you'll need sports gambling software to make your job easier.
Read on to learn why this is the case!
Helps You Grow Your Sportsbook
As a bookmaker, the more sports you offer betting for, the better. Having a diverse sportsbook ensures that people can find something confident betting on. It also helps you to establish a more widespread reputation and draw gamblers into your bookie business.
However, it's a challenge to grow your repertoire when you need to track multiple teams' scores manually. This challenge is made even greater when people begin to bet on who will hit more home runs, how many points teams will win by, and other aspects of games rather than which team will win.
Using an online sports bidding program automates keeping track of the records of each sports team. You can integrate your dashboard with online data so that both agents and users can see accurate records.
Provides a Fully Managed Solution
Using sports gambling software also provides you with automated benefits. This is particularly true of Ace Per Head's fully managed solution. We manage the updates to your website and automate the tracking of trends in the sporting world.
Maintenance is also made easy. Our experts perform routine maintenance often to ensure that you have the most up-to-date dashboard possible.
Having a comprehensive, managed platform also means that you will have high levels of online security.
Many bookies are hesitant to operate online. They work with players' personal and financial information regularly, which makes them fearful. To lose this would not only damage your reputation but also open you up to lawsuits.
We have a large team of engineers who track and monitor patterns in how your site should be running. If there's an abnormality, we mitigate it to reduce the risk of security vulnerabilities.
Makes Agent to Gambler Communication Easy
As a traditional bookie with no online platform, you'll spend a lot of time waiting by the phone and waiting for players to call you. When you get an online platform, this will no longer be necessary since people can fill out a contact form right from your website.
However, you also won't be expected to reach out to and interact with clients all on your own. Our packages offer 24/7 phone coverage from a specialized call center. This means speedy customer service for all of your players and significantly less stress for you.
Helps You Grow Your Brand
When you join forces with a web development platform for bookies, you'll have a couple of site design options. We offer hundreds of fully customizable templates that you can make your own. Upload images, change colors, and personalize the navigation of your template-based site.
Sometimes, no premade template can give off the individualistic vibe you want your brand to have. That's why we're also happy to create a fully custom webpage that works for you. You can create a package with us and get a quote for it extremely easily.
Having a website helps players to see what you're all about. It also gives them remarkable features such as logos, colors, and slogans that make your brand more memorable.
Extends Your Reach
Without a web-based gambling platform, there will be geographical and logistical limitations on what players can place bets with you. They'll need to be in your area so they can call you and meet up with you to provide payment.
Even if you take online bets, people in other areas will likely be unable to use your services since communication will be challenging.
Having a web-based platform lets you take bets with a wide variety of payment methods, including cryptocurrencies like bitcoin. This keeps players untraceable and secure while allowing you to take bets from literally anywhere in the world. Automated payout online also means that winners will get their money faster no matter where they live.
Provides a User-Friendly and Accessible Platform
Finally, online bookmaking software provides both you and your bettors with a user-friendly platform. Since you likely aren't an online software expert and don't have many positive feelings about spreadsheets, having an automated dashboard that you can easily read and track works wonders.
Since bettors can see scores, wins, losses, and lines from the user end, the platform also gives you a lot more transparency than you otherwise would have. Bettors will enjoy this courtesy as well as the online platform's convenience.
Ultimately, this will give you a great reputation in the bookie and gambling communities. You can bet that more clients will place bets with you as a result.
Get Online Sports Gambling Software Today
Now that you know why you need to use online sports gambling software to grow your bookie business, it's time to get started.
Request a software demo to see what our technology looks like from both the agent and player ends. You'll be able to assess all the features that we offer during the demo period. This means more simplicity when managing your boards and lines and the accessibility of your custom webpage from both the backend and the user end.
Since we're committed to helping you grow as a bookmaker, you can also contact us with any remaining questions that you have. We look forward to hearing from you soon!
7 Sports Betting Platform Benefits
There are a number of sports gambling software benefits that can help you get more out of your experience. Read on to learn more about these innovations!
As any bookie can tell you, the days of taking bets manually are long gone. These days, you need bookie software to stay competitive.
This is particularly true if you're a one-man show. Without bookie software, you won't be able to run your sportsbook as smoothly as possible. At some point, you'll start losing customers, which could be the beginning of the end for your business.
Need some more convincing? Here are seven sports gambling software benefits that any bookie could use!
1. Ease of Use
There are hundreds of sports events going on every single day. People are willing to bet on them—the question is can you take those bets?
Unless you own a huge sportsbook, taking and grading a large number of bets is hard. The good news is: bookie software records every bet and grades it automatically. This gives you serious leverage before, during, and after games.
Best of all, most bookie software supports mobile betting as well. All experts agree that betting on mobile devices will soon overtake desktop betting. By making your sportsbook mobile-friendly, you're positioning yourself for success in the future.
2. Scalability
As your sportsbook grows, your sports gambling software needs to scale as well.
The thing is, this shouldn't be a bonus feature you'll need to buy at an extra cost later on. Instead, it should be a part of the package from the get-go. Even if there's a steep increase in workload, your app of choice should keep performing well.
Now, if you're starting out, the benefits of scalability may not be as obvious. It's fair to wonder whether every advertised feature will be useful. In the long run, though, anything that helps you handle an increase in bets and players will come in handy.
3. Real-Time Analytics
Tracking the inner workings of your sportsbook is essential to business growth. Bookie software allows you to do that in real time.
Not that long ago, your options were far more limited. You could create and access business reports, but only if you had the technical skills to do it. Most sportsbooks work with disconnected data sources, so performance analysis was hard to get right.
With the advent of bookie software, we gained access to reporting tools. These tools gather and consolidate all the data you need to notice trends and patterns. With this information in hand, identifying your areas of improvement is much easier.
4. Increased Control
As mentioned above, keeping track of bets by hand is hard. Once your book gets to a certain size, pen and paper stop being an option.
By using bookie software, you can control your entire business from a single platform. If you want to use this advantage to run things on auto-pilot, you can do so. You can then devote this extra time to, say, find better ways to reach your target audience.
Alternatively, you can start paying closer attention to your line management. Bookie software can be a great way to keep track of steam moves and sharp action. If there's a bet where the action starts tilting on one side, you'll be able to react before it becomes an issue.
Finally, you can use bookie software to manage your players. Most apps give you the complete activity history of your customers. When it comes to sports gambling, this can make a big difference in your profits.
5. Quick Setup
Contrary to what you may have heard, bookie software is easy to set up. In fact, most software apps are already configured for you by default.
In some cases, all you need to do is import your players and set up their profiles. This includes going over their access, special arrangements, credit limits, and so on. There are very few delays associated with the traditional way of running a sportsbook.
On top of that, none of this efficiency comes at the expense of privacy. Every proper bookie software app will keep your players' info secure and confidential. Privacy used to be an issue in the early days of internet betting, but this is no longer the case.
6. Accessibility
Using bookie software for sports gambling online is simple enough. All you need is a browser and an internet connection.
As you can guess, this makes your sportsbook available around the clock. If your customers can access their accounts 24/7, growing your business will go much faster. Plus, you'll be able to offer any sports gambling bets in the world.
Speaking of bets, pay-per-head software offers plenty of options. Parlays, teasers, over/under, money lines, live bets—you name it, they have it. Some companies even give you the option of including a casino and a racebook for horse betting.
7. Cost Reduction
Have you ever worked with an offshore sportsbook? If you have, you know that offering your customers some of their services can be costly.
Most of these companies will offer you some sort of profit-sharing arrangement. For example, they may ask you to split your winnings with them, which can be as high as 50% of your profits. And that's without taking your other overhead costs into account!
By comparison, bookie software companies tend to charge a "per head" fee for your players. Most of the time, this will be a set fee for customers who make a bet during a single week. There are no upfront costs to worry about at all, making this a very affordable option.
Other Sports Gambling Software Benefits
As you can see, bookie software can help your business in many ways. Without it, running a sportsbook becomes an uphill battle.
Remember: offering good sports gambling odds is only one part of being a good bookie. You also need to provide privacy, flexibility, and good customer service. Bookie software can help you with these things—and many others!
Not sure which company offers the best sports gambling software benefits for your business? Our sportsbook software provides all the features that will make your life simpler! Take a look at what we can do for you.
Can Sports Gambling be Profitable?
Let's say that you could get 4,000 people to pay you $2 a month just to read your sports betting predictions. That's $8,000 a month — $96,000 a year. That's not bad at all – especially since you'll be working in an industry that you already love. Of course, there are thousands and thousands of other sports betting aficionados who have already started their own similar services, so you have plenty of competition – and, to be fair, building your list up that high will take months of work – so don't quit that day job just yet.
However, if you've been wondering, "Can sports gambling be profitable?" this is just one revenue stream you can build for yourself. As you consider whether this is a career shift that you should make, let's take a look at some common sports betting myths that hold many bettors back.
Myth #1: The Bookie Always Gets Things Right
Bookies don't know how events will turn out before they start, and while their profits depend on getting things right more often than not, they do not get every matchup right. Bookies make their money because of their expertise at offering lower odds for event outcomes, in comparison to the actual likelihood of those events happening. If you can become an expert at locating odds that are higher than fair value, then you can make plenty of money yourself. As you think about turning toward monetizing your sports tips, the more regular you become at finding odds that are higher than they should be, you can leverage that success into a list of subscribers.
Myth #2: All Sports Gambling Involves Risk
Most sports betting does involve risk. However, there are a couple of types of sports wagers that are virtual locks: arbitrage betting and matched betting.
Arbitrage betting involves finding differences among sportsbooks that allow you to put down wagers on all outcomes of an event and use the odds variances to guarantee yourself a profit. Arbitrage opportunities are not frequent, and they vanish quickly once they become exposed, so many top sports bettors pay for arbitrage services to point them toward those opportunities.
Matched betting means putting down two wagers on a sports bet. You put down a "back" bet for a particular outcome of an event with a sportsbook. Then you "lay," or bet against, that same outcome at a betting exchange. How do you make money? Incorporate a free bet as one of your two bets. Where can you find a free bet? On a betting exchange that offers an initial sign-up promotion. Over time, this means that you will have to set up accounts on multiple sportsbooks in order to keep this going, but if you want a guaranteed outcome, these are two paths.
Myth #3: When the Underdogs Win, the Bookies Take a Bath

If you're really wondering, "Can sports betting be profitable?" This is a myth that may have crossed your mind in the past. Actually, bookies love underdog wins because of the publicity that they bring to sports betting. Think about when Connecticut rolled all the way to a win in the 2014 men's college basketball tournament. That underdog tale electrified the college basketball community. The same thing happens when Cinderella stories like Loyola-Chicago push deep into that same tournament. In English Premier League play, Leicester City won the league title for 2016 – again, a real underdog story as the Foxes took down the titans of English soccer.
However, when underdogs win, bookies still collect on the wagers that were put down on the favorites. Sure, Leicester City won the title at long odds, but think about all of the losing wagers that bettors had put down for the likes of Manchester City, Chelsea, Arsenal, Manchester United, Tottenham, and Liverpool to win the title. Profitable bookmakers are always finding ways to bring those books into balance. If a particular volume lacks balance, then bookies adjust their odds to lure bettors to outcomes that are less popular. If you think about the smaller number of wagers on Leicester City to win the Premier League in 2016, in comparison to wagers on the usual favorites, then you can see that the bookies likely made out just fine.
How does this help you when it comes to making money in sports gambling? Don't give into the temptation to jump on those high odds for unlikely outcomes. Don't force bets just because you like the numbers – because those numbers are there to lure in those who haven't done their research. Instead, do your background study to understand the events in a particular week and make your own picks. Then, look at the available options among the sportsbooks out there, and choose the books that pay you the most for your choices.
Can you Make Money with a Betting Software Service?
Absolutely – and AcePerHead.com offers the sort of platform that can help a savvy bettor make money. We offer gambling software to hundreds of sportsbooks, with bookmakers of all sizes setting up shop here. Each bookmaker sets up its own props and odds, which means that you have a great deal of variety as you peruse their offerings. You don't pay a dime to AcePerHead.com; instead, you pay for the wagers that you make on each book. Ace Pay Per Head offers the best in the industry in terms of payment security, using encryption systems that safely link your credit cards, bank accounts, and other payment methods to your gambling accounts.
That way, you don't have to worry about anything happening to your money while you're betting. If your wagers win, you get the payments automatically. If you don't win, then your bookmaker gets the winnings. Over time, of course, if you have done your homework, you can find variances among the odds that will help you take advantage of many of the gaps in the sports gambling software industry that will help you turn profits as time goes by.
Get Started With the Top Gambling Software
Now that you know the basics of Ace Per Head and why it's the right choice for bookies, it's time to sign up for the top sports gambling software.
We're excited to provide you with a sports betting platform that engages players and makes you money. Create your package now to start your bookie company with our services instantly!