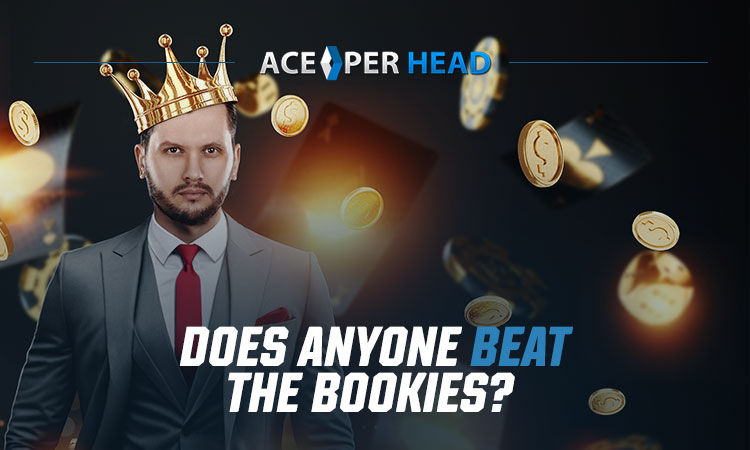 It's a tale as old as time: "The house always wins." But is this actually true?
The answer is complicated, but it is possible for gamblers to beat sports betting bookies. Read on to learn how they do it (and how you can stop yourself from losing money to lucky bettors.)
Can Gamblers Beat Sports Betting Bookies?
Gamblers playing casino games have about a 13% chance of winning on average. The chances of winning bets on sports are heavily dependent on what teams are playing and what their odds are. But, yes, gamblers can sometimes beat PPH bookies.
If you're running an online casino with live dealer games, there's not much you can do about this. But if you're operating a sportsbook, setting fair lines with limited payout is a great way to stop people from winning too frequently.
It's worth noting, however, that if gamblers never won, there would be no bettors. Success stories are essential for keeping bookie businesses in operation!
House Edge: What Does It Mean?
Contrary to popular belief, "house edge" doesn't mean that bookies never lose. It just means that bookies do things to ensure that they turn a profit more often than not.
This mathematical advantage is the percentage of the player's bet that the casino keeps as long-term profit. Long-term is the operative phrase here since you will lose some bets. You just need to balance these infrequent losses with more frequent wins so that you turn an overall profit.
For example, an American roulette wheel has a house edge of 5.26%. This means that when people bet $10,000 at the roulette wheel, a bookie can expect to make about $500. The other $9,500 will go back to the players, but you won't be losing it since it was theirs in the first place.
The goal of a "house edge" isn't "never lose." It's not to make players lose all their money at once. It's to make sure that people give you a little bit more money than they leave your PPH site with.
How Can You Stop Yourself From Losing Money?
Bookies offering both casino games and sports betting can make money in several different ways. Calculating and setting up a house edge on casino games is one of these methods. When it comes to sports betting, setting a fair vigorish is the #1 way you can't go wrong.
In order to stay on top of competitive strategies, it's important that you work with experienced sports betting bookie platform providers. The pros can help you set sports betting odds that make sense and create live dealer casino game rooms that turn a profit. Plus, you'll have constant assistance so that you can draw in players and make bank faster.
Reinvent Your Bookie Business
In this era of technological marvels and software innovation, every business landscape has evolved significantly. When it comes to steering your private sports bookmaking enterprise, the necessity of partnering with a top-notch pay per head (PPH) service has never been more apparent.
The PPH business model offers a comprehensive toolkit to automate your bookie business while seamlessly operating it in the digital sphere. Opting for Ace Per Head, a premier bookie solutions provider based in Costa Rica, also allows you to take your business offshore by harnessing the capabilities of an internal online sports betting platform.
Today's leading pay per head platform embodies the concept of a turnkey operation. They provide all the essential components for your success, seamlessly bundled within your weekly plan. The cost structure is tailored to your needs, with a nominal fee charged for each active bettor.
This pay-as-you-go model ensures efficient operations. For detailed sports betting software prices, visit Ace Per Head's website.
Amplify Your Presence
The elite of the pay per head industry, exemplified by Ace Per Head, grants access to an internal operating system that rivals the technology fueling major commercial sportsbooks' online betting platforms.
Quality PPH services, like Ace Per Head, have made substantial investments in online gaming solutions, offering unmatched reliability and security.
Downtime is a concern of the past. You can trust that every online transaction related to your bookie business will be processed securely and efficiently.
Automate Your Bookie Business & Thrive
By fully automating your operations with Ace Per Head's PPH bookie service, you maximize the value of your time and efforts. Efficiently channeling your resources as a private bookie translates into enhanced profitability.
Your primary objective is to build a robust weekly betting handle and sustain that volume to meet your financial goals. Partnering with Ace Per Head equips you with the requisite products and services to surpass these objectives.
Ace Per Head stands out in the PPH market, boasting extensive industry experience coupled with expertise in online gambling software.
Expand into Horse Racing & Casino Gaming
Proprietary software solutions in the realm of online sports betting have evolved to encompass the ability to operate your own online racebook. This empowers your players to wager on daily horse races from tracks worldwide.
Taking your offerings a step further, you can provide your active customers with seamless online access to Las Vegas-style slots and digital table games. You can also enhance your portfolio by offering live casino table games hosted by real dealers. The gaming options at Ace Per Head include an online software solution to operate your own online casino, complete with daily tournaments.
By partnering with Ace Per Head, you can transform a basic sports bookie venture into a comprehensive online gaming hub. This enables you to maximize the betting potential of every active customer in your betting base.
With a fixed weekly fee for each active bettor, irrespective of their betting volume, this is the most efficient approach to enhance your overall return on investment. In many instances, you can boost your net profit without having to expand your active betting clientele.
Get Started With Professional Support
It's inevitable that gamblers will beat sports betting bookies sometimes, but there are ways that bookmakers can ensure that they don't take too big a hit. Working with Ace Per Head's experienced professionals is one of them.
We're proud to offer free support to bookies who want to boost their profits legally and ethically. Create a package to start a 6-week free pay per head promo of our services!