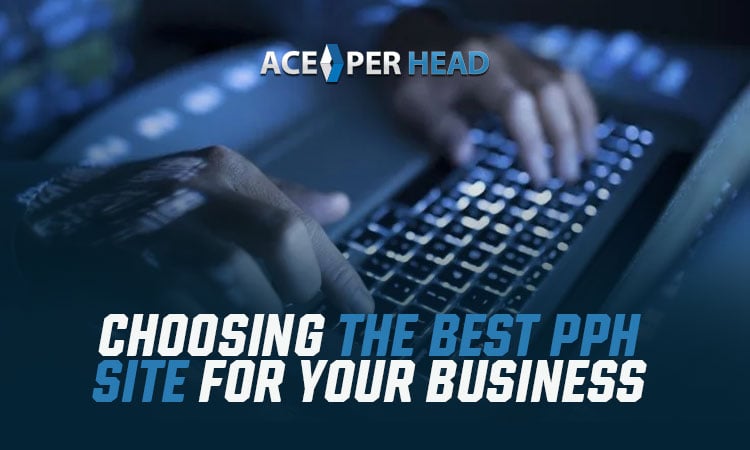 Are you looking to become a bookie? Then you should know that a Pay Per Head (PPH) site is essential to run your sportsbook business efficiently. A PPH site provides a betting platform for bookies to manage all their betting activities and player accounts.
However, with several options to choose from, how do you select the best PPH site for your bookie business? In this expert guide, we cover all the critical factors that you should consider when choosing the best pay per head site for your sportsbook software.
Features of a Pay Per Head (PPH) Site
A PPH site provides various functions that bookies use to run their sportsbook operations. From managing player accounts to generating reports and setting betting lines and offering 24/7 customer service, the features of a good PPH site are critical to your bookie business's success.
Security and Reliability
If you plan to launch your bookie business successfully, you must prioritize security and reliability to protect both your reputation and that of your client base. For this reason, choosing a PPH provider with a reputation for providing top-quality services and uncompromising data security is non-negotiable.
Going the extra mile to ensure the safety and personal information of your customers can help increase your business's perceived value in their eyes. You'll be able to secure their trust and attention, which is critical to developing and nurturing a loyal customer base over time. Provide safe and reliable sports gambling solutions, and your clients will stay with you for years to come.
Support for Multiple Betting Markets
When you begin your quest for the perfect PPH provider, you'll find that not all betting sites support multiple markets, such as sportsbooks and casinos. Some PPH software solutions offer a much more comprehensive spectrum of sports betting markets and other gambling markets to enhance your customers' experiences.
It is essential to select a PPH service that supports a wide variety of sports markets and different types of gambling markets as it could integrate and optimize your website according to business growth preferences over time.
Customizable Client Interface
While many providers offer excellent software, their client interfaces may under-deliver, making your betting platform an unremarkable choice. Customization is the solution here. A customizable client interface is an excellent option that allows you to modify sports gambling solutions to achieve brand alignment.
There are very few client interfaces available with most PPH software solutions that offer customization on the website's front end. Also, ensure you can alter the functionality, colors, and themes on a dime to enhance the visitor experience and help out your branding.
A Wide Range of Reports
Bookies need comprehensive reports for setting betting lines and creating projections, so monitoring their players' performance is a must to optimize business performance. Therefore, A PPH provider with customizable, comprehensive, and accurate reports is essential, and it's the most undervalued feature when identifying an ideal provider.
A perfect bundle of reporting convenience for bookies would include player-centered and player history-centric reports along with other important auxiliary reports like account review and profit performance.
Live Betting Features
An increasing number of people are now dependent on live betting. Joe sports buff now wants to make real-time wagers on offers and events happening live all over the world. PPH platforms with live betting allow customers to participate in live markets and witness the payout of the said event in real time.
A reliable PPH site with a live betting module empowers bookmakers to take advantage of the growing live betting market's trend.
24/7 Customer Support
Every offshore bookmaker has definitely faced issues in the absence of efficient or any customer support at all, losing a faithful customer base. Competent PPH services answer your service ticket promptly and offer quality service consistently. Solving issues quickly around the clock is a primary and crucial value-addition of a dependable PPH service.
Pay Per Head Services Cost
While the features of a PPH site are critical for choosing the best sports gambling solutions, the cost can also make or break your decision. The cost of pay per head software varies from provider to provider, and it can range from $3 to $30 per head, depending on additional features.
Therefore, the guide should also provide pricing plans and highlight the pros and cons of each. At this point, it is necessary to consider the budget for your bookie business to identify which plan works best for you.
While identifying a PPH software, consider which one gives the most significant value for every dollar spent. Our recommendation would be to pay attention to the base-per-head rate, then the redundancy measures taken by the PPH solution, and the overall quality and range of services provided.
When assessing this pricing dynamic throughout the options, often, one provider delivers packages that might seem considerable versus another, but another provider's components are more closely coordinated with the overall work plan of a bookie.
PPH Providers Reputation in the Market
PPH providers' reputation and track record in the market is essential aspects that have a significant impact on your betting platform's success. No bookie wants to sign up with a provider that has a poor customer service record or a history of limiting player bets prematurely.
Therefore, this expert guide should also highlight the reputation of each PPH provider reviewed in the guide. This will help you make an informed decision and hit the ground running with confidence in your new PPH provider.
Time to Find the Best PPH Site
The choice of which PPH site to use is an essential factor in launching, sustainably operating, and successfully growing a bookie business. We hope this expert guide on choosing the best price per head site for your bookie business has equipped you with all the necessary information to make an informed decision.
Remember, pay per head sites' features, reputation, and cost are fundamental factors you should consider before choosing the right sports gambling solutions for your needs. Start your independent bookmaker business today, grow your business, and offer exceptional sports betting solutions to your clients.