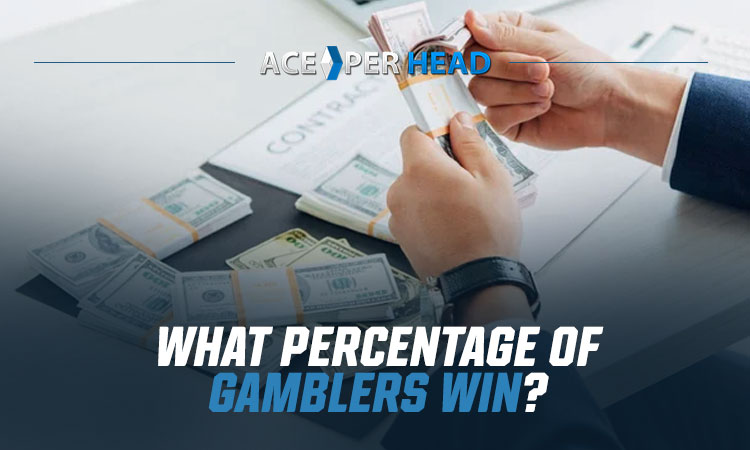 Though the gambling market is at a record $7.5 billion, individual gamblers aren't always so lucky. While placing casino bets can pay off with high rewards, it's also a risky practice.
It makes sense to wonder what percentage of gamblers win on casino apps. Read on to learn some casino stats about the odds of winning.
What Percentage of Gamblers Win?
About 13.5% of gamblers go home from a casino having made any money.
This statistic comes from a study of 4,222 gamblers, and only 7 of them won more than $150. Conversely, 217 of them lost over $5000 at casino games.
Also, note that those who play more often have lower chances of winning. Each game has a house edge. If someone plays more, the house edge compounds against the player so they lose more money.
Do Gamblers Keep All Their Winnings?
No. Even in the unlikely event that someone wins big bucks, they will be taxed on those winnings. The average figure for taxation is around 24% of the gambler's profit. The house will also hold up to 31% of the earnings for their federal income tax.
Both online and in-person gamblers also need to pay the house for using their services.
When someone initially places a bet, they'll pay the house a vigorish. Also called the "vig" or the "juice" is a fee that the bettor plays for using the bookie's sportsbook. For the bookie, it's a guaranteed profit to hedge against winning players and turn a regular profit.
The bottom line is that even gamblers who have good winning strategies are unlikely to make big bucks on casino gambling. The odds of winning are low and the odds of a good payout are even lower. The only thing that's certain for winners are taxes and fees.
Can You Make Money in the Casino Gambling Market?
Unexpectedly, the answer to this question is a huge and definitive "yes!"
However, you may not be making bank as you originally expected.
Becoming a bookie rather than a player lets you take advantage of the fact that the house always wins. You'll collect the vigorish and turn a profit that way, but bettors are also way more likely to lose money than win it. These losing bets are a win for your bookie business because they're a house profit.
The Benefits of Becoming a Bookie Agent
Those who run casino gaming apps operate in a thriving industry. People love gambling, and it's becoming legal in more states every year. It's also gaining wider social acceptance, so people are more likely to give it a try than ever before.
Being a sportsbook-slash-casino-bookie is also incredibly lucrative. Agents can make up to $5 million annually, which is about $100,000 per week. This makes sense considering the volume of winning players.
It's also easy to set up an online casino with Ace Per Head. You work with experts to create and launch a custom application. The site's 100% mobile-ready and easy to use.
Comprehensive Bookie Software Solution
Being a successful bookie is undoubtedly rewarding, but the challenges of managing a sportsbook can often seem overwhelming. Dealing with licensing, setting up a website, and ensuring constant updates can divert your focus from crucial tasks like setting odds and engaging with bettors.
Full-service bookie software solutions offer a simplified approach to these challenges. Let's delve into the details.
Understanding Full-Service Bookie Software Solutions These comprehensive solutions streamline bookie business management. You collaborate with experts to design a fully personalized website, catering specifically to mobile devices—a preferred platform for betting on favorite events.
PPH bookie software brings sportsbook-specific benefits. A user-friendly dashboard displays open bets and profits on any device. SMS bet alerts, player watch reports, event summaries, and direct agent-to-player chat further enhance the app's functionality.
Navigating Licensing and Fees
Beyond an impressive platform, bookie management software liberates you from the burden of costly technicalities when starting your business.
Obtaining a legal operating license can be exorbitant, ranging up to $5 million in certain states or still substantial at $5,000 to $100,000 in less expensive states. These fees, coupled with the time-consuming licensing process, can significantly delay your sportsbook's launch, impacting potential profits.
With Ace Per Head, you enter a partnership where we handle licensing fees and procedures on your behalf. This allows you to kickstart your bookie business, setting lines, and accepting bets within a matter of hours.
Effortless Website Setup
Crafting a mobile-responsive website is pivotal for revenue generation. Collaborate with design experts to seamlessly integrate your branding information and preferred visuals into a fully customizable template. Choose from a variety of templates, or opt for a completely bespoke website for a bit extra, tailored precisely to your vision.
Platform Management Made Easy
Ace Per Head distinguishes itself by efficiently managing your platform, saving both time and money. Beyond providing access to high-quality features, you benefit from a 24/7 agent support team ready to address your queries and concerns.
Automatic updates and upgrades are performed, minimizing downtime to keep you competitive. Security monitoring ensures your safety and shields you from potential breaches and threats. Choose Ace Per Head for a hassle-free, top-tier bookie software experience.
Bet on Your Bookie Business
So, what percentage of gamblers win? Lower than 14% and even those people don't walk away with much money. Most cash ends up in the bookie's pocket.
It's time to start gathering these funds with a budding casino app. Create an Ace Per Head package today to begin a free 6-week promo.