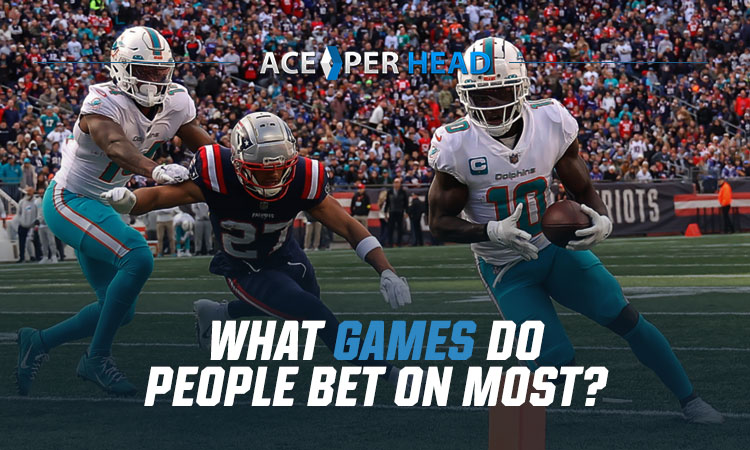 Would you like to make more money than most jobs? By knowing which games people bet on most, you can do so!
Sports betting is a fast-growing industry that becomes more popular every time it's legalized in an area. However, many bookies struggle with tunnel vision and limit their potential because they don't know what exactly to offer.
In this guide, you'll learn all about the most popular sports betting games that people bet on, allowing you to earn as much as possible. Here's all the information you need!
The Most Popular Sports Betting Games
Before figuring out which sporting events people bet on the most, it's important to know what the most popular sports are.
Globally, some of the most popular are soccer (football), cricket, hockey, tennis, and basketball. However, in the United States, the most popular are American football, basketball, baseball, and boxing.
American football is also becoming more popular in other countries, as the NFL announced an international marketing plan in early 2023. Because of this, bookies can expect this to quickly become a betting favorite in places like Europe and South America.
The Games with the Highest Viewers
Although most sports have seasons with multiple games, certain games attract more viewers than others. This often occurs during championship games and when two good opponents face one another.
The World Cup is the most-watched sporting event in the world because it happens once every four years. Most games have high viewership, but the final match draws the most viewers.
In the US, the Super Bowl game and NBA Finals are the most watched, and they happen every year. During these games, a bookie can expect most bettors throughout the US and Canada to bet on them.
How to Capitalize as a Bookie
If you want to become an online bookie that takes advantage of the American and global betting markets, you should offer options for all of these sports.
Before you can do so, you'll need to understand how the bookie system works. This is the main thing you'll use to manage your betting service, and Ace Per Head provides one at $3 per head.
After that, you'll need to research the most popular leagues for different sports. Doing so can help you familiarize yourself with the teams and championship games.
In soccer, the most popular are the English Premier League, La Liga, and Bundesliga. In American football and basketball, it's the NFL and NBA, respectively.
From there, you can market your platform across the internet to attract players. Keep in mind that it's best to get your platform running as soon as possible, especially if major games are nearing. The sooner a player can start betting, the more money you can earn.
Considering a Career as a Sportsbook Betting Agent?
For sports enthusiasts seeking a rewarding business venture, stepping into the realm of a sports betting agent, colloquially known as a bookie, can be a game-changer. Curious if this path is right for you? Let's explore the enticing possibilities.
Embrace Location Independence
Becoming a sports betting agent opens up the freedom to work from any location, at any time, thanks to mobile-friendly sports gambling software. All you need is an internet connection to run your operations and dictate your terms. The flexibility offered by our sports gambling platform empowers you to craft the optimal betting experience for your players. Adjust odds, set specific terms, and modify the sports offerings effortlessly. If you value work/life balance and professional autonomy, this setup could be your ideal match.
Effortless Setup
Curious about the process of becoming a sports betting agent? The setup is quicker and simpler than you might think, especially with cutting-edge software like Ace Per Head. Our advanced sports gambling platform handles the technical backend work, eliminating the need for extensive technical expertise. You and your players gain access to our dedicated call center, streamlining the wagering process and addressing any queries.
Tailored Website Without the Hassle
When venturing into your own business, knowing how to take bets is crucial. While creating your website might seem daunting, our pay per head services provide a solution. With us, you can establish your custom site, allowing players to explore available wagers, view lines, and place bets online. This eliminates the need to invest time in website development or worry about player privacy and security—we handle the logistics, leaving you free to grow and scale your business.
Limitless Growth Potential
Longevity is a key consideration in the professional betting sphere. Can this industry evolve as far as you envision? Partnering with Ace Per Head ensures a resounding "yes." Our pay-per-head model enables you to pay only for the services you need, precisely when you need them. Freed from the daily operational concerns of your sports betting business, you have the freedom to dream big and chart your course for success. Leap into the world of sports betting business with Ace Per Head—the gateway to limitless potential.
Build a Successful Platform with Ace Per Head Now
Regardless of your betting background, Ace Per Head wants you to succeed. After learning about the most popular sports betting games, consider building a platform, and we'll guide you every step of the way.
Create your package to your liking and start earning money today!