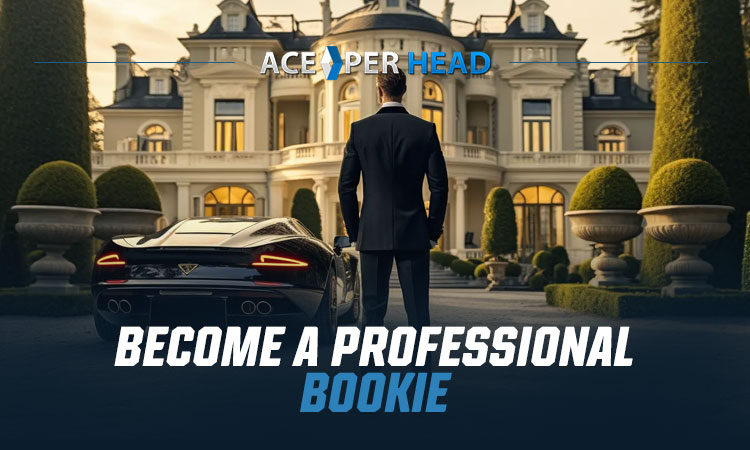 Becoming a professional bookie, it's a lot simpler than one would think because there are companies that specialize in providing this specific service to potential bookies.
PPH Bookie Services
These services are called pay per head service and they provide a fully inclusive sportsbook website for a bookie to offer to their players. These services manage the site 24/7 update all odds up to the second, and post thousands of betting options for bookies to offer their players each day.
You as the bookie do not actually need to know much about the ins and outs of bookmaking and odds, because these services do all the work for you. All you need to know if you want to become a professional bookie are people who would like to bet. In order to find people who would like to bet it is as simple as word of mouth and reaching out to all family, friends, coworkers, schoolmates, social media friends, and acquaintances.
Once you start getting the word out that you have a website for players to bet on, you will be pleasantly surprised by how quickly you will be able to grow your new bookie business. Betting and gambling have been going on for centuries, and there is literally something to bet on every day of the year, and all day long, especially when you use a site that also offers a virtual casino that can be played 24/7.
People love the idea of betting on an outcome based on what they think will happen and then getting paid for being right. Also, it's just human nature to enjoy the idea of making money for doing no actual manual labor, but just simply having the correct prediction on a specific outcome. In addition, a lot of people also have an addictive personality which bodes well for bookies because gambling can become very addictive for people, which ends up leading to people losing a lot more money than they had planned.
Lucrative Sportsbook Business
Becoming a professional bookie is also a very lucrative business because people always lose over the long term. Also, the whole structure of the sportsbook business is made for bookies to actually be successful because the cost is extremely cheap.
One of the best pay per head companies in the business is Ace Per Head.com and they offer their service for a small flat fee of $3 per active player per week and you only get charged if the player has a graded wager for that week. Then you as the bookie handle all payments directly between you and your players with whatever payment methods you prefer and you as the bookie keep 100% of the wins and losses.
Considering that players always lose over the long term and people can lose large sums of money, the cost structure of only paying a small flat fee enables bookies on Ace Per Head to have no limit on the amount of money they can actually earn as a bookie. If a player loses $1,000 in a week this means you as a professional bookie agent collect that full amount and only pay $10 for that player, leaving you with a $990 overall net profit from that player in just one week. Those are some serious returns on investment and obviously the more players you have the more money you will end up making from becoming a professional bookie.
Pro Bookie Software Features
To create a profitable betting system, you need certain betting software features. Learn what you should have by clicking here.
Research shows that 35% of people who can work from home prefer to do so full-time.
Are you looking for a career you can manage right from your smartphone? If so, why not become an online bookie?
With the right sportsbook software features at your fingertips, you can get started right away. Today, we're sharing what to look for as you get your betting app up and running.
Pay-Per-Head Model
When you're setting up your platform, you need pricing that's simple and straightforward. That's why a pay-per-head model is the way to go.
With Ace Per Head, you only pay for what you use. Our prices start as low as $3 per head, with special add-on features such as:
VIP live wagering
Live Casino
Custom prop builder
Taking your app live can be challenging, and you don't want to be surprised by unexpected fees. Make sure your betting software cost is transparent and easy to budget.
Mobile-Optimized
Did you know that up to 75% of people who hop online to watch the Sunday night kickoff do so on a mobile device? Your audience is already swiping and scrolling to find the best betting app, so that's where you need to be, too.
Every professional bookie is looking for a bookie service that's fully optimized to support mobile use. At Ace, we've optimized all of our services for any device. This includes all of our agent reports, as well as our VIP live betting platform.
Custom Prop Builder
The best sportsbook will allow professional bookies and their players to choose from an unlimited number of prop betting options. With ours, they can even customize their own props and also have the option to parlay props.
Our custom prop builder makes it easy, allowing you to expand the services you offer your target bettors.
Real-Time Bet Ticker
You can't be by your smartphone at all times. Yet, you need to know when a big play comes through.
Look for a platform with a real-time bet ticker feature, so you can watch each bet as it occurs. With distinctive sounds and highlights, our app helps you stay up-to-date.
You can even configure special alerts to notify you when certain players place big wagers. We can send these through email or SMS text so you never miss a bet.
Player Security
Cybersecurity is a must in the online betting sphere. At Ace, we only identify players by their ID and password. We'll never call them unsolicited, or ask for any more details.
In addition, we'll also work to keep you secure. All conversations you have with your players will take place through the website. We encrypt all messages over SSL and make it easy for you to permanently delete them.
Try Our Betting Software Features
There are many different kinds of betting software designed to help you navigate this market. However, not all are created equal.
Now that you know the best betting software features to look for, are you ready to get started? We're currently offering six weeks free, so you can try our tools out for yourself.
Check out our latest promotions to learn more!
So give AcePerHead.com a call today at 1-800-909-5193 to get set up immediately.