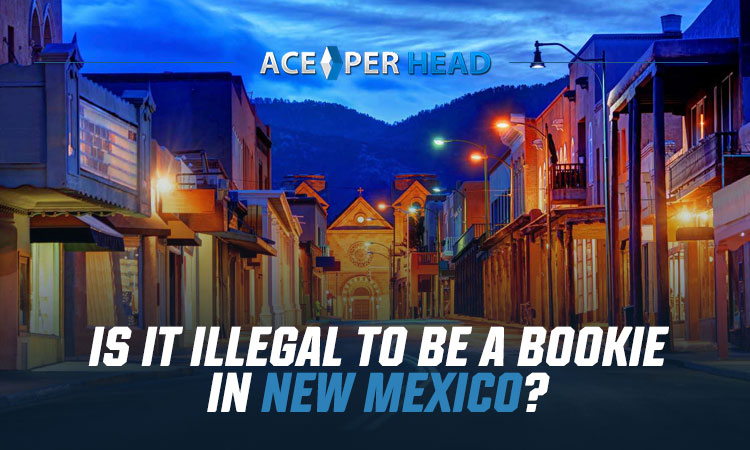 Would you like to bet on sports in New Mexico? If so, you'll be happy to hear that New Mexico laws on gambling don't explicitly prohibit this.
Unfortunately, you won't be able to place online sports bets in New Mexico yet. But as long as you've reached the legal age to gamble in New Mexico, which is 21, you're free to visit the Santa Ana Star Casino Hotel and other casinos run by tribes like the Pueblo of Santa Ana tribe to bet on sports.
Can you become a bookie in New Mexico, though? New Mexico sports betting laws have made it a little difficult to answer this question, but we're going to give it a try.
Continue reading to see if New Mexico gambling laws will permit you to work as a bookie in the state.
Can You Legally Work as a Bookie in New Mexico?
If you're somehow able to score a job at a place like the Santa Ana Star Casino Hotel, you may be able to work as a bookie in New Mexico. Otherwise, bookmaking outside of the tribal casinos in the state is illegal for now.
This might bum you out if you've always wanted to become a bookie in New Mexico. But the state is still a little behind the times when it comes to sports betting.
Will You Ever Be Able to Become a Bookie in New Mexico?
You might not be able to be a bookie in New Mexico right now. But that doesn't mean it'll be out of the question forever.
It wasn't all that long ago that states like West Virginia outlawed sports betting and bookmaking. Today, it isn't illegal to work as a bookie in WV.
With this in mind, you might be able to be a bookie in New Mexico sometime in the not-too-distant future. New Mexico sports betting laws could very well change in the coming years.
The state could be missing out on the chance to make tens of millions of dollars each year on sports betting. It could have lawmakers singing a different tune when it comes to sports betting soon.
How Can You Prepare to Be a Bookie in New Mexico?
If there does come a time when New Mexico sports betting laws change and you're allowed to become a bookie, it'll be important to be prepared. You might want to begin learning about how a pay per head service can help you set up a successful sportsbook operation now.
Pay per head will enable you to provide clients with a custom-made sports betting website for as little as $3 per head. It might be a worthwhile investment for those looking to capitalize on changes that might be made to New Mexico laws on gambling.
Who Is AcePerHead?
AcePerHead is a sportsbook provider, which is a company that offers sports betting software to bookmakers (or bookies). By offering a variety of bookmaker services, AcePerHead ensures bookies have everything they need to start their platforms.
When using AcePerHead, bookies can enjoy the following features:
Multilingual customer support
Website templates
Casino games
Tech support
Mobile betting
Live updates
Chat system
AcePerHead technology also guarantees that bookies and players are safe when using the software. Using DDoS protection, several servers, and backup systems, third parties can't access user data. This can help bookies make new players feel comfortable with using their platforms.
Why You Should Use the AcePerHead Service
If you're new to bookmaking and want to work with a reliable sportsbook software provider, you should use AcePerHead. Read this review and you'll quickly understand why others around the world trust us to provide them with the best bookmaker services.
Start a Platform Fast
One of the main benefits of using AcePerHead is that you can start your platform quickly. Even without experience, you can use AcePerHead's website templates to create a site that players can access within hours.
If you already have a sports betting platform, AcePerHead can also help you transfer data.
Get Third-Party Support
Third-party support is also a major benefit of working with AcePerHead. Throughout your sports betting journey, AcePerHead's experts will answer any questions you may have about online gambling.
You'll also be informed of how to implement new features, such as live betting. This will make it easier to provide a seamless experience for players without errors.
Satisfy Customers
The last reason to use the AcePerHead service is to satisfy customers. As an independent bookie, you must often handle various things alone, but AcePerHead can take care of customer support.
With our 24/7 multi-lingual customer support, we can assist customers from various parts of the world without charging you more. Not only will this help you save money, but your platform will also get recommended more often.
New Mexico Sports Betting Laws
New Mexico sports betting laws might stop you from becoming a bookie in the state now. But if history has taught us anything, it's that more and more states are opening their minds to the idea of allowing people to bet on sports.
If that day comes in New Mexico, you'll want to be ready to spring right into action. You can become a great bookie in New Mexico by taking advantage of the pay per head services that Ace Per Head has to offer.
Take a look at how our services work and consider using our 6-week free promo down the line to jumpstart a bookie business.