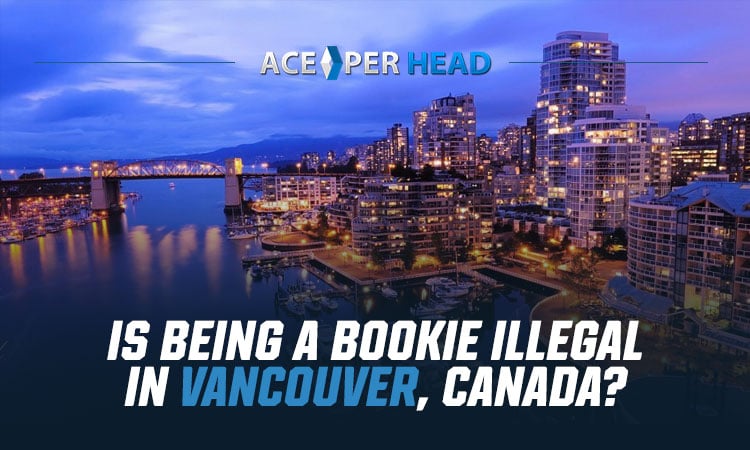 Vancouver is one of the most interesting locations for sports fans. The varying climate makes many different events popular there. Whether someone prefers hockey, lacrosse, or baseball, they can enjoy tons of awesome events in the region.
Sports betting is understandably popular in Vancouver, but is being a bookie illegal there? Read on to learn the basics of Canadian sports betting laws.
Is Being a Bookie Illegal in Vancouver?
Bettors all across Canada can experience single-game sports betting. However, only the Southern provinces can enjoy mobile and online betting in addition to retail sportsbooks. This is because the Canadian government leaves sports betting laws up to individual provinces.
Vancouver is in British Columbia, a province that has legalized sportsbooks for residents looking to gamble online.
However, regulated betting is only really done through the local SportsAction or PlayNow sites that operate under the British Columbia Lottery Corporation (BCLC). Even independent Canadian-owned sportsbooks aren't linked with gambling organizations in the province.
Still, the Canadian government doesn't restrict smaller bookies from operating. They're not part of the Canadian jurisdiction. Similarly, they can't restrict bettors who reside in areas with legal online betting from placing bets on any sports betting platform.
Offshore vs Regulated Sportsbooks
Unregulated sportsbooks are also called "offshore" platforms. They're unregulated, but they're still legal.
However, a lack of regulation means a lack of protection. Bookies won't have any legal recourse through the government to reclaim funds that are stolen. If the website is breached and player information is stolen, you'll be out of luck and have to contend with a lot of angry players.
Luckily, working with Ace Per Head can keep the chances of this happening extremely slim.
We have 7-layer DDoS protection, industrial-grade firewalls, tons of MFA features, and constant site monitoring in place. This means that breaches are highly unlikely since there are so many hoops to jump through. Plus, since you and bettors will only likely use untraceable Bitcoin, there won't be anything to steal even if the site is breached.
How to Become a Vancouver Sports Betting Agent
Setting up a pay-per-head (PPH) sportsbook is the best way to reach bettors in Vancouver. You can operate anywhere in the US or Canada and cater to an audience in British Columbia.
To get started, Ace Per Head's team will set up a custom bookie agent website for you. It'll have features like integrated score tracking, real-time betting options, a comprehensive agent dashboard where you can see bets, and a user-friendly, mobile-ready skin.
Plus, players will be able to place fast bets with just a few clicks. You'll stand out so bettors everywhere trust you enough to rely on you for gambling needs.
AcePerHead Full Review Service: Get as Low as $3 Price Per Head
A full review of why Ace is one of the top-ranked PPH sportsbook services in the industry year after year. Get 1 Free week per month for life
One of the top-ranked pay-per-head services in the world is AcePerHead. They have been in the business for over 25 years, offering bookies and agents access to their software and lines for them to book action from people they know, and earning them small fortunes in the process.
They offer a turnkey solution with all the bells and whistles so bookies can offer the most complete sportsbook and online casino in the market. They have more betting options than other per head sites, and they also have extra features such as two dynamic live betting platforms that offer live betting options on all sports, 100s of live betting options per game, and a live TV feature so players can watch and bet the game right from their computer, or mobile phone.
In addition, they have a prop builder feature that allows players to customize their own player props, parlay player props, and an unlimited amount of overall player props to bet on. A virtual casino and a live casino with a web camera of real person dealing, to give the player the feeling like they are actually at the casino. And if players like to bet horses, they have tracks from all over the world that can be wagered on
Just having all these betting options on one website, makes Ace one of the most complete pay per head sites for bookies
Leads the Industry in Customer Service Reliability and Website Performance
Not only does Ace check all the boxes for product offerings, but they are known for their outstanding customer service. For starters, they are available 24/7 by phone, text, live chat, and email. Text is by far the most common way people communicate nowadays, so having a company where you can text 24/7 and get responses back in real-time in seconds is a significant benefit to customers.
You can text Ace any type of request such as limit changes, analysis on players, advice on how to run one's bookie business, tips on how to grow your business, and not only do they do what you ask right away, but they often have many helpful suggestions, that can be used to help you run an even more profitable book.
In addition, they have a mobile site that has a slick bet slip where players can bet with fewer clicks than any other site in the world. This is key for the new generation of bettors that are making wagers from their smartphones, and are always on the go and need to make a bet as fast as possible, with as little clicking of tabs as possible.
There are also options to change the color scheme on the player site and even change the layout, to a different style wagering layout, which just gives each player the choice to select the option they are most comfortable with. Different player site layouts are a nice selling point for bookies to offer bettors since not every bettor likes the same layout.
There are a lot of pay per head services available in the current market. Still, there is only one like Ace, that has the most wagering options and extra features, the most helpful and knowledgeable customer service representatives, and multiple betting layout options.
Beyond How to Become a Bookie
So, is being a bookie illegal in Vancouver? No, it's definitely not. While independent bookies won't be subject to the same checks as some larger ones, you can operate legally and make a reliable income.
Now that you know the basics of Vancouver bookie laws, it's time to begin setting up your sports betting website. Create an Ace Per Head package to set up your platform and begin a free six-week promo of our services.