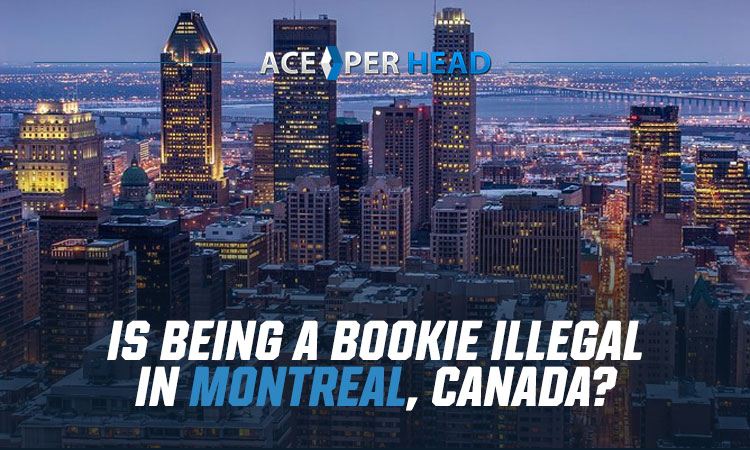 Gambling has been a huge part of Canadian culture for centuries. There's no better place to hedge your bets than Montreal. It's the Sin City of the North, and sports betting and casinos are a huge part of the culture there.
But are bookies illegal in Montreal? Read on for the ins and outs of 2023's laws.
Are Bookies Illegal in Montreal?
No! Bookies are 100% legal in Montreal.
Much like the US leaves gambling laws up to the state, Canada leaves them up to the province. Montreal is part of Quebec, and the gambling regulations are left up to its governing body. The governing body established Loto Quebec, a province-based lottery that supervises and regulates betting.
People in Montreal can bet both at land-based casinos and online. It's a really ingrained part of the community and therefore is both well-regulated and widely accepted.
History & Culture
In Montreal, the legal betting age is 18. This is lower than most US states that require gamblers to be 21+.
Montreal has long been called the Sin City of the North. This is because it's a popular vacation destination for those looking to gamble and have a little bit of fun.
The city has a long history of gambling that stems back to the early 1700s, and it's a widely accepted way to bond with others. Plus, it's a huge part of their local economy.
Poker is especially a huge part of the local culture. Poker nights are a regular cultural activity there. People also play a lot of live dealer card games online so they can enjoy practicing and making money from the comfort of their own homes.
What Does This Mean for Bookies?
If you're a bookie who operates from Montreal, you can easily create and manage a sports betting website that caters to Montreal residents. The same applies to people from other Canadian provinces with local gambling. The governments will regulate these casinos and give you protection against crime and fraud.
If you're from a US state or a Canadian location without legal gambling, you can still run an offshore casino. You're unlikely to get into legal trouble, but your casino won't be regulated or protected. Still, it's a good way to turn a profit.
The cultural norm of gambling in Montreal means that you'll likely get a lot of bettors. However, it also means that you'll have a lot of competition.
It's critical that you set up an appealing pay-per-head website with competitive sports betting lines and built-in casino games. Experts can help you create an engaging, mobile-ready skin that gamblers will love. Plus, since you can offer tons of options for betting, it's within your power to give people multiple event options that they'll want to bet on.
AcePerHead: Your Ultimate Companion in Bookmaking Success
Starting a bookmaking company is not for the faint of heart, considering the harsh statistics that only 34.6% of small businesses in the United States reach the 10-year mark. If you're setting your sights on entering the world of bookmaking, you need a strategic approach to not only endure but flourish.
Unveiling the Role of a Bookmaker
At the heart of bookmaking is the bookmaker, your role in this world. A bookmaker's core responsibilities involve facilitating gambling, particularly at various sporting events. This role encompasses setting odds, accepting bets, placing bets on behalf of players, and ensuring that winnings are distributed fairly.
Choosing the Path that Aligns with Your Goals
Before delving into the bookmaking business, you must decide the path that best suits your aspirations. Bookmakers are pivotal in accepting and settling a wide array of bets, spanning sports events and other public activities. Players place their wagers with bookies and may even request credit lines, a practice that comes with its own set of risks and rewards.
Maintaining a balanced book is another critical duty, necessitating adjustments in odds to ensure an equilibrium of winning and losing bets. For aspiring bookmakers, securing an adequate capital foundation is a vital prerequisite, coupled with compliance with legal protocols.
When it comes to defining your role as a bookie, you have various paths to consider. The digital realm beckons with the allure of online bookmaking, but this market is highly competitive. To make your mark, you'll need to offer unique incentives like sign-on bonuses and promotions.
For those with a profound passion for horse betting, on-course bookmaking could be your calling. Additionally, the option of running a physical betting shop is on the table.
Embarking on Your Professional Journey
The decision to start a bookmaking company hinges on whether you want to go solo or join forces with an existing firm. Both routes have their merits and demerits.
As an independent bookmaker, you enjoy unparalleled autonomy. However, you'll shoulder all overhead costs, encompassing wages and rent. For those leaning towards on-course bookmaking, the renewal of your yearly trackside pitch entails additional fees. Venturing into online bookmaking comes with server and license expenses.
Teaming up with a well-established firm can alleviate certain financial burdens. However, this path entails representing the firm as an employee, limiting your share of the profits.
Essential Skills to Thrive
To make a mark in the bookmaking world, you need an array of essential skills. Your negotiation prowess will prove invaluable, coupled with your leadership and management capabilities. Your ability to adapt and demonstrate exceptional customer service will set you apart.
A deep understanding of odds and finance is pivotal in your role. From negotiations with betting partners to managing staff and engaging with local authorities, strong leadership skills will be your strong suit. Your capacity to provide top-tier customer service will draw in potential bettors and retain existing ones. Decision-making and flexibility are critical, especially when it comes to bets.
A robust marketing strategy is a vital component in attracting new bettors. Leveraging social media platforms and exploring exchange advertising with other businesses can be an effective approach.
Ace Per Head: Your Solution for Success
As you embark on your bookmaking journey, Ace Per Head offers the perfect solution. Our affordable options and dedicated call center are designed to support your business growth. Whether you're initiating an independent bookmaking endeavor or partnering with an established firm, our Pay Per Head software streamlines your operations.
In a competitive business landscape, Ace Per Head equips you with the tools, support, and resources essential for success.
Grow Your Sports Betting Business
So, are bookies illegal in Montreal? Definitely not. In fact, gambling is encouraged there!
Now that you know why, it's time to start making bank with international sports betting. We're committed to helping North American bookies reach bettors in legal Canadian provinces. Start a free promo period of Ace Per Head's services to get started.