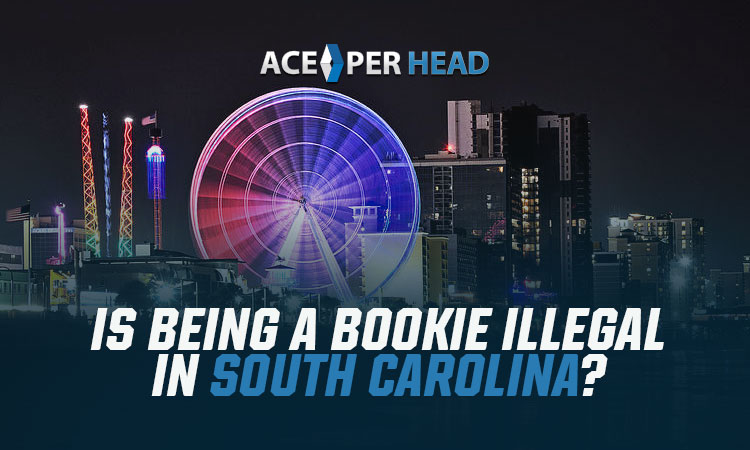 The South Carolina lottery has earned over $7 billion in revenue, but is being a bookie illegal there?
Although many states are legalizing sports betting, South Carolina is behind the curve. Because of this, you'll need to go through several steps if you're a South Carolina resident who wants to avoid legal repercussions and become a bookie.
In this guide, you'll learn about the state's gambling laws and what you can do to get around them. Ace Per Head will ensure you do things the right way!
South Carolina Gambling Laws
Unfortunately, South Carolina prohibits many types of gambling, making it difficult to earn money from it.
One of the most popular forms of gambling in South Carolina is the state lottery, which uses its revenue to fund education.
Horse racing is also legal in South Carolina, but only at the Springdale Course Track, and the only legal form of casino gambling involves going on a cruise.
Is Being a Bookie Illegal in South Carolina?
Because sports betting and casino games are illegal in South Carolina, being a bookie is also illegal. If one is caught bookmaking, they can face a fine of up to $1,000 and up to six months in jail.
However, you can still operate a bookie business if you're a South Carolina resident. To do so, you'll need to go through a few steps that involve relocating to another state.
What Is Pay Per Head?
To start, let's discuss the meaning of pay per head. It'll provide you with a better understanding of why you might want to work with a pay per head service while running a bookie operation.
A PPH service is a service that will set you up with everything you'll need to run an online sportsbook and casino. From your own customized website and sharp betting lines to digital casino games and customer service, you'll get all the things you'll need to run your bookie business in one neat and tidy package.
For a long time, bookies were in charge of running their own operations using their own resources. But a pay per head service can do a lot of the heavy lifting for you so that you can focus on catering to your clients and raking in profits.
What Are the Benefits of Pay Per Head?
There are quite a few benefits you'll enjoy when you start a sportsbook. For starters, you'll get a custom website like we just mentioned.
You can use this website to create accounts for your clients. They'll then be able to place sports betting wagers through your website and even play casino games on it.
You'll also come to love that a pay per head will keep track of all your clients' wins and losses and allow you to set up betting limits for them. It'll give you complete control over your whole operation.
Additionally, a pay per head sportsbook will provide you with customer service representatives for both yourself and your clients. You won't need to worry about fielding calls from your clients anymore about betting lines, website troubles, etc.
Which Pay Per Head Service Should You Rely On?
Since there are so many advantages to using a pay per head service, many PPH services for bookies have started to pop up. You're welcome to work with whichever one you like the most.
You'll find that Ace Per Head will be one of the best options of the bunch. We have more than two decades of experience when it comes to working as a PPH business. We can help you take your sports betting business to the next level with the best pay per head sportsbook and casino for as little as $3 per head.
Work with Ace Per Head
To ensure you succeed when you operate a bookie business, work with Ace Per Head. Our software has many features that will make your platform stand out from others and provide you with more ways to earn money.
If you're unsure of where to take your bookie business, we can assist you. While it's not possible to run a legal bookie business in South Carolina, we can help you find the best option.
Read Ace Per Head's Beginner's Guide
Is being a bookie illegal in South Carolina? Yes, but this shouldn't stop you from starting your bookie business.
Here at Ace Per Head, we pride ourselves on being able to help anyone profit from sports betting, especially bookies. When you're ready to start your business, we'll be with you through the entire process.
Use our beginner's guide to learn about pay-per-head sports betting and what you need for success.