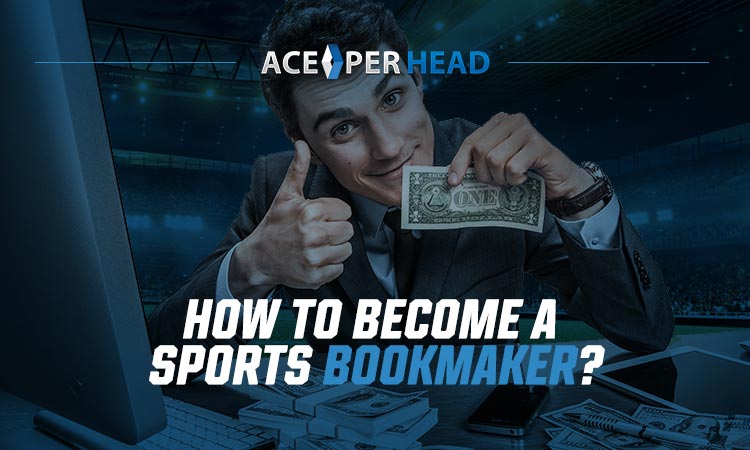 Did you know that the US sports betting market is worth between $60-$75 billion? This number makes becoming a sports bookmaker sound like a daunting process, but it also shows that doing so is a lucrative endeavor.
A growing number of states and regions are legalizing online sports betting. As a result, it's a great time to get into the sports bookmaking business. Accordingly, you might wonder about how to become a bookie.
You may also hear someone call a sports bookmaker a bookie. A bookie is a person that takes gambling bets.
Most often, they'll accept bets on sports. However, a bookie can take bets on just about anything that they desire.
For sporting events, bookies set odds. They also accept and place bets for players. If a player wins, they'll also pay out the winnings.
There's a lot of work involved in running a bookie business. However, you can make the job much easier with the right technology.
Here, we're going to give you some tips on how to become a bookie and find success.
1 – Understanding the Sportsbook Business
In 2018, new laws opened the doors for sports betting across the country. Now, a growing number of entrepreneurs are getting into the business.
However, bookies don't make money by hoping that the majority of their players will lose. Instead, they charge a fee for making bets. This fee is most commonly known as vigorish or vig.
As a bookie, your primary goal is to maintain a balance in your books by adjusting odds. Ultimately, you want an equal amount of your clients betting on both possible outcomes of a sporting event. You'll make your profit from the vig that you'd charge your clients.
In the past, the sportsbook business was most often associated with illegal activity. However, the increasing acceptance of online sports gaming by lawmakers around the world is changing the perception of the bookmaking business.
Now, the bookmaking business is becoming more legitimate every day. As each state makes online sports betting legal, bookies are likely to start earning more profit.
In the early days of online bookmaking, betting on sports was only legal in a handful of states. Now, it's a trend that's sweeping across the nation.
2 – Do Your Research
Before you can set up a bookie business, it's important that you do a bit of research.
The first thing that you need to look into is what it takes to be a bookie. You'll need to have specific personality traits if you want to make it in the world of sports betting. For example, if you're unambitious and don't feel the drive to constantly expand a business, you aren't going to enjoy your job as a bookmaker.
Some other aspects of becoming a bookie include:
The ability to problem-solve and tackle new challenges (the industry is always changing, so you need to adapt)
Excellent time management skills (since you'll be setting your own hours)
Self-discipline (your job will be 100% remote)
A passion for sports (almost all aspects of bookmaking deal with sports and sporting events)
Top-notch communication skills (so that you can talk to clients)
Transparency and honesty (to build a reputation)
An interest in business and expansion (running a sportsbook = running a business)
The drive to constantly achieve more than you previously did
If you fit the mold, you then can research what other bookies are doing to succeed.
Questions to Ask Yourself
While you very much are your own person who needs to make your own decisions, look into what other successful bookies are doing. Look into trends in the way that these agents operate. Ask yourself:
Is there a specific aspect of sports betting businesses that people like to see?
What sports and events do most people bet on?
What does the current market look like?
How do other bookies tailor their business to the current market?
How do they handle changes in sporting seasons and bet volume?
Are their websites designed in a consistent manner?
What sorts of marketing strategies are they using?
This will give you some ideas on how you can begin setting up and operating your sportsbook effectively.
3 – Set Business Goals
Operating a sportsbook is operating a business. When setting up your bookie business, it's important that you keep this in mind.
You'll need to treat it as a startup in the same way that you would treat an eCommerce shop. This primarily means setting business goals that encourage you to succeed.
To create an objective that pushes you towards success, you'll need to use the SMART method. This means that goals should be:
Specific (outline what a given objective entails)
Measurable (make sure that your goals are quantifiable)
Attainable (you need to be realistic)
Relevant (goals need to actually pertain to sports betting)
Time-based (you need to have deadlines and timeframes for meeting your objectives)
Once you have a goal that falls under the following criteria, consider it carefully. Make sure that you actually can attain it even though your sportsbook is just starting up. Since you haven't set up your pay-per-head (PPH) website yet and don't have personal experience in the market, you may not yet know what you're getting into.
Regardless, your goal needs to be flexible. You'll need to assess it often as you gain more knowledge of the market. It's important that you give yourself room to adapt when necessary.
4 – Create a Budget for Your Startup
Another business aspect of creating your sportsbook is setting a budget for its set-up. Do a deep dive into the funds that you have for your startup. Catalog every penny into a word document and add it up so you know precisely how much you have.
Once that's done, you'll need to refer to the previous research that you did. Ask yourself what expenses a sports betting business might have. Base this knowledge on the successful online sportsbooks that you previously looked into.
Some important expenses include:
Web design and development
Website management
Customer service and support
Management software for your bets, lines, and limits
A business cell phone
Digital marketing platforms and expenses
This may sound like a lot, but you're in luck: a pay-per-head (PPH) online service can provide almost all of these things. These fully managed services not only help you develop and launch a custom online betting platform but also manage the website. Customer support and updates are also provided, and you don't need a business phone because of PPH expert's 24-hour call centers.
5 – Register for PPH Services
At this point, you've done most of the preliminary work before launching your sportsbook. You have solid goals and have crunched the numbers to set a realistic budget.
There are a number of different paths you can take as a bookmaker. Open a sports betting shop, get a place on a course or at a stadium, go online or combine them. Each has a number of advantages or disadvantages. 
Opening a sports betting shop involves a lot more financial risk. You need to find premises and will need to hire staff to man it when you are not there or busy. This makes the initial outlay a lot more. 
Places on the course are great if you like to be in with the action. The downside is you only have a captive crowd. Fees for course pitches can be quite expensive and have some large fees.
Online bookmaking is a great way to get started, though it is becoming a saturated market. There are now pay-per-head sportsbook providers like Ace Per Head that will take care of much of the business for you. When doing so, your job becomes that of a marketer trying to attract and retain customers. 
You know what services you need to pay for and that PPH experts can help you with them.
But what is PPH, exactly?
Pay per head software services are a type of online sports betting management platform. You pay Ace Per Head a scalable fee of around $10 per player that you sign on. In return, we manage your sportsbook, provide you with website updates, keep your information secure, and give both you and your clients 24/7 customer service.
Ace Per Head is a premium online sports bookmaking service. We offer the sharpest lines in the sportsbook industry. What's more, we deliver a 14% higher hold compared to any other service on the market.
Using PPH services is the initial step into making your conceptual gambling platform a reality. This is because we help you design and launch the website that you and your players will use to place and receive bets. This website can be made from one of our many templates or can be 100% custom-made.
Immediately, this takes your sportsbook from being a dream to being a reality.
6 – Getting Ahead of the Game
Ace Per Head is your source for powerful online sportsbook software. We have the sharpest lines in the industry and a massive pool of sporting events for your clients.
Our technology will enable you to compete with large online bookmaking services. More importantly, it will enable you to grow your business at your pace.
What's more, you can spend less time handicapping and more time generating new business. We'll provide you with our years of experience in setting lines and odds. Resultantly, we take the hard work out of running your own successful sportsbook operation.
There are many line service providers that can provide you with odds. However, our online betting platform will ease your workload. With our years of experience in the business, we can even tell you when a line is soft.
If you want to get into the sportsbook business, you most likely know the business pretty well. Other pay-per-head services might offer lines.
However, few services allow you to adjust the line based on your instincts. With Ace Per Head, you can set your lines and odds automatically. Alternatively, you have to freedom to move your line and change odds as you please.
Developing Your Site
We then will link your site up with automatic score tracking technology so you don't need to keep tabs on hundreds of sporting events at once. Similarly, our experts will perform automated updates to keep your website in top shape. This will continue to happen for as long as you work with us.
Keep in mind that PPH platforms are completely secure. You pay us in untraceable and anonymous bitcoin. Similarly, this is the method that your players should also be placing bets with.
We also never know your name or your players' identities. You and your players will also remain completely anonymous to each other because everyone affiliated with Ace Per Head is assigned a random number. This number is used whenever we speak with you or a player in lieu of names.
This drastically reduces the possibility of hackers and malware gaining access to your (or your bettor's) personal or financial information. Ultimately, it boosts your reputation and ensures that your bookie business is safe for players.
Earn More Profit with Value-Added Entertainment
Before online sports betting, players had to make their wagers before the game. In Las Vegas, however, casinos started taking bets while games were in play. With pay-per-head software, you can provide the same kind of exciting action for your players.
Pay-per-head software will enable you to streamline your sportsbook operation. You can use it to access all open bets.
You can even use it to manage your risk and exposure. With the best pay-per-head software, you're in control.
However, with pay-per-head services such as Ace Per Head, you're not limited to operating a sportsbook. If you desire, you can operate an entire online casino. Our platform gives you the option to provide popular games such as blackjack and slot machines.
You can take advantage of all these features using a simple interface. Even if you're not technologically inclined, you can figure out how to use our software easily. More importantly—so can your players.
With a subscription to Ace Per Head pay-per-head service, you'll also have access to our live call center. Our call center is perfect for players who like to speak to a live person when they place their bets. Your players can also reach out to our gaming professionals with any questions.
With Ace Per Head, you get the benefits of a full sportsbook operation and casino without the overhead. At this point, the question isn't, "How to become a sports bookie?" Instead, it's "When will you make your move?"
7 – Market Your Bookie Business
Once your sportsbook is up and running, it's time to keep your eye on the prize. After all, a successful bookie can make $50,000 to $100,000 per week. That's over $2 million in a year!
To get enough bettors to make this happen, you'll need to do a lot of marketing. Like any other business, it's critical that you boost the visibility of your sportsbook. Doing so is a surefire way to make yourself known to sports betting enthusiasts and get players that want to work with you.
One great way to do this is by using social media. You should set up pages on Facebook and Twitter and keep them updated a few times a week. This will keep you in the minds of those who follow you, which makes them more likely to think about you around the time of major sporting events.
You can also target new bettors on social media by pinning and tagging Twitter posts or investing in Facebook ads. Set demographics to those who fall into certain high-income brackets or are in lucrative occupations. You also will want to target those who like sports-related pages or even those who follow other bookmaking services.
Utilize Word of Mouth
When you are a bookie, nothing is a better marketing tool than word of mouth. Best of all is that it is free. You don't need to pour money into online ads or take out advertising space. 
Start by treating the customers you already have with the utmost courtesy. Give them sports betting help, talk to them about the game, and pay them on time. Once they get to work and tell their friends, you will get more loyal customers.
Essentially, people who like to take a bet know other gamblers. They talk about wins, losses, and where they go to gamble. 
8 – Mitigate Risk
The golden rule is that you always want to be able to pay out on time. If you don't, you will lose your reputation and customers will go with it. Remember that you are competing with larger online bookmakers that can payout instantly.
Mitigating risk also comes from what you can let your customers bet on and how much. You always have the option to lower wager limits, though you then lower the potential for profit.
Some customers may require a very individual service. For example, you may want to limit how much a person can wager or what on. A pay-per-head sportsbook service will help manage this for you.
9 – Improve Your Basic Skills
It is going to help you a lot if you take some time to brush up on your basic skills. While these are quite wide-ranging, if you are going to manage a sportsbook then numeracy will be your first stop. You will need this to make quick calculations and negotiate with customers and partners.
After this, you need a degree of interpersonal skills. When building the business at the start, your relations with customers is of paramount importance. When you are not personable and accommodating you won't get customers, and without customers, you won't have any profit. 
There are a number of ways you can work on these, some of them without spending money. Check online courses or see if local education centers run training. Investing in yourself is the first step to success.
10 – Be Honest
Honesty is always the best policy. You don't want a reputation as a shady bookmaker. This will hurt your brand image and make customers leave you in droves.
Be transparent about what you are offering. It is better to promise less and over-deliver than the other way around. By doing so you will build a reputation and customers will be willing to invest more money in your services. 
Be Approachable
What this means is you want your bettors to have a friendly experience with your sportsbook. You do not want bettors ripping their hair out about trying to get a specific line in right before kickoff, or trying and failing to place a bet as soon as halftime hits.
The right hardware and software will virtually guarantee that this does not happen to you. The software will keep your bettors being able to pick up a last-minute line to add to their bets, not overwhelm the system when everybody is trying to bet on a game at the last minute, and change lines fast enough for you to come out ahead. 
Bettors come to your sportsbook to try and win money, not to lose a lot of money in the long run because somebody saw information on you that you did not want them to see. So, you need the right bookmaker software like Ace Per Head to gain a reliable reputation among your customer base. 
Become a Sports Bookmaker Today
Now you know the starting steps, you can begin to start as a sports bookmaker. Make sure you have your budget and set out a business plan. While doing so you can then begin to market your services through word of mouth. 
Ace Per Head should be your first stop on the path to a new career, be a sports bookmaker. We have all the essential services you need to get started. Sign up for your six-weeks free today. Starting out as a bookmaker is easier than you may think and we can help.
Ace Per Head's experts will help you to set up a web platform and grow your bookie business. We also will answer any remaining questions that you have about becoming a bookie and the online gambling market. Since we're committed to helping you find success in the gambling industry, we look forward to hearing from you soon.