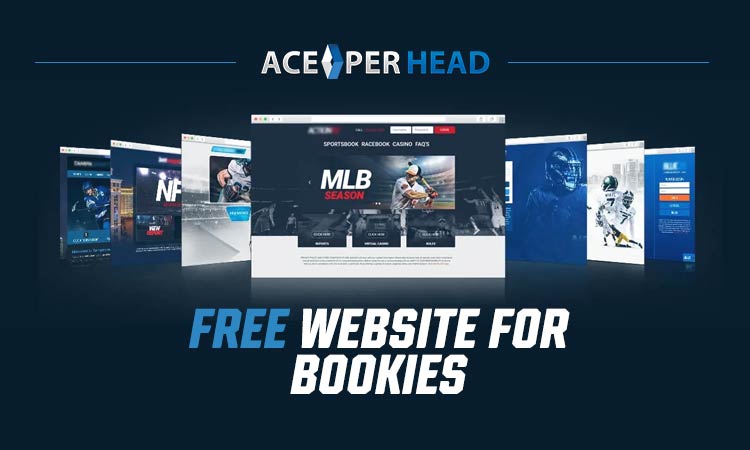 The steps to become a successful bookie are not as hard as you think.
With the global sports betting industry continuing to increase in value, it is only natural to wonder how you could get a share of that money. By 2028, the global sports betting market could be worth $179 billion.
For most small businesses, you have to have some startup money and be willing to not make a profit for several years. But, what if there was a way that you could make a profit right away?
A free website for bookies is a legitimate option, you just need to know where to look. How do you get a free bookie website? Here is the way.
Find a PPH Promos
Let's face it, with any product that you are being offered, you want to test it out and make sure that everything is working properly. This is where Ace Per Head comes in.
You can get a six-week free when you first start using this pay per head service.
This allows you to receive the benefits of a service and keep all of the money that you make in that stretch. It also allows you to get a better understanding of how this system works without any financial consequences for you.
Some things that you can do are figure out what sports to offer your bettors, make sure that you have the right software for live sports betting lines, the right hardware to make sure all of your bettors' personal information is secure, and make sure that your bettors feel like they are being taken care of and the experience on your platform is enjoyable for them.
An option like this saves you significant operating costs while you are trying to get your feet off of the ground and it gives you extra time to build a customer base. Let's face it, it takes time to find loyal customers for a product or service, especially as an unknown.
A free trial gives you time to figure out your identity and to work on ways to find your first customers like looking for referrals, building your presence, and showing your sportsbook off.
Pay per Head Service
Pay per head services can help you significantly when it comes to building an online presence and establishing a sportsbook quickly because it provides you with an entire team to support you rather than going at it alone.
But, how does it help you get started for free? Well, the free trial above gives you a head start but after that, you are still not paying directly for the services of a pay per head company.
Instead, the money you would have to give relies entirely on how many bettors use your platform.
In other words, if the sportsbook fails, then you do not pay anything.
Are you technically paying something here? Yes, but it relies entirely on how much the service actually helps you develop, so you do not get punished if the service fails to deliver what it set out to do for you.
For example, let's say 100 bettors use your sportsbook and they all lost about $100 a week. That would be a $10,000 profit for you and the only catch would be paying $10 per person to the pay per head service, still leaving you with $9,000.
However, if only one person used your platform and lost $100, you would just have to pay $10 rather than $1,000 as in the example above.
So, there is no upfront cost, only a cost based on the success of everyone around you.
What Do You Get?
A legitimate question to those who have never been involved with a pay per head service is what are you getting from them? Well, the answer is an experienced staff that is there to support you and to give you advice on what direction to go with your sportsbook.
This service can show you how to get the best lines in your favor with the right software that will make sure the lines that are being made available to your bettors are as fair as possible. You want to have the right balance of having an attractive line to a bettor on both sides of the line while making sure that you still have the ability as a bookie to make money from it.
Then, what if a bettor has an issue on your platform that requires communication with someone that is in charge of running your sportsbook? That is where customer support comes in.
Most likely, you are just one person that is starting this sportsbook and you may not physically be able to take all of the phone calls that you might heave to while growing your platform, nor may you want to. So, use a service that comes with their own customer support team that is available 24/7 to answer your bettor's concerns.
Whether this is a money transfer issue, a glitch that prevents your bettor from being able to make any bets or see how much money is left in their account, or a bet that is processed unintentionally, customer support can help resolve these problems a lot faster.
No Other Costs
When it comes to starting a sportsbook, there are really not many costs to do so other than having the money to pay out bettors in case some of them win (and that probably will happen almost half of the time).
As said above, you can have a free trial that basically allows you to have your website set up for you with support staff. That eliminates the need for you to have to go out and hire your own staff for business and it eliminates the need to hire a graphic designer and IT employees to set up your website.
Best of all, for you, you do not need an office or a physical place of business to get started in this venture because it is done entirely online. With that in mind, all you would need is a laptop and to be in a space with a good internet connection.
For reference, the average cost to start a business is $3,000, and the typical employee payroll is $175,000 at this stage. On top of that, businesses may be paying about another $10,000 in rent and other supplies, so the costs add up to almost $200,000 very quickly.
Why is this relevant to your sportsbook business? Because going this route allows you to skip over ALL of those costs and to start making a profit immediately. With sportsbooks, you just have to have the capital to pay off bets if more come in than you expect and even then, it can be good advertising for others to come to use your book.
Fix the Tweaks, Gain Awareness
Having six weeks as a free trial and then only a $10 per head charge after that gives a bookie a lot of runways to figure out what type of sportsbook that they want to have. You can figure out how you want it to look, what bonuses you should be offering, what type of bets you want to have available, and what sports to focus on.
This gives you the chance to make sure your software is working properly while having constant communication with the pay per head services to get a better idea of how everything works.
Plus, you can get a good boost on raising brand awareness by having a website ready to go before you even begin to go out on your own. During the free trial, you can focus on getting bettors to come to use your platform rather than having to be the one that is worried about all of the design, software, and hardware implications that come with getting a sportsbook up and running.
On top of that, you do not have to waste time hiring a staff for a new business. This allows you to worry about getting people to actually discover what you are offering. Plus, you can show them why they should come to use your sportsbook over the competition.
Get Your Free Website for Bookies
As you can see, it is possible to have a free website for bookies and to use that opportunity to get ahead of the curve as a bookie. If you have the right support behind you and focus on the right goals, you can make money in no time while eliminating all startup costs.
Are you ready to get started? Create your package today!