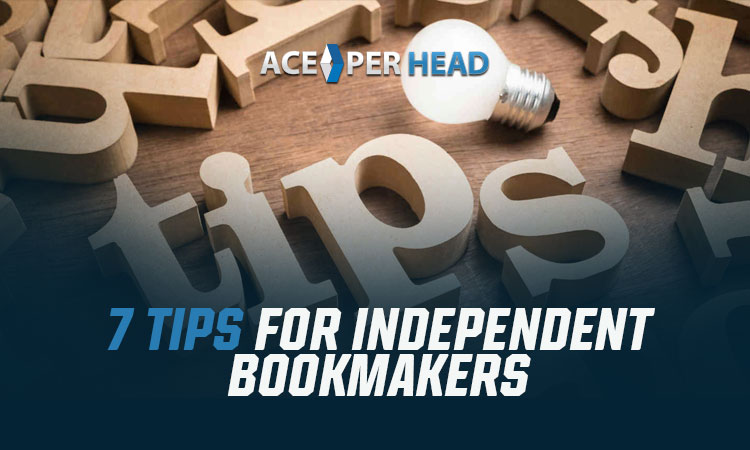 Did you know that some bookmakers bring in millions of dollars each year? Many of them are able to do it without too much effort on their part.
Becoming a bookmaker on your own won't necessarily be easy at first. But once you're able to attract clients as an independent bookie, they'll begin betting online through you and lining your pockets in the process.
Online betting has made it possible for almost any bookmaker to turn a consistent profit, but you will need to take the right approach. Here are five tips for independent bookmakers.
1. Invest in Pay Per Head Services
If you're trying to run a bookmaking operation in 2023 with little more than a phone and a pencil and paper, you're making a huge mistake. You're going to get overwhelmed before long.
Instead, you should do what so many other independent bookmakers are doing these days and invest in pay per head services. These services will give you immediate access to a website you can use to cater to all your clients.
Ace Per Head can provide you with pay per head services for as little as $3 per head that'll give your bookmaking operation a more professional appearance. It'll also make it so much simpler to run your bookie business from wherever you want.
2. Attract the Right Types of Clients
To be a profitable independent bookmaker, you're going to need to bring in lots of clients. But you shouldn't allow just anyone to place bets through you.
You need trustworthy clients who are going to honor the bets they place through you and pay off any debts they rack up. A pay per head service will be able to keep good track of the wins and losses of your clients. But it'll be up to you to get things squared away with them at the end of each week.
3. Set Clients Up With Fast Payouts
You expect your clients to pay you quickly in the aftermath of their losses. So you should also be prepared to provide them with fast payouts following their wins.
Independent bookmakers will always need to have enough funds on hand to settle up with their clients. Otherwise, your clients might begin to lose faith in you and take their business elsewhere.
4. Provide Great Customer Service
Your sportsbook clients are going to have questions and concerns for you from time to time. They should be able to get in touch with you in a hurry to address them.
This is actually another area in which a pay per head service can assist you. They'll be able to give your clients an easy way to get the customer service they need without you having to provide it to them.
5. Keep Tabs on How Much Money You're Making
By using pay per head services to your advantage, you should be able to start making money just about every week. It'll turn your bookie business into a profitable operation in no time.
It'll be your job to monitor how much money you're making so that you always have a good grip on your company's financial situation. It'll put you in a position to make smarter business decisions moving forward.
Best Bookmaker Software in 2023
Sportsbook software is essential to help you run your bookmaker shop. Here's a quick look at the best PPH software options to consider in 2023.
About 85% of Americans have gambled at least once in their lives. 60% have even done so within the last year. Because of this popularity, the gambling industry is a lucrative one for those looking to set up a small business.
Here, we're going to talk about the best bookmaker software on the web. Read on for some information about payment models, features, and the best company to work with to ensure your sportsbook's success.
Pay Per Head Bookie Software
A pay-per-head (PPH) bookie platform gets its name because of the way agents pay to use the software. It's a subscription service that you pay a monthly fee to use. However, unlike flat-fee subscriptions, you'll pay a small amount of money for each person who's actively betting with your platform.
So, instead of paying $1000/month regardless of whether you have 1000 players or 10, you'll pay about $10 per person with an active account. This means that you might pay $10,000 when you have 1000 bettors during the super bowl but only $100 during the off-season if you have only 10 bettors.
You'll always be scalable and flexible. A PPH sportsbook software solution is essentially paying a consistent percentage of what you earn. You'll always be making more money than you're putting out.
A Fully-Managed Software Solution
PPH subscription services are fully managed. This means that you get a wide range of support and services when you pay for a package. Some services include:
A fully-custom website that makes your sportsbook appealing
A mobile-ready application for on-the-go bettors
Bet tickers and SMS alerts when someone places a bet
Integrated tracking software to show you and your players current scores and bet statuses
An in-app communication interface between agents, players, and providers
24-hour call centers for both agent and player support
Top-notch security features
Easy betting and payments with secure and untraceable Bitcoin
This means that you don't need to shell out money to multiple providers when setting up your betting shop. Your fee is all-inclusive. Budgeting is simple and you don't need to worry about communicating with multiple providers.
Ace Per Head: The Best Solution in the Industry
Ace Per Head's experts offer all these features and many more. We'll help you set up a website from one of our fully-customizable sportsbook-ready templates. These are ideal because, unlike eCommerce or blogging websites, they're equipped with specialized integrated features that budding bookies need.
If you don't like any of the templates, we'll help you design a fully-custom site if you prefer. Just communicate upfront about what you want so we can be transparent about pricing and design.
At that point, you'll be able to launch your sportsbook to any betting market that you choose. You can do this on both desktop and mobile platforms to make the most of your betting shop.
We Can Help Independent Bookmakers Succeed
Above all else, independent bookmakers are going to need to get their hands on the right tools to turn their companies into successes. Ace Per Head is the best pay per head service that can help you secure these tools.
Check out how our price per head sportsbook services work so that you can decide if they would be the right option for you.
Now that you know the best bookie software for agents, it's time to get started. Our experts are committed to helping you set up a custom site that appeals to bettors across the US and the globe. We're excited to show you what we can do, so create a package to take advantage of our free six-week promo.