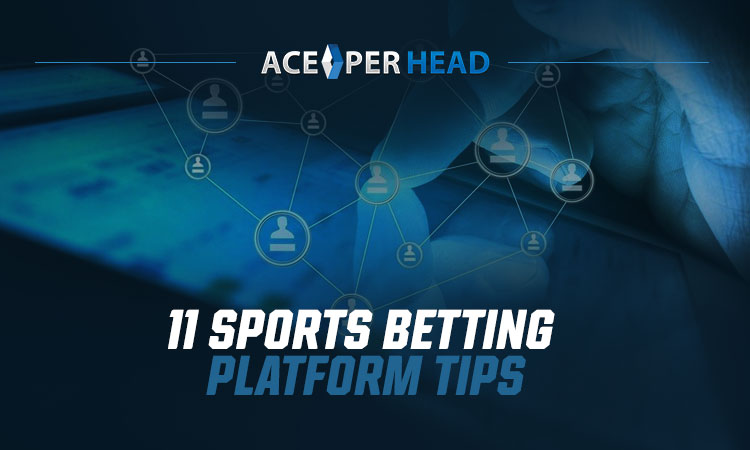 Research shows that the worldwide sports betting market will surpass $13,941 million by 2028. The market will grow at a 10.2% Compound Annual Growth Rate (CAGR) from 2021-2028.
Sports betting, in its nature, is a risky way to spend your time or try and make some money. But, when done sensibly, you will experience fun and excitement when watching sports. That is why you need sports betting help.
So, how do you make the most out of your bets? How do you find your way around an independent bookie? A sports betting platform will have many tricks whose aim is to try to pull you through its doors.
Sports betting is always about finding the best value for your money. You do that whether you are in the right market, right prices or even the best time to place your bet.
Keep reading to learn the eleven great sports betting platform tips that will lead you in the right direction.
1. Learn the Basics First
It will take a long time to learn betting with a sportsbook. It's true; some gamblers will pick up winning strategies faster. But, there will forever be a learning curve, even for the best sports bettors.
You have a small amount of cash you can bet on sports. So, don't bet a lot per game when in the learning stage. Learning is vital if you are new to this activity.
Try and comprehend a couple of things before starting to bet. They include odds and calculating them, bet types, and place wagers.
Also, it is crucial to do your due diligence and make sure you are betting on the right odd. Ideally, you need to be a fan of the game you are betting on and know the players and the teams.
It will be helpful to have information about the recent events about the team and players.
2. Focusing on a Small Area
Many bettors begin by betting on their best teams and the big games. A mistake they make by betting on big games is betting on something they don't know.
You will win more when you focus on one thing instead of betting on everything. So, instead of focusing on MLB, NFL, NCAA, and NBA games, put your focus on one sport for starters.
Focusing on one sport gives you adequate knowledge that aids you in picking winners. To be a successful bettor, build enough knowledge on the players and teams.
After learning how to analyze and gather more data than the sportsbook, you will make a consistent profit. Specializing in a sport is the best way to start.
3. Research Better Odds
Another sports betting help we can offer is doing odd research on various platforms. That way, you get to compare independent bookies and betting exchanges.
Various betting platforms, like price per head platforms, will offer varying odds. So, compare all before making a wager. Check and see which bet will offer you more money value.
You will gain more value on your money when you bet a spread bet instead of a match-winner bet. Such bets will give you a higher profit margin once you win. They will also give you minimum losses when things don't go well.
4. Accept Bonus Offers
It's unusual to find an independent bookie that does not offer bonuses to new users. The bonuses are always quite lofty to promote the possibility of a successful bet.
A bonus will make you place a bet which gives you a better chance of winning than not playing at all. But, always read through the bonus requirements and conditions before accepting the offer.
5. Checking the Quotas
Do you know the correct quotas? All successful bettors have an advantage over the bookies because they have advanced knowledge.
That means you need access to recent news on your betting teams. Check about the important players or how the team form is looking. The information affects the results of the game.
When making the quota, betting providers consider all this information. Making a bet by comprehending all this information gives you a value bet.
6. Learning Some Betting Strategies
Most beginners think that betting is forthright; you have to place a bet and hope it is correct. But, there are a few betting strategies to give you more winnings.
Strategies include betting basing it on winning streaks, arbitrage betting, and off-market prices. You will take some time learning these strategies, but they will be helpful in the long run.
It's vital to note that these strategies do not guarantee success, but some bring a better chance of winning.
7. Setting Achievable Objectives
With enough knowledge of the teams, winning a bet is not difficult. But, there is a difference between getting a fruitful wager and profit.
In reality, you are more likely to lose than win with most gambling forms. With this in mind, setting achievable objectives keeps the activity more entertaining.
Never start betting thinking you will beat an independent bookie because you know much about the team. Accepting you will win and lose sometimes puts your mind at ease.
8. Understanding Home Team Bias
You will find the home team winning more than the away team in all kinds of sports. The particular percentage of winnings will vary between sports and seasons.
Watching many games is what enlightens most people about this fact. But, few realize how such biases many sports bettors.
You should know what a home team bias is and how it will hurt your betting experience. Since the home team often wins more than the visitors, bettors will credit it when determining the best odd.
We call that home bias. The public has a defiant home team bias, and sportsbooks know this through experience over the years. When setting their odd, they account for the home team bias.
That is why placing a bet on home underdogs is not as profitable as years ago. That is so because when bookies know a home underdog covers the spread too often, they adjust their odds against the team.
Also, don't go too distant the other way. Some independent bookies give away teams a lot of credit to end home team bias.
9. Keeping Your Emotions in Check
We all want our teams to win. We at times want it so bad that we begin to convince ourselves it is possible. Before we know it, we have faith in it so much that we place our money on the team.
But, never let your emotions control you while doing sports betting. You probably hear this too often in one way or another. Bookies comprehend this, and they milk money every week from skeptical bettors.
If you want success in sports betting, keeping your feelings in check is crucial. Enthusiasm may boost winning bets at times.
But, too many emotions may most likely lead to bad decisions—you lose money over time.
You may be feeling nervous about betting on a team because there is too much anxiety around a game. But, make sure no feelings will influence decision-making on wagering on prop bets or some point spreads.
10. Embracing Mistakes
Note, winning and losing are not all that matters. You learn from your mistakes and figure out what went wrong to prevent it from happening again.
Try a different approach when a betting strategy is not working. That way, you get to know whether the new strategy will work better for you.
Avoid by all means getting stuck on one way of doing things. Also, listen to other expert bettors when giving you their advice. Doing so prevents hurting your success in betting and losing your money over time.
11. Taking Breaks and Not Chasing Losses
Though sports betting is a fun activity, you need to take breaks. The breaks go hand in hand with having a budget in place and tracking your bets.
The measures prevent you from becoming a problem gambler or spending too much cash in one betting season.
When you lose too much money, chasing your losses and placing more bets to get back the money is a terrible idea. That leads to extra losses, and it blurs your focus and decision-making.
Also, remember to gamble on what you can lose and change to a different activity when you lose money. Never expand the budget to chase your losses.
Consider the Above Sports Betting Platform Tips
We have good and bad days when betting. Now, you can spot the greatest value bets available.
Now that you know the various betting platform tips, you may want to start your pay-per-head betting platform.
We at Ace Per Head provide you with pay-per-head services. We will offer you personalized attention, making you feel at home and free to run your bookie business. Our technological tools guarantee you success in running a sportsbook.
Create your package now to start your sports betting platform.