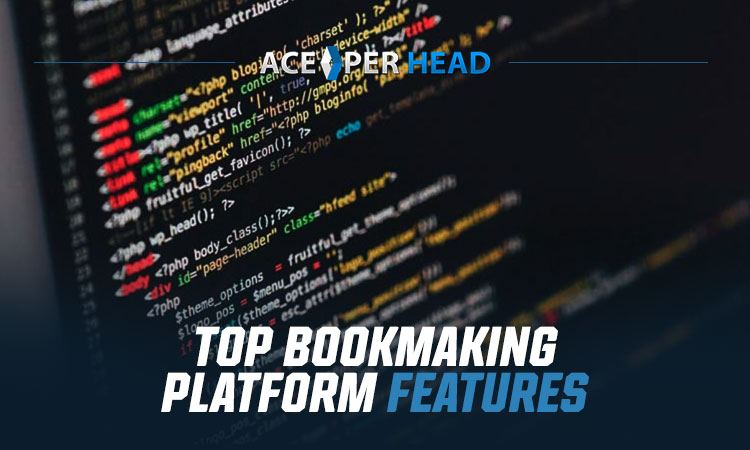 According to one report, the global sports betting industry was valued at $83.65 billion in 2022. From now until 2030, it's expected to grow at a compound annual growth rate (CAGR) of 10.3%.
Are you interested in joining this lucrative and fast-growing market? If so, it's smart to think about taking your operations digital. With the right bookmaking platform, you can set up your own business in no time.
As you survey the options, it helps to know what to look for. Today, we're sharing how to find the best bookie software around, and the features to focus on.
Straightforward Pricing
The bookmaking platform you choose should be fairly and simply priced. With us, you only pay for what you use and prices start at $3 per head. In addition, we also offer extra services, such as:
VIP live wagering
Custom prop builder
Live casino
Your final price will depend on several factors, including your payment method and player count.
Fully Mobile
Chances are, you want to become a bookie so you can work from anywhere, at any time. That's why you need sports betting software that you can control right from your smartphone.
In our research, we found that up to 75% of web traffic during Sunday kickoff takes place via a mobile device. Your audience is already logging in with the swipe of a screen, so it's important to meet them where they are.
With Ace Per Head, all of our services are fully optimized and available on any device. This includes our agent reports and VIP live betting platform.
Personalized Website
When you're ready to set up your sportsbook platform, you have two options. You can use one of our mobile-friendly skins, or our team of software engineers can help you design a custom site that's all your own!
We also offer fully configurable boards, players, limits, and lines. Our in-house team can control all of the feeds and the board layout, and setup is quick and efficient.
Access to Support
As you deploy your pay per head software, you don't have to do it alone. The best online sportsbook will give you access to an experienced account specialist who can walk you through the steps.
When you work with our team, will assign a specialist to manage your account. This model isn't new — banks and professional hedge funds provide a similar level of support — but it's not as common in the sports betting realm. You're more than a number, and you deserve to be treated as such.
Player Security
When comparing platform options, look for one that prioritizes discretion.
When a player calls us, the only identification they need is their player ID and password. We'll never ask them for more details, and we'll never call them unsolicited. You can trust the integrity of our platform, and your players can, too.
What Is Pay Per Head?
Pay per head or Price per head (PPH) software is a type of bookie platform. You pay a small fee for every active bettor you have of between $3-$10. In return, you get a custom website and dozens of great services like web support, player watch reports, and real-time bet tracking.
However, many people who don't know the ins and outs of a PPH bookmaking platform want to try it before putting money into their website. This is where Ace Per Head's demo period comes in. You get some time to try out our company's services and get the same benefits that paying clients receive.
If you decide you like it, you can keep the website and features that you accessed during the promo period. You can also get more help refining and updating your platform to make it more appealing for players. Plus, we'll make it easier for you to use as you go forward!
Features and More
A PPH demo period lets you try out all the top features that we have to offer. You'll have the chance to see what our fully mobile betting interface looks like and how it can grow your sheet. You'll be able to discover how you can customize it, make the most of it, and configure boards, players, lines, and limits.
Our team will help you set up a mobile-ready betting website and show you the features that we pride ourselves on offering. We're excited to show you what we can do, so create your package today to begin your free promo period.
Try Our Sportsbook Software Today
Now that you know how to find the best sportsbook software on the market, are you ready to give Ace Per Head a try? We check all the boxes, offering competitive pricing and a feature-rich solution.
With our current promotion, you can get six weeks for free! Check out all of our latest promos to learn more and get started.