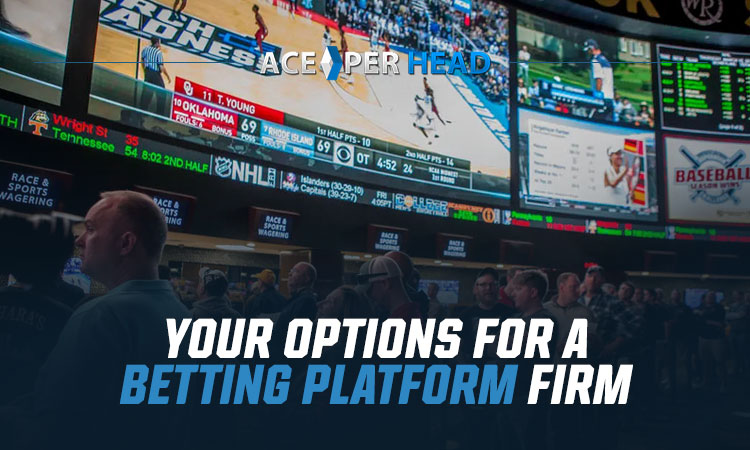 Thinking critically about multiple options is critical before making a decision. If you don't, you might overlook something that meets your needs perfectly. You also won't feel confident in your choice and want to go back on it later.
Choosing a betting firm is an important decision for budding or growing bookies. Read on to learn how you can decide on an online sports betting platform that works best for you.
What to Look for in a Sports Betting Platform
It's important that you choose a fully managed online bookie service. You want experts to take care of all nitty-gritty website technicalities. They should track trends, prevent downtime, enhance security, boost performance, and incorporate upgrades on their own.
Your platform also should have a pay-per-head (PPH) payment model. This means that you only pay for the gamblers currently active on your bookie platform. You won't need to pay for those who worked with you in the past, and you won't need to put down a huge flat fee during the off-season.
Make sure that you also select a service that offers round-the-clock assistance. A 24/7 agent phone line that will help solve your problems is a great resource when you're making lines in the middle of the night. A player phone hotline can also save you time communicating about site technicalities directly with bettors.
Choosing Online Bookie Features
Non-negotiable features include:
Bet ticker alerts
Player watch reports
SMS wager notifications
Integrated score tracking
Customizable/moveable lines
Secure agent/player chats
Crypto payment methods
Max parlay payout
IP trackers
Free plays
Price adjustments
It's also important that your site is mobile-first. Most people access the web and place bets from smartphones and tablets, so your interface should be made for these users.
Why Ace Per Head?
Ace Per Head offers all these features and more. We let you completely customize your website and adapt it to your interests. This means that you can build the brand you want in exactly the way you want to.
You'll have the opportunity to run promotions and set lines as you see fit. Players and the limits you place on them are also customizable. This means you can reward loyal players and place more limitations on those you suspect to be professional gamblers.
Ace Per Head also offers professional hotlines, services to help you set lines and more expert assistance. Plus, you'll be able to create live betting options so people can bet on sports events in real time. This helps them engage with their favorite teams as games go on so they can get the adrenaline pumping.
The realm of bookmaking has evolved with the digital age, and as a PPH bookie, you are at the forefront of this transformation. The PPH bookie model simplifies your relationship with the service provider by offering a fee structure based on active players, paid weekly. This unique approach ensures that your expenses are directly linked to your revenue, as you only pay for the players actively using your services. Ace Per Head follows this model with competitive fees starting at just $3 per player, aligning with industry standards.
In exchange for this fee, you gain exclusive access to Ace Per Head's meticulously designed professional sportsbook website, tailored to meet your specific requirements. This website is a hub for your players, offering a diverse range of betting options, including sports, horse racing, and engaging casino games. Accessibility is not an issue, as the website operates seamlessly around the clock from any device, anywhere, at any time.
Empowering Your Success with Cutting-Edge Features
When evaluating different pay per head sites, it's imperative to choose one that provides an extensive set of features. Ace Per Head excels in this regard, offering a comprehensive toolkit that includes:
VIP live betting: Enabling your players to engage with live sporting events in real time, enhancing excitement and engagement.
Custom prop builders: Tailoring betting options to suit your clients' preferences, creating a personalized gaming environment.
Fully mobile service: Ensuring your players can access your platform conveniently from anywhere.
Line adjustment capabilities: Allowing you to fine-tune odds for optimal profitability.
Real-time bet tracker: Keeping you informed about your players' activities and potential growth opportunities.
Instant wager alerts: Providing real-time updates on your players' betting activities.
Support chat functionality: Ensuring your customers receive timely assistance and support.
Ace Per Head's cutting-edge features are designed to elevate your bookie business, providing a comprehensive platform to cater to the evolving demands of the online betting world.
Your Journey to Success Starts with Ace Per Head
The pathway to success as a bookie lies in selecting a top-tier sportsbook software, and Ace Per Head is your unwavering partner in this endeavor. Our price per player platform supports seamless scalability while maintaining a fair and competitive pricing model to ensure cost efficiency as your site and services expand.
Are you ready to make your mark in the world of bookmaking? Explore our latest promotion, which offers an enticing six-week free of our platform. This exclusive opportunity unlocks the unparalleled potential of Ace Per Head's industry-leading sportsbook software, enabling you to elevate your bookie business to unprecedented heights.
Ace Per Head isn't just another sports betting platform; it's your pathway to online gaming excellence. Join us today and take your bookie business to new horizons.
Get Started With the Best Betting Firm Out There
Ace Per Head is committed to helping you save money while accessing all the features you need to grow. When you work with us, you'll get one week free out of every month for the entire lifespan of your sportsbook. Sign up for our free 6-week promo period to see how our betting firm can help you thrive.