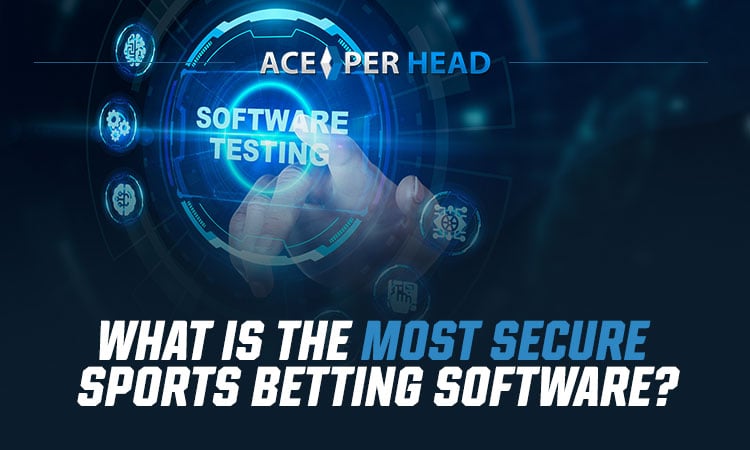 A sobering government statistic estimates that cybercrime is responsible for costing the global economy around $1 trillion. No industry is safe from this threat. However, ones that operate entirely online, like online sportsbooks, are particularly vulnerable.
It doesn't matter if you're a new bookie or you've been in the industry for decades, you need to be prioritizing secure sportsbook software.
This guide will break down some sportsbook solutions for protecting yourself against inevitable cyberattacks.
Why Is Security Important for Sports Betting Software?
Security is vital for sports betting apps and software used by bookkeepers for two main reasons. First, you're dealing with customer's personal and financial information. If this info gets stolen due to inadequate security, it can destroy your reputation as a bookie.
Two, cyber attacks can prevent you from operating. DDoS attacks (or Distributed Denial of Service) are extremely prevalent in Pay Per Head sites. If you want to learn the specifics of how these attacks work, you can check out this resource.
However, what you need to know is that it prevents players from accessing your site, typically on important game days. That translates to a lot of missed wagers and lost dollars.
As you can see, improper security can tank your sports betting business through multiple channels.
What to Look for In Security Sportsbook Solutions
The good news is you don't need to pay an arm and a leg for secure sports betting software. However, you do need to know what features to look for in online sports betting.
First, make sure the software comes with up-to-date SSL encryption standards. This is vital for protecting any bettor's information in the event of a hack.
Next, we mentioned the importance of protecting against DDoS attacks. Do not take this lightly. Look for software that features multi-layered DDoS protection that's built into the network. This technology gives your software company the ability to distinguish between good and bad traffic
You want to make sure the software company has a devoted team of engineers both for the system and the software. A team of underqualified, part-time engineers is not going to be enough to protect you from a large number of cyber criminals on a busy game day.
So ensuring the software has a dedicated team behind it is essential. Lastly, make sure they're backing everything up.
In the event of a catastrophic failure, a backup can help minimize any damage from an attack. So make sure that hardware is built into the system.
Are Pay-Per-Head Bookie Services Legal?
Here, we're going to talk about the legality of pay per head services across America. Read on to learn whether becoming a PPH bookie is legal near you.
Is Being a Pay Per Head Bookie Legal?
The answer to this question is often yes. In 2018, when the Professional and Amateur Sports Protection Act (PASPA) was overturned, it gave states the ability to legalize sports betting within their jurisdiction. Since then, As of 2023, 33 states and DC have reaped the benefits of legalization.
If you reside in one of these states, there's literally nothing stopping you from opening a pay-per-head sportsbook. You can take bets from anyone who lives in an area with legal gambling. This is determined by your geolocation and the geolocations of potential bettors.
So, yes, opening a PPH sportsbook is legal!
Are There Times When PPH Is Illegal?
Unfortunately, if you live in a state where mobile gambling isn't legal, you can't become a PPH bookie. You would need to move somewhere that has already legalized online sports gambling.
Utah and Hawaii have banned sports betting outright. However, most states that don't have current legal gambling look likely to legalize in the future.
4 states have current legislation that's passed but hasn't taken effect yet. 2 others have legislation on their state houses and senates that may pass soon. If you live there (or anywhere else without live legal betting), you'll need to monitor changing laws to figure out when you can launch a pay-per-head bookie business.
Get Started With Legal Sports Betting Software
Being a legal bookie isn't possible in all states, but it's a great idea in most jurisdictions.
Ace Per Head is excited to help you set up shop and grow your sportsbook business into a behemoth. Create your package to start taking bets and cashing out ASAP with a 6-week free promo period.
How Ace Per Head Protects Your Bookkeeping Business
We hope this guide helped you learn what to look for in your online sportsbook solutions. Here at the Best Bookie Software, our industry bookkeepers had one vision when developing their software. That's to make easy-to-use sports betting software that's private and secure.
We're proud to announce that we've accomplished this by implementing features like 7-layer DDoS protection, full-system redundancy, and advanced firewall appliances.
Make sure to learn more about how our technology leads to secure Pay Per Head betting websites.