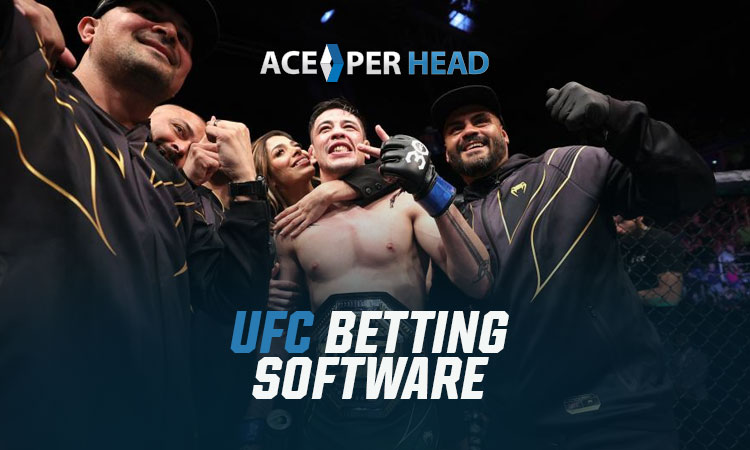 Israel Adesanya wasn't the only person celebrating when he beat Alex Pereira at UFC 287 to take control of the middleweight title. Canadian rapper Drake was celebrating, too, seeing as how it helped him pocket almost $3 million on bets he placed on Adesanya to win.
Drake's massive wagers showcased just how big UFC betting has become in recent years. Once upon a time, there weren't many people who bet on UFC. But with more and more UFC betting sites popping up, it's become so easy to get access to UFC odds and place MMA bets.
As a bookie, would you like to take advantage of this? You can do it by investing in UFC betting software. Here's what you need to know about it.
Makes It Simple to Set Up a UFC Betting Website
If you're a bookie who would like to extend UFC betting options to your clients, do you really want to have to sit by the phone during UFC events to take their wagers? Of course not. It's the first reason why you need UFC betting software on your side.
This betting software will allow you to set up your very own UFC betting website. This site can also provide you with the opportunity to let your clients bet on other sports as well.
Allows You to Offer the Latest UFC Odds
Because betting on UFC has become such a phenomenon as of late, the UFC odds are always changing. So many people are putting in bets on UFC, and it's causing the UFC odds to fluctuate on a minute-by-minute basis.
When you invest in UFC betting software, it'll put you in a position to offer your clients the latest sharp UFC odds at all times. You won't have to be concerned about trying to make changes to UFC odds on your own thanks to your sports betting software.
You also won't have to try to keep up with all the upcoming UFC events. Your UFC betting software will do it all for you.
Helps You Keep Track of Clients Who Bet on UFC
The UFC betting software you use will do more than just keep track of the latest UFC odds. It will also make it possible for you to keep tabs on all the UFC bets your clients place.
You'll be able to monitor how much money your clients are winning and losing as they bet on UFC when you have the right betting software and aim to make the most of it.
Are Pay Per Head Services Worth It?
What do you know about pay per head services associated with using a sports betting platform? Find out if these services are worth it.
Giving You a Team
One of the biggest benefits of hiring a betting services company to help you is that it will give you a team to work with.
You may be young and new to the business. With that in mind, it could be overwhelming to try to figure out how to run every aspect of your sportsbook by yourself.
Well, the best pay per head company can help take some of this stress off of your plate. No one operates their best when they have to do too many tasks by themselves, so the ability to delegate some of these tasks to a team can allow your sportsbook to function much more efficiently.
For example, one of the tasks that you may delegate to this pay per head service company is customer service. That is because this is a task that will take a team to manage if you wish to have it operational 24/7.
What this can do is give customers an outlet to voice any questions or concerns that they might have. It also allows your company to gain some reputation points with customers, showing them that you are there to take care of any need or concern that comes up on their end.
Having that team there allows you to focus on other aspects of your sportsbook while you can rely on them to increase the retention rate of your sports bettors.
Helping You Attract Bettors
Another thing that companies like this will do is help you get more bettors to use your sportsbook platform. Think of them as someone that refers sports bettors to a sportsbook that they think will be the right fit for a bettor.
Then, let's say that it is going well, and the bettor stays on your site and places a bet. From there, the bookie would have to pay the betting service a fee for providing them with a new bettor.
This is what we would call a pay-per-head system. It is one of the fairest ways to go about it for bookies because, at the end of the day, they only have to pay these companies what they can produce for them.
In other words, the bookie gives the betting service a certain amount of money for each individual person that they bring to the platform. Typically, this is around $10.
So, let's say that the betting service gets 300 people to bet on your sportsbook platform in one month. At the end of the month, you would owe the betting service $3,000 for the bettors that they provided you during that time.
Offering You Security
While you may have dreams of owning a sportsbook, you may not be someone that knows the first thing about cybersecurity. Do not underestimate this part of the business because your bettors are going to have to provide sensitive legal information to use your platform.
This can be things such as their full name, age, billing address, credit card numbers, bank account numbers, and more.
What if this information were to fall into the wrong hands? Well, then your bettors would be at risk of things such as fraud and identity theft.
Fraud complaints increased by 19% compared to last year and financial losses increased by 77% during that same period.
What this means is that to be known as a reliable sportsbook for your bettors, you need to make your bettors feel like they are in a safe place when it comes to their personal information.
This is where good cybersecurity comes in. With the right technology and team by your side, you can protect your sportsbook from hackers that are looking to steal this personal information.
Reliable Betting Odds
Finally, something that a betting service can help you with is producing the right betting odds for your bettors. You need to keep a careful balance when it comes to this.
If your line is too far apart compared to your competition, you risk two things.
The first thing you risk is bettors placing their bets at another sportsbook. If the favorite in a football game is two points higher in your sportsbook than most of the competition, your bettors will go elsewhere.
Second, it protects you from taking a big loss. If an underdog is two points higher than most of your competition in a football game, people will be looking to jump on this.
So, what happens if that team loses by two fewer points than your line? Your sportsbook takes the loss where others do not. With a betting service, you can have access to software that allows your betting odds to update instantly.
Make an Investment in UFC Betting Software
Are you a bookie who is interested in allowing your clients to bet on UFC? Ace Per Head can provide you with UFC sports betting software that'll enable your clients to bet on as many UFC fights as they'd like.
Our sports betting software will also provide you with the latest odds for most other major sports. It'll be a worthwhile investment and will help take your bookie business to the next level.
Get more information about our sports betting software and use our 6-month free promo to see how it works so that you're able to capitalize on the recent UFC betting craze.